When should you print?
We live in a digital age, but there's still a need for printed documents.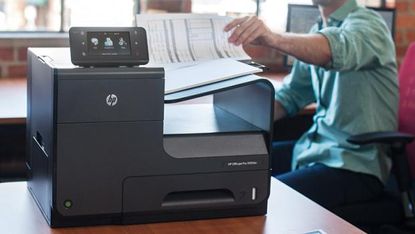 In an era where even e-mail's under threat from new messaging services, it might seem downright quixotic to claim that print still has a place. Yet, take a good look at the way we read and work with printed documents or correspondence, and it's clear that the printed document has advantages the electronic form can't match. The trick to not wasting money on printing in business isn't to eliminate it from the office, but to work out where it's appropriate and where it's not. After all, with the right printers, ink and media, printing can be cost-effective and sustainable, while helping your business and your team work more effectively.
When shouldn't you print?
The big sell of the paperless office – and the biggest argument against print – is that it's wasteful and unnecessary. Sometimes, that's the case. While that view can be over-exaggerated, with some studies claiming that, with modern printers, inks and sustainable media, print can be the more environment-friendly choice, it still doesn't make sense to print many common office documents and communications. Most everyday emails, memos, forms, rules, guidelines and regulations are generally better left in electronic formats. There's no real advantage to printing them, and if employees need to refer to them it makes more sense to have a searchable, up-to-date version accessible at the click of a link or button, not handed out and stuffed into a desk.
Subscribe to The Week
Escape your echo chamber. Get the facts behind the news, plus analysis from multiple perspectives.
SUBSCRIBE & SAVE
Sign up for The Week's Free Newsletters
From our morning news briefing to a weekly Good News Newsletter, get the best of The Week delivered directly to your inbox.
From our morning news briefing to a weekly Good News Newsletter, get the best of The Week delivered directly to your inbox.
Think also about clutter. Desks covered in memos or pinboards bursting with documents are not in anybody's interest, and if a document or note is something to be read once or twice and then disposed of, it simply doesn't make any sense to commit it to a physical page. Email works brilliantly for short, to-the-point, informative communications. Unless you have legal or regulatory reasons to print them, leave them in your email client's inbox, not the output tray.
When should you print?
That doesn't make your office printers obsolete – far from it. The fact is that we respond to a printed page in different ways than we do a screen, and even tablets and e-ink displays don't work in quite the same manner. In some situations, where you need the reader to sit up, pay attention, learn or be affected, the power of ink on paper is hard to beat.
Drafts and proofs
Talk to most professional editors, designers, sub-editors or proof-readers and they'll tell you that the best way to check a page or document thoroughly is to work on a good old-fashioned printout. Spelling and grammar errors that can lurk unseen on the screen stand out on paper. A missing punctuation mark or an incorrect font is easier to spot, while it can be easier to get a sense for the flow of words on the page, the impact of images and how a design works together as a whole. What's more, the printout is easier to mark-up; you can highlight problem areas and make notes quickly on the page, even if you have to take these in or add comments on the digital document later. True, many businesses have found digital workflows that work for them, but as a rule of thumb, if something needs a proper check before it rolls out to customers or production, it's worth printing out and checking.
Client-side or marketing materials
While email is a great way to find new customers or spread information, printed brochures, fact-sheets and flyers often have more impact. Not only are printed materials tangible, but they're more robust and portable than an electronic communication; easier to stick in the briefcase for reading later, or in the draw for reference at a later date. Most of all, a well-designed print out can grab the attention and hold it in a way that a PDF or email, viewed on a screen busy with icons, windows, apps and notifications, might not.
Correspondence
Email is brilliant for casual, everyday communications, while messaging apps and services are perfect for rapid, real-time discussion. All the same, there are still scenarios where a letter in the post wins out. A letter often seems more personal; an object that someone has sent specifically for you to receive, even if you're dimly aware that an automated mailout was involved. What's more, while the average email inbox gets crammed with spam and missives every day, there's less competition in the average day's post. People will also often spend more time to read a letter, and if they do choose to scan it, they're more likely to pull the key information out.
In 2013 the label and stationary specialist, Avery, commissioned psychologists at London Metropolitan University to study the effects of email and printed correspondence. The research involved 40 participants aged 20 to 52, each receiving the same messages and being asked for the same responses. However, while 20 got those messages through email, the other 20 got them in printed letter form. The study found that the email version was significantly rated as having less of an impact than the letter version, while messages were rated as more personable when arriving via letter. What's more, 85% of the participants said they would definitely read letters more carefully, 85% described letters as 'more real' and 80% believed that a letter would have a better chance of persuading someone of something. When you need to communicate something with real energy, impact or a personal touch, old-fashioned print could still be the best way to go.
Reports and proposals
Reports, proposals and other documents that extend beyond one or two pages are always worth printing out, and it all comes down to comprehension and retention. In 2013 researchers at the University of Stavanger in Norway asked 72 fifteen to sixteen year-old students to study one narrative and one expository text, with both around 1,500 words in length, but while half the students read the texts on paper, the other half read them as PDF files on computers with 15in TFT screens. Afterwards, the students completed reading-comprehension tests, during which they could refer to the texts. The researchers noticed that the students reading PDF files had more difficulties finding specific information and didn't show as deep a comprehension.
Other psychologists have noted the way we work with documents on paper, using the physical properties of the text – the pages, the placement and look of illustrations or graphics, the positions of sections and headings, even the shape of the text on the page – as a means of navigating through it and locking information into place in our brains. Scrawled notes and highlighter markings can help us store key points or find them later. And in the end, it's simply easier to read long documents on paper than it is on the screen, where the business of scrolling can take up some of our attention, and where it's all too easy to slip into a scan-and-browse, non-linear mode of reading; the sort of style that works when we're surfing the Web for nuggets of information, but not when we need to look seriously at something, analyse it and really take it in.
In short, while electronic documents and email look certain to play a bigger role in modern offices, there are still scenarios where the printed word and image works better. When you need attention, impact or just to know that something's understood, go for ink on paper every time.
Find out why implementing green policies can help your business thrive.
Sign up to our 10 Things You Need to Know Today newsletter
A free daily digest of the biggest news stories of the day - and the best features from our website