Beyond Black-ish: We need a sitcom with truly flawed black protagonists
Will the so-called "Golden Age of Television" ever produce a sitcom that pushes beyond both cultural stereotypes and long-entrenched tropes?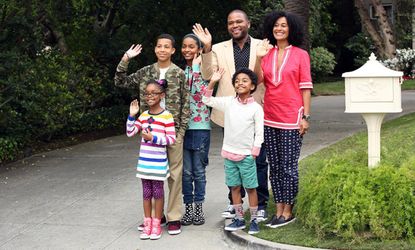 (Image credit: (Facebook.com/<a href="https://www.facebook.com/blackishABC/timeline" target="_blank">BlackishABC</a>))
Sign up to our 10 Things You Need to Know Today newsletter
A free daily digest of the biggest news stories of the day - and the best features from our website
Thank you for signing up to TheWeek. You will receive a verification email shortly.
There was a problem. Please refresh the page and try again.
With just six episodes under its belt, ABC's Black-ish has established itself as one of the most discussed new shows of the fall season. Donald Trump thinks it's racist. The New York Times thinks it's about what it means to be prosperous. Many others have heralded Black-ish as a contemporary Cosby Show — the standard-bearer for every modern sitcom family, black or white.
There's some truth to that last bit. Black-ish invites its intended audience — the multiracial America that doesn't "see" race — to recognize themselves in the lens of a black family. The Johnsons live in a gorgeous Georgian revival home, and the high-powered careers that mom and dad juggle — ad executive and anesthesiologist — recall the impressive careers of Cliff and Clair Huxtable.
But coming more than 20 years after The Cosby Show went off the air, Black-ish also invites a question: Shouldn't we be beyond this by now? In this so-called "Golden Age of Television," characters are measured by the depth of their flaws and struggles. Aren't audiences capable of accepting deeply and genuinely flawed black characters who move beyond both cultural stereotypes and tropes long established by older shows?
Subscribe to The Week
Escape your echo chamber. Get the facts behind the news, plus analysis from multiple perspectives.
SUBSCRIBE & SAVE
Sign up for The Week's Free Newsletters
From our morning news briefing to a weekly Good News Newsletter, get the best of The Week delivered directly to your inbox.
From our morning news briefing to a weekly Good News Newsletter, get the best of The Week delivered directly to your inbox.
In decades past, African-American TV characters have been carefully crafted to walk a tightrope: convincing white audiences that they were relatable, while trying to avoid alienating black viewers who wanted to see themselves on screen. The family sitcom was the easiest way to accomplish both. A family is one of the few things to which every person can relate, and an ensemble cast made it easier and more plausible to explore different perspectives of the black experience. The networks returned to this well over and over again, in shows like The Jeffersons, Sanford & Son, The Cosby Show, The Fresh Prince of Bel-Air, and Family Matters.
You might notice that those shows focus, disproportionately, on middle- to upper-class black families. From The Honeymooners to Married… With Children, wealth has never been a prerequisite for the humanity of white characters. If anything, a lack of wealth is generally used to make white characters more sympathetic, in both comedies (All in the Family) and dramas (Breaking Bad). This has never worked reciprocally for black families on television. The upper-class trappings of the Cosbys were, at best, an equalizer, making it acceptable for white people to identify with — or even want to be like — a black family.
The few sitcoms that depicted black characters without the safeguard of wealth delved into predictable tropes: poverty, lack of education, and unstable personal lives. Good Times was repeatedly accused of falling back on tired stereotypes — even by its own creative team. In a 1975 story about the creative tensions on The Good Times set, Ebony reported "a continuing battle among the cast members to keep the comedic flavor of the program from becoming so outlandish as to be embarrassing to blacks," with some calling for "a closer rein on a tendency to slide toward old-time black minstrelsy." Two stars of the show, Esther Rolle and John Amos, eventually left after irreconcilable differences with the show's creator about the buffoonery and minstrel aspects of Good Times.
Unsurprisingly, The Cosby Show, premiering a decade later, was a breath of fresh air — even as it created a new precedent with its own set of problems.
Thirty years later, Black-ish is aggressively courting the Cosby throne. But another sitcom about black characters that come from wealthy, non-threatening backgrounds also sends a clear message about how TV values black characters, who must be filtered through highly aspirational experiences so that they can be "objectively" received.
Imagine a TV landscape that gave black actors the roles with the nuances and complexities of white actors. It would allow for a black Hannah Horvath, with a disdain for work that didn't invoke myths of the "Welfare Queen" or the "Shiftless Negro." It would make room for a black Don Draper, absent and uninvolved in the lives of his children without invoking the narrative of the "Absent Black Father." To err is human, and modern television demands that its best characters err as much as audiences can tolerate. The ability to exist without qualification or apology is one of the most humanizing experiences that we can have, in both reality and in the media that we consume — and sanitizing or pathologizing black characters just limits them from the full range of storytelling television can express.
In concept and execution, Black-ish is both a good show and a necessary one. It has potential, and not just as a hit for ABC, but as a platform to have the hard, awkward conversations that we seem to talk around. Fortunately, the show seems to be moving in the right direction. A recent episode deftly spun Rainbow and André's conflict over spanking into a reflection on class, assimilation, and generational legacies.
For a show that's been weighted with the task and burden of being a hit, a critical favorite, and a nuanced look into black culture, it's a step — but one of many that will be required. Without the backdrop of wealth and respectability, how flawed, quirky, irredeemable, and even hopeless will TV allow its black(ish) characters to be?
Continue reading for free
We hope you're enjoying The Week's refreshingly open-minded journalism.
Subscribed to The Week? Register your account with the same email as your subscription.
Sign up to our 10 Things You Need to Know Today newsletter
A free daily digest of the biggest news stories of the day - and the best features from our website