13 killer ways to turn cheap beer into something delicious
Don't throw out that Keystone Light!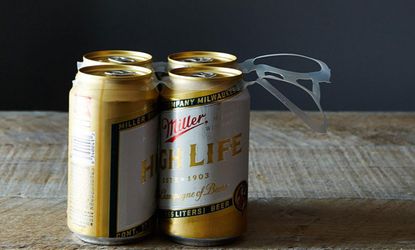 (Image credit: (<a href="http://food52.com/blog/11298-13-ways-to-use-up-a-bunch-of-cheap-beer#mKUqa8:wgL">FOOD52.com</a>))
You just woke up, opening one eye slightly to assess the damage. The party's long over, and everyone's gone home. The only company you're surrounded by is an army of wounded soldiers — half-drunk beers gone flat after being abandoned by their owners. Unfortunately, those are lost causes, and you have no choice but to hold your nose and spill them down the drain. You open up your cooler to find half a case of lukewarm beers bobbing in a deep pool of water. You scratch your head, contemplating how best to put all this beer to use with your half-asleep brain. You're probably not interested in drinking it in the slightest, so how can you repurpose it? Bring it into the kitchen.
Whether you're stuck cases of Natty Light, a few errant bottles of IPA, some Belgian brown, a pilsner, or a hefeweizen, we've got you covered. Make a malty bread, an airy crust for fish, or a deep, stouty sauce for pan-seared steak.
So crack one open and take a sip if you dare, then infuse your food with a bunch of booze. Here are our favorite ways to use leftover beer:
Subscribe to The Week
Escape your echo chamber. Get the facts behind the news, plus analysis from multiple perspectives.
SUBSCRIBE & SAVE
Sign up for The Week's Free Newsletters
From our morning news briefing to a weekly Good News Newsletter, get the best of The Week delivered directly to your inbox.
From our morning news briefing to a weekly Good News Newsletter, get the best of The Week delivered directly to your inbox.
1. Mixed drinks
If you're in the mood for something sweet, make a beer float: Combine a darker ale with a healthy scoop of vanilla ice cream.
2. Fondue
Season your meat — chicken, short ribs, what have you — with salt, pepper, and the spices of your choosing — and brown it in a large pan. Once it's browned on all sides, take it out, pour out some of the fat, and toss in some onion and garlic until they lightly caramelize. Stir in herbs — maybe thyme, sage, or rosemary — and beer (preferably a brown ale) to make the sauce. Return the meat to the pan, coat with the sauce, and bring the sauce to a simmer. If you're making chicken, let the chicken simmer on the stovetop until it cooks through. If you're making short ribs, throw the pan in the oven for a couple hours until the meat is pull-apart tender. The beer will ensure that the meat stays moist inside and out.
5. Braised greens
Brining your meat with beer hydrates it, keeping it moist inside and out; it also infuses it with sweet, malty, hoppy flavors, and gives it a butter-soft texture. Leaner meats, like poultry breasts and pork chops, are commonly brined because they lack the fat that provides other types of meat with flavor and moisture. Use equal parts water and beer (try a brown ale here), a generous amount of salt, and the aromatics of your choice — smashed garlic, peppercorns, thyme, bay leaves, and citrus are all good choices. Leave your meat in the brine for about one hour per pound, then take it out, pat it dry, and let it dry uncovered in the fridge for a few hours, if you have the time. After that, you can just roast it in the oven. The brine does all the heavy lifting for you.
9. Bread
Create a sweet, malty loaf of bread in just a few easy steps. Mix flour, baking powder, salt, and sugar. Pour in your beer, let the dry ingredients absorb the beer, pour the mixture into a pan, drizzle butter over it, and bake. Customize your loaf by adding whatever flavors you like to the dry ingredients — perhaps garlic, Parmesan, and rosemary or malt syrup, olive oil, honey, and rosemary.
10. Cake
You can mix beer into almost any cake batter, but we think it goes best with chocolate. Make a heady chocolate cake using the heavenly black stuff: Guinness. Alternatively, you can mix beer into a batter with cloves, cardamom, nutmeg, ginger, cocoa powder, cinnamon, and dry mustard to make a gingerbread bundt cake.
11. Pan sauce
Beer can help you release all the brown bits from whatever meat you were searing in your pan — be it beef, chicken, lamb, or pork. Add the herbs of your choice to the pan and deglaze with beer. A chocolate stout works well with steak, and a light lager is perfect for a hash. From there, you can add stock, if you'd like, and reduce the liquid by half to create a deep, complex sauce for your protein.
12. Soup or stew
You can make gumbo with beer, too. Or if you'd rather have chili, just throw some cooked beans into the pot at the same time you add the beer.
13. Breakfast
This story was originally published on Food52.com: 13 ways to use up a bunch of cheap beer
More from Food52...

Continue reading for free
We hope you're enjoying The Week's refreshingly open-minded journalism.
Subscribed to The Week? Register your account with the same email as your subscription.