Would a bubble be good for the American economy?
A boom is not the same thing as a bubble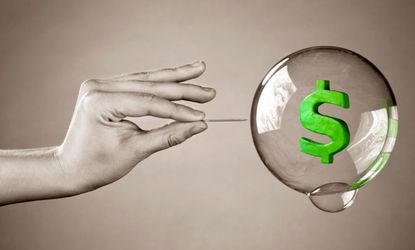 (Image credit: (iStock))
In an interview with Princeton Magazine, New York Times columnist and Nobel-winning economist Paul Krugman faced a difficult and rather strange question: "Are bubbles good or bad and do we need them to create strong economic growth and reach higher levels of employment?"
The question relates to an often-quoted and often-misunderstood passage from a column in 2002, in which Krugman wrote that "Alan Greenspan needs to create a housing bubble to replace the Nasdaq bubble." After the housing bubble burst and caused the Great Recession in 2008, Krugman came under a lot of fire for that comment. He explained those words further in 2009, saying he wasn't offering a prescription, but rather an analysis of what the Fed would do. (He was right on both counts.) But can bubbles actually be good for the economy?
Krugman elaborated in his answer to Princeton Magazine:
Subscribe to The Week
Escape your echo chamber. Get the facts behind the news, plus analysis from multiple perspectives.
SUBSCRIBE & SAVE
Sign up for The Week's Free Newsletters
From our morning news briefing to a weekly Good News Newsletter, get the best of The Week delivered directly to your inbox.
From our morning news briefing to a weekly Good News Newsletter, get the best of The Week delivered directly to your inbox.
The key to understanding Krugman's point is to first look at what exactly an economic bubble is. At the most superficial level, it's an economic boom that turns to catastrophic bust. But more deeply, it is about people's perceptions and how they change.
The market might discover a new technology or system of technologies — like the internet. People in the market start to believe that it is going to become a really big thing. Huge quantities of investment start to pour in. If things work out as planned, investors reap huge rewards. For some investors, some of the time, that happens! Look at the successes of Microsoft, Intel, Amazon, and Facebook. Yet if not, hope turns to doubt, doubt to panic, and panic to disaster, as occurred in the earlier dotcom bust around the turn of the millennium. So a bubble is really what happens when people get too excited about something, and then cease to be excited about it.
And here's the thing: Nobody knows how people's perceptions will change in the future. Are we in a tech bubble today? With Google and Facebook hitting spectacular highs in the stock market, we could be — but no one actually knows. The success or failure of new technologies, products, and ideas can be very marginal. One dedicated, wealthy customer or investor can be the difference between a business failing or succeeding. So really, bubbles are an inevitable fact of economic life. Humans are excitable and only partially rational, and cannot predict the future with much accuracy.
The point is that nobody knows beforehand if an economic boom will reach a tipping point and become a bubble. In 2002, the Fed did not need to create a "housing bubble." To restore full employment and generate strong economic growth, a boom was needed. But that's not the same thing as a bubble. It could turn out to be a bubble (and last decade, the housing boom did). Or it could not. The market and future events, ultimately, decide that.
So the answer is that a bubble would be both good and bad for the economy. Bubbles, ultimately, are discovery processes. Economies don't advance in a straight line. They advance by people, firms, and governments continually experimenting with different business models, technologies, and ways of organizing society. A burst bubble is an illustration that the economy isn't working right and that something needs to change in order to get back to a sustained boom. Sometimes these things adjust quickly and automatically. And sometimes they entail longer periods of stagnation and reorganization.
What wouldn't be good for the economy would be to try to avoid economic booms and full employment altogether in the name of avoiding bubbles. The boom-and-bust cycle is an inevitable learning process, not something to be avoided.

Continue reading for free
We hope you're enjoying The Week's refreshingly open-minded journalism.
Subscribed to The Week? Register your account with the same email as your subscription.