How to stop misogynists from terrorizing the world of gamers
Bashing women remains a favorite pastime of many male gamers. It's time for that to change.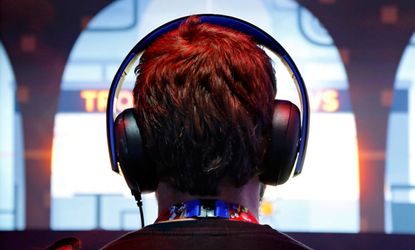 (Image credit: (REUTERS/Jonathan Alcorn))
The gaming precincts of the internet have long featured regular explosions of misogynist abuse noteworthy even by online standards, the bar for which is high indeed. Last week saw yet another pernicious example. Two women, Zoe Quinn and Anita Sarkeesian, caught the attention of a particularly nasty group of gamers — what Cliff Brzezinski calls the "Taliban of videogaming" — and were smeared, harassed, and threatened with rape and death.
The gamer Taliban are typical online trolls who organize themselves on anonymous message boards like 4chan and Reddit. They often argue that gaming should be preserved as a "safe male space." It's probably a safe assumption that they skew white and male. Their worldview is heavily tinged with paranoia, with many postulating an organized conspiracy, carried out by the media and game developers, to push a social justice agenda that "real gamers" don't want.
These are the people who piled abuse on Carolyn Petit for not giving Grand Theft Auto 5 a perfect score in a review (she gave it 9 out of 10). They hounded BioWare writer Jennifer Hepler off Twitter for including gay relationships in Dragon Age 2. And they demanded that the actress Aisha Tyler prove she really plays games after she dared to host a gamer conference.
Subscribe to The Week
Escape your echo chamber. Get the facts behind the news, plus analysis from multiple perspectives.
SUBSCRIBE & SAVE
Sign up for The Week's Free Newsletters
From our morning news briefing to a weekly Good News Newsletter, get the best of The Week delivered directly to your inbox.
From our morning news briefing to a weekly Good News Newsletter, get the best of The Week delivered directly to your inbox.
This time, as with previous such scandals, the offenses are non-existent. Quinn was accused by a jilted ex-boyfriend of using personal relationships to get favorable coverage for her game Depression Quest. Sarkeesian, who has been targeted before, did nothing but post the latest in her series examining the roles of women in games (well worth a watch, by the way), for which she was threatened so specifically she was forced to temporarily flee her home.
This behavior is nothing short of an online form of terrorism. Terrorism is an attempt to secure a political end by using violence and threats of violence against civilians. Murder and rape threats definitely count.
The political end at work here is to keep women out of what "traditional gamers" perceive as their own culture. Those who have looked closely at the internet sewers where misogynist terrorists congregate find serious paranoia and raging conspiratorial nuttiness, perhaps best summarized by this Nixon-style enemies list of "SJW Game Journalists" (that stands for "social justice warrior") who "want to ruin our hobby."
Thankfully, there's good reason to believe that the gamer Taliban are losing this fight. The big-budget "triple-A" pillar of the video game industry, home of the most reliably sexist tropes, is stagnant and troubled. Adult women constitute a greater fraction of the game-playing public than teenage boys. Cultural gaming elites who were previously quite prejudiced, like Jim Sterling, have come around on these issues, and traditional game coverage outlets are quickly internalizing anti-prejudice norms (though there is still much work to be done).
If being a young, straight, white male used to be the only legitimate game-playing identity, it is being crushed under the wheel of history. As Dan Golding argues, "What we are seeing is the end of gamers, and the viciousness that accompanies the death of an identity."
But there's still plenty we can do to help this process along. Internet institutions can do a lot more to raise the cost of harassment. Fact is, what Sarkeesian and Quinn are experiencing is only a bit worse than what prominent women and minorities receive online every day of the week.
As Amanda Hess has written, neither the police nor big companies like Twitter and Facebook take prejudiced abuse half as seriously as they should. Treating the latest incident as a reason to tighten up anti-harassment structures for everyone online would be an excellent development. I'd start with strengthening protections on big platforms, especially Twitter (which is reportedly working on it now, for the umpteenth time). Furthermore, making death threats is a crime, for which offenders should be prosecuted whenever cases can be made.
And finally, to the wounded gamer men out there: I know this is a painful time, but rest assured, games aren't going anywhere. On the contrary, with more people than ever playing, the future of gaming has never looked more secure.

Continue reading for free
We hope you're enjoying The Week's refreshingly open-minded journalism.
Subscribed to The Week? Register your account with the same email as your subscription.