Spokesman of the Brazilian slums
In the midst of fierce battles between drug kingpins and police, one tweeting teenager emerges as the most reliable reporter from inside Brazil's infamous favelas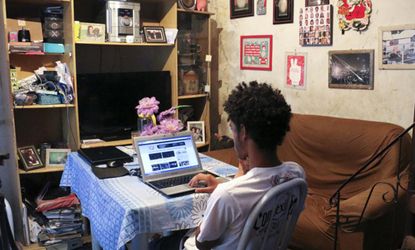 (Image credit: (<a href="http://narrative.ly/patchwork-of-poverty/spokesman-of-the-slums/">Flora Charner/Narratively</a>))
November 2010, a wave of violence hit Rio de Janeiro. Two of the city's most powerful drug gangs had joined forces to protest against the state's recent crackdown on organized crime. The Comando Vermelho and Amigos dos Amigos cartels had been squeezed out of their strongholds in the city's southern zone, where they catered to wealthy narcotics consumers in beachfront condominiums. The cleanup was part of the city's plan to increase security ahead of the 2014 FIFA World Cup and the 2016 Summer Olympics. The gangs responded by torching cars and public buses for several consecutive days during rush-hour traffic, causing massive chaos. There were many violent shootouts between uniformed officers and dealers. In one week, more than 30 people were killed. It was one of the most terrifying periods of Rene Silva's young life, and also when he became a star.
At the time, Silva was a lanky high school teenager who liked writing and hoped to become a journalist. When he was 11, one of his teachers had helped him create a newspaper in which he and his classmates could share stories about life in Complexo do Alemão, the shantytown where they lived. The single-page bulletin was printed on a beat-up HP printer that had been donated to their municipal school. Silva wrote his articles from the dinner table that took up most of the living room in the modest home he shared with his grandparents, uncle and younger brother Renato. His mother lived on the same street in a tiny apartment with his sister. In Silva's house, the television was always on. At 8:30 p.m. he would park himself in front of the small screen and tune in to Globo, his favorite network, to watch his idol William Bonner anchor the evening news.
(More from Narratively: Growing upside down)
Subscribe to The Week
Escape your echo chamber. Get the facts behind the news, plus analysis from multiple perspectives.
SUBSCRIBE & SAVE
Sign up for The Week's Free Newsletters
From our morning news briefing to a weekly Good News Newsletter, get the best of The Week delivered directly to your inbox.
From our morning news briefing to a weekly Good News Newsletter, get the best of The Week delivered directly to your inbox.
By the time he was 14, his monthly publication had caught the attention of a local NGO that helps young entrepreneurs in impoverished neighborhoods. The Future Citizens Project donated a laptop, workspace, and funds to publish the newspaper. Local businesses from Alemão also became interested in advertising in Voz da Comunidade (which translates to "Community Voice" in English) and began buying space at $0.25 a line. The junior reporters had managed to bring attention to the stories they cared about, like the lack of public services in the community and challenges with mobility, reaching an audience of roughly 5,000 people per issue.
"I felt like the major media outlets were missing some of our stories," Silva says, speaking near his hillside home. "They would only show our community as somewhere violent and full of criminals."
The Alemão, a conglomerate of shantytowns known as favelas, spreads over several mountains in northern Rio. It is home to nearly 200,000 people, most of whom live in impoverished conditions. Brick houses with zinc rooftops are crammed together and dot the mostly unpaved roads, while tangled power lines hang like vines. Its name, which translates to "German" in Portuguese, dates back to the 1920s, when a Polish man, Leonard Kaczmarkiewicz, purchased the then-rural land for farming purposes. Due to his fair features and untranslatable surname, the locals gave him the nickname "Alemão." With the opening of a nearby factory in the 1950s, migrant workers from the northeast began to build their homes in the area. Kaczmarkiewicz left soon after and parceled off his land to the community, which named the neighborhood after him. However, the local government considered its residents to be squatters and staged aggressive police raids to destroy the emerging slums and evacuate the people. In 1983, the populist governor Leonel Brizola was elected in Rio de Janeiro and made it illegal for officers to enter the favelas, thereby halting the removals. Subsequent administrations criticized Brizola for incentivizing the expansion of the city's shantytowns. By the time he left office in 1994, Alemão had grown into a small metropolis on the edge of central Rio, bereft of basic services and abandoned by the government.
At the same time, Colombian cocaine started traveling through Rio's ports on its way to Europe. By the mid-'90s, the drug had become extremely popular in Brazil, and the local dealers turned immense profits. With money came power and the ability of gang leaders, known as donos, to keep corruptible politicians and police officers in their pockets. Drug traffickers of the Comando Vermelho gang soon found a home inside the hilly fortress of Alemão and established a parallel government within the community. Basic services that were once lacking, like running water and electricity, were now administered by the cartel. Instead of paying government taxes, residents were either charged fees by the drug lords or bartered with them to exchange goods.
(More from Narratively: No job land)
"When the traffickers were in charge, we all knew we had to live by their rules," Silva says. "As long as you kept your head down and didn't cause trouble, you were safe in the community. We would end up with all kinds of things here, even free Coca-Cola."
Silva explains that the gangsters would frequently set up roadblocks or booby traps that would cause delivery trucks to flip over, spilling all their merchandise onto the street. He remembers once seeing a red Coke truck on its side and running up to it. He and his friends got to taste the sweet beverage for the first time. When I ask him about the truck drivers and their fate, he stares blankly before answering.
"I don't know, I'm assuming they ran away. At least I hope they did."
As cocaine profits continued to soar, greed caused division and rivalries within the Comando Vermelho. New gangs like the Terceiro Comando and Amigos dos Amigos were formed and began staking out territory in other favelas throughout the city. Rivalries led to an arms race and the machetes and handguns used for protection were soon replaced by AK-47s smuggled across the Bolivian border.
In 2007, Rio de Janeiro hosted the Pan-American Games, a regional sporting event that is sort of a mini-Olympics. It was the first major tournament the city had organized in decades. In order to guarantee the safety of athletes and tourists, Rio's elite military police squad, known as BOPE, was deployed to the place where security officials anticipated the biggest threat: the Complexo do Alemão. Criminals from the area had recently been accused of killing two police officers at a nearby police station. In late June, a few weeks before the Games were scheduled to begin, the officers carried out an aggressive raid. Nineteen people were killed in one day, 11 of them believed to be innocent bystanders caught in the crossfire. Witnesses and relatives of several of the victims claimed police dragged people from their homes and shot them point blank. Others were killed by stray bullets. The incident led to an investigation by the United Nations Human Rights Council, which criticized the police's approach to confronting criminal activity in the favela.
Following criticism from national and international human rights organizations, Rio's state security officials began to work on a different approach. A year later, the Pacifying Police Units, or UPPs, were born. The UPPs are permanent community police posts that operate inside the favelas. Instead of surprising drug traffickers with raids, state officials announce their plans on television beforehand, allowing criminals to turn in their weapons anonymously or flee.
(More from Narratively: The town of trash)
By late 2010, 11 favelas had been "pacified" in Rio de Janeiro. Silva, who was 17, was still writing and had developed an interest in computers and social media. His cousin bought him a laptop and his family purchased a basic and affordable internet plan, which allowed him to surf the web for news and ideas. He opened a Twitter account and began posting things under his personal username and his paper's handle, @vozdacomunidade, covering mudslides in the community, the concerts of local artists, and always, the incessant battle between bandits and police.
On November 28, Silva was awakened by the loud swoosh of helicopters flying above his house. He turned on the television and saw live aerial images of his community broadcast on Globo. The camera zoomed in on large M113 camouflage tanks parked at the entrance of the favela and showed the area swarming with BOPE officers. A young woman appeared on camera wearing a bright blue flak jacket. As she spoke, her cameraman panned and showed dozens of other journalists on the scene. The newscast switched to an aerial to show the police line moving in on one of the neighborhood's main access points. That's when Silva heard a popping noise outside his window, which echoed through his monitor's speakers. He knew they were gunshots. The battle for Alemão had begun.
Read the rest of this story at Narratively.
Narratively is an online magazine devoted to original, in-depth and untold stories. Each week, Narratively explores a different theme and publishes just one story a day. It was one of Time's 50 Best Websites of 2013.

Continue reading for free
We hope you're enjoying The Week's refreshingly open-minded journalism.
Subscribed to The Week? Register your account with the same email as your subscription.