Don't believe the hype: 5 reasons to be pessimistic about climate change
As things stand, we are in for a world of hurt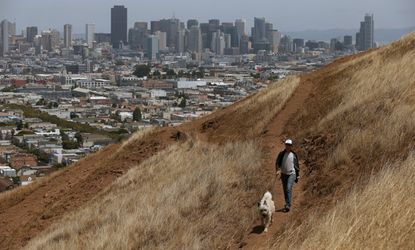 (Image credit: (Justin Sullivan/Getty Images))
Sign up to our 10 Things You Need to Know Today newsletter
A free daily digest of the biggest news stories of the day - and the best features from our website
Thank you for signing up to TheWeek. You will receive a verification email shortly.
There was a problem. Please refresh the page and try again.
Much of the recent commentary on climate change has taken far too rosy a view of the issue. Some representative headlines include "10 reasons to be hopeful that we will overcome climate change" and "The case for optimism on climate change."
While there have certainly been some encouraging developments in the past two decades, any analysis focusing solely on the positive will paint an incomplete picture of the challenges ahead. The changes needed to avoid the most catastrophic effects of climate change will be quite wide ranging — far beyond what we are currently implementing.
Here are five reasons why any optimism on climate change needs to be tempered with a healthy dose of reality.
Subscribe to The Week
Escape your echo chamber. Get the facts behind the news, plus analysis from multiple perspectives.
SUBSCRIBE & SAVE
Sign up for The Week's Free Newsletters
From our morning news briefing to a weekly Good News Newsletter, get the best of The Week delivered directly to your inbox.
From our morning news briefing to a weekly Good News Newsletter, get the best of The Week delivered directly to your inbox.
1. There are plenty of interests motivated against progress.
While the EPA's new regulations on power plants are a welcome first step, they are not carved in stone. The EPA will likely face numerous legal and legislative challenges before its rules are implemented.
Meanwhile, climate change denial remains the mainstay of a significant portion of one half of the American political spectrum. Messaging aimed at muddying the waters — of both the science of climate change and the political imperative in tackling it — has not abated. As Slate's Will Oremus has reported, deniers are now willing to acknowledge some aspects of the scientific reality, but are quick to interject that the cure will be worse than the disease. Rep. Paul Ryan's (R-Wis.) argument that "[c]limate change occurs no matter what" is indicative of the kind of denialism that will have to be overcome.
On the international scene, short-term thinking is still widespread. Australia's abortive experiment with a carbon tax shows that it is not only the Americans who can play a spoiler role. We've also seen the prime ministers of Australia and Canada embark on an effort to slow international coordination on the issue.
And these are countries that are among the richest in the developed world. There have been indications that China and India take the issue seriously, and the rumors about a Chinese cap on emissions are welcome. But it remains to be seen whether they will ally themselves with a formal, binding agreement. Good intentions and sensible policy proposals count for a lot, but they will not necessarily get us across the finish line.
2. Divestment is great messaging, but it doesn't mean all that much.
In my response to Chris Hayes' Nation piece on fossil fuel divestment — in which institutional investors pull their money from oil and gas companies — I cautioned against overestimating its impact. Sanctions against South Africa, the last great divestment success, were effective because they isolated and ostracized an entire nation and its economy. That kind of stigma is hardly transferable when millions of Americans need gasoline to fuel their cars.
Additionally, there remains a lot of investor capital that would happily gravitate to fossil fuel companies, even if pension funds and endowments sign on to a divestment pledge (to say nothing of state-owned companies that care not a whit what activists think). Fossil fuel companies will not truly start feeling pain until the governments are willing to put prices on carbon emissions.
If we really want to change the calculus, we should target fossil fuel subsidies, which prop up polluting industries while acting as an implicit tax on low- or zero-carbon alternatives. According the International Monetary Fund, the annual total cost of these subsidies — including the carbon pollution externality — is nearly $1.9 trillion. In contrast, the total amount invested by university endowments in fossil fuel companies in the United States alone is only $10 billion.
3. The world could start polluting a lot more, and very soon.
The carbon dioxide emissions we are currently putting in the atmosphere are scary enough. The full scale of the problem becomes even larger when you considers that millions of people worldwide still lack basic access to electricity — and might get it soon. In India alone, over 300 million people do not have electrical access in their homes, according to the Sustainable Energy for All Global Tracking Framework. The middle class aspirations of hundreds of millions people worldwide are dependent on their national governments extending the electrical grid to their doorsteps.
While the hope is that much of this gap will be filled by renewable energy sources, there are no guarantees that governments focused on economic growth would forgo the cheapest sources.
4. We aren't switching to renewables at a fast enough pace.
While growth in renewable energy generation has exploded recently, investment in fossil-fuel-fired power plants is hardly disappearing, especially in the developing world. The BRICS countries (Brazil, Russia, India, China, and South Africa), for example, are still heavy coal users, even as they simultaneously commit greater resources to nuclear and renewables.
Indeed, one of the reasons the BRICS may be keen to set up their own development bank, argues Foreign Policy's Keith Johnson, is to support research on energy that the West is no longer willing to support. While the World Bank may be skittish at funding any new coal infrastructure, a BRICS bank may not be so reluctant, especially if these countries think the technology exists to do it in a slightly cleaner way.
The full consequences of these energy infrastructure investments are laid out in the International Energy Agency's 2014 World Energy Outlook, which concluded that "today's policies and market signals are not strong enough to switch investment to low-carbon sources and energy efficiency at the necessary scale and speed."
We can welcome the explosion in spending on solar and wind, but we must still acknowledge that much of the "dirty" fuel infrastructure is still in place, and will be for decades to come under current regulatory frameworks. Absent a breakthrough in carbon capture and sequestration technology, we are still simply putting way too much carbon dioxide into the air.
5. We need to focus on adaptation, not just mitigation.
Much of the recent optimism focuses on mitigation — the progress we are making in preventing future damage. Unfortunately, owing to two centuries of industrialization, there is already a lot of damage built into the climate system, and we are already seeing the ways in which climate stress is affecting human security.
The Intergovernmental Panel on Climate Change (IPCC) highlighted a growing "adaptation deficit" in its most recent Assessment Report. While acknowledging we may not ultimately know what we need to be spending, it puts the best ballpark estimate at $70 billion to $100 billion per year from now to 2050. Unfortunately, according to the Climate Funds Update, current multilateral spending is only in the hundreds of millions.
Meanwhile, the challenges to our global standard of living are already becoming apparent. California's historic drought is likely a sign of things to come. Internationally, the concerns are even more pronounced. Small island states, particularly in the tropics, are likely facing forced migration, without a strong international legal framework governing their refugee status, as Roxane Horton explains. Water access in India is precarious enough that armed bandits are extorting it from villagers in order to survive drought conditions.
The U.S. Department of Defense is so worried that it has begun planning for a world of rising armed conflict stemming from climate change.
This is not to dismiss entirely the positive points analysts have raised. All of these developments are worth celebrating. What the private sector is beginning to do, especially with debt financing earmarked for "green" projects, is laudable. Energy markets, however, are notoriously hard to predict. Anyone who says with confidence he or she knows what the world's energy mix will look like in the next decade is trying to sell you something. A more nuanced framing of these issues should not invite undue pessimism, but merely be truthful about how long the road ahead is.
Continue reading for free
We hope you're enjoying The Week's refreshingly open-minded journalism.
Subscribed to The Week? Register your account with the same email as your subscription.
Sign up to our 10 Things You Need to Know Today newsletter
A free daily digest of the biggest news stories of the day - and the best features from our website
Neil Bhatiya is a Policy Associate at The Century Foundation, where he works on issues related to U.S. foreign policy, with a specific focus on South Asia and climate change.