How to trim $500 from your monthly spending
It's perfectly O.K. to start small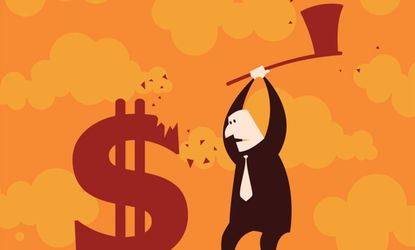 (Image credit: (iStock))
Think about how much sooner you might be able to accomplish those big financial goals you've been dreaming about — buying a new car, saving up enough for a down payment on a house, or finally finishing that home improvement project — if you could just find another, say, $500 to spare in your budget each month.
We know what you're probably thinking: That sounds great in theory — but it's practically impossible to achieve. Well, that's exactly what 33-year-old psychotherapist and Ph.D. candidate Lanada Williams is striving to do.
Williams wants to save up to buy a house in Washington, D.C., to share with her partner and 6-year-old son. But the country's capitol tends to be an expensive place to live, so she's finding it difficult to put away enough every month to reach her goal.
Subscribe to The Week
Escape your echo chamber. Get the facts behind the news, plus analysis from multiple perspectives.
SUBSCRIBE & SAVE
Sign up for The Week's Free Newsletters
From our morning news briefing to a weekly Good News Newsletter, get the best of The Week delivered directly to your inbox.
From our morning news briefing to a weekly Good News Newsletter, get the best of The Week delivered directly to your inbox.
Fortunately, even the best-built budgets typically have room for some improvement. A tip? Learn to pinpoint those improvable spots and then make small adjustments that don't feel disruptive. "No one starts training for a marathon by running 26 miles," explains David Blaylock, CFP® with LearnVest Planning Services. "So you need to set a goal you can work toward over time."
To prove it may be possible to free up extra cash on a tight budget, we asked Williams to share her monthly expenses with us, so Blaylock could help retool her priorities in order to work on saving more for the house of her dreams.
What Williams has to say about her monthly budget
My main financial goal is to become a homeowner as soon as possible. My partner and I are renting a house right now, but nothing compares to owning. That's the American dream — to have a sense of permanence and stability.
We have $1,000 put away so far, and I'd like to buy a house in the $300,000 to $500,000 range. This means that I probably need to save $60,000 to $100,000 for a 20 percent down payment, so I know I have a long way to go. And I don't have an emergency fund, which I feel guilty about.
Where she could cut back: I know I spend a lot on clothes and entertainment, and I probably spend too much on my son too. But I feel like when it's your kid, you've just got to do it! He needs to be well-rounded, learn skills, and make friends. So I pay for things without analyzing them — and I'm sure that's not good.
Where she's doing well: When I began thinking about saving for a house, I started to make a few changes. Instead of spending $10 to $20 eating out for lunch, I bring salads to work. And rather than spend $13 to $15 on gas and parking, I take the train, which is about $5 to $7 round trip. I didn't own a credit card until recently, so I don't have any associated debt — plus I pay off my balance at the end of the month. And I don't get my nails done regularly like I used to. Now I do them myself.
Her financial future: I'm a little nervous because once I finish my Ph.D., I'll have to pay off $43,000 in student loans. Of course, I recognize that, for the level of education I'm receiving, it could be worse. But it's still a lot!
What Blaylock has to say about her monthly budget
Lanada is doing a pretty good job of managing her money. She has no debt except for student loans, which is fantastic. And she should continue to pay off her credit card each month if possible. I'm glad to see that she's paying attention to the little things too, like doing her nails at home and bringing her lunch to work.
Lanada's income is likely to increase when she finishes her Ph.D. program. My hope is that whatever salary increase she gets will offset the cost of her future student loans, which will probably be about $600 a month. Whenever she's job shopping, she'll want to take that into consideration when negotiating her salary.
Since she doesn't have an emergency fund, she should consider creating one right away. Lanada should aim to have six months' worth of income saved up to help cover unexpected events, like a job loss or medical emergency. She should have an emergency fund and wants to buy a house, and I tell clients with similar competing goals to split their savings into two buckets so they can start making a little progress on each.
I also recommend that, in addition to saving for a 20 percent down payment, she also set aside an additional 3 percent of the cost of the loan for closing costs. So if she were to buy a $500,000 house, she'll need to save $100,000 for the down payment and $12,000 for closing costs.
How she can help hack her budget to get there: One spending area that jumped out at me is that Lanada has a pretty heavy car payment of $600 each month. She probably needs reliable transportation, but it looks like she also uses public transit. So I'd ask: Is that car a need or a convenience?
If she can downsize that automobile to something more affordable — perhaps cutting that cost to $300 a month — it might benefit her. Maybe she could even share a car with her partner, and supplement it with public transit.
A couple of other areas where she can trim: For one, her kids' expenses are also on the high side at $300 each month. So it may be time to find the one thing her son is most passionate about, and pare back on other activities. At $200, Lanada's personal clothing expenses are also higher than I'd like to see. With some discipline, she could probably cut her clothing and child's expenses in half — spending $250 a month combined, instead of $500.
If Lanada makes these changes — cutting $250 from her clothing and kids' spending, and slashing her car payment by $300 — she'll have a grand total of $550 more each month to put toward her savings goals. Her first priority should be to funnel the entire amount into an emergency fund until her balance is equal to one month's pay. But, after that, she can start putting half the money toward her down payment savings.
I'm confident that Lanada can work on creating an emergency fund and a house fund. It's all about trade-offs: Which do I want more? If saving for a house is truly a priority, she'll be motivated to cut back in other areas and put that money toward her dream home.
Three more smart ways to help hack $500 from a budget
Now it's your turn to take Williams' example and apply it to your own budget. If scaling back hundreds at once seems overwhelming, know that it's perfectly O.K. to start small.
"If you want to remove $500 from your budget, figure out the one thing you can do each month to reduce your spending," Blaylock says. "Budgeting and saving habits are developed over time, so the best day to start is today."
Here are three strategies that'll help put you on the right path:
1. Slash subscription services.
Pay special attention to any services that will keep auto-enrolling you each month — whether you're using them or not, suggests Blaylock. This can apply to gym fees, memberships to organizations, charitable donations, newspapers, audiobooks, magazines, and TV or music services, to name a few. And look at which ones you can cancel. Perhaps you can't live without high-speed Internet, but you can live without cable for a while. Or maybe instead of paying $100 a month for a high-end gym, you could watch exercise videos at home.
2. Consider what you truly savor.
Pay only for things that you use regularly or thoroughly enjoy, says Blaylock. So if you've gotten into the habit of eating out every Saturday night with friends, ask yourself if it's the expensive meal that makes you happy or the company. If it's the social aspect you crave, consider taking turns hosting dinner parties that can be just as fun — and less pricey.
3. Visualize how it'll feel to reach your goals.
If you dream of buying a house like Williams does, Blaylock suggests picturing yourself walking through the front door, lounging on the lawn on a beautiful day, parking in your private driveway, and so on. The more you focus on that goal, the bigger a priority it can become — and the easier it can be to find ways to cut that $500 each month!
This story was originally published on LearnVest. LearnVest is a program for your money. Read their stories and use their tools at LearnVest.com.
More from LearnVest...

Continue reading for free
We hope you're enjoying The Week's refreshingly open-minded journalism.
Subscribed to The Week? Register your account with the same email as your subscription.