Why Facebook should embrace polyamory
The social network can go further than its 49 gender identities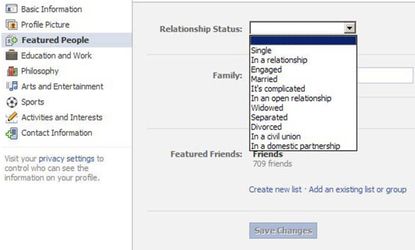 (Image credit: (AP Photo/Facebook))
Facebook raised eyebrows earlier this year by unveiling 49 new gender options for users. Hopefully that's just the start of the ubiquitous social network's social boundary-pushing ways.
The next frontier? Unconventional relationship options. Instead of multiple options for relationships with just one other user, Facebook should allow users to be in relationships with multiple users. There's even a Change.org petition demanding as much — though it's only won a couple hundred signatures so far.
"We appreciate and thank Facebook for their recent change in allowing all people to put their own gender identities," reads the petition. "We ask that they have the same respect for people of all relationship types. They deserve the basic right to be honest about who they care about. Please sign this petition to allow those in open relationships to name their partners truthfully as everybody else does."
Subscribe to The Week
Escape your echo chamber. Get the facts behind the news, plus analysis from multiple perspectives.
SUBSCRIBE & SAVE
Sign up for The Week's Free Newsletters
From our morning news briefing to a weekly Good News Newsletter, get the best of The Week delivered directly to your inbox.
From our morning news briefing to a weekly Good News Newsletter, get the best of The Week delivered directly to your inbox.
Now let's face it: Facebook is unlikely to make this change anytime soon. But it should.
American social mores are changing. Support for gay marriage is rocketing upwards. Also increasing is our acceptance of trans-identified individuals.
But society's approval of multi-partner relationships is still low. Polling done by Gallup last year revealed that while 59 percent of Americans considered homosexual relations morally acceptable, just 14 percent approved of polygamy. (It should be noted that polyamory differs from polygamy in that it allows for multiple male partners as well as female, and so is generally considered more egalitarian.)
A large degree of stigma around any non-monogamous relationship persists. For the vast majority or Americans, there are two options: monogamy, or cheating.
But many people are living out a third option, such as polyamorous writer Lauren Rumpler: ethical non-monogamy. "People assume that to be faithful, you have to be monogamous," Rumpler explained in a recent interview with me. "To be faithful, you have to be honest. Faithfulness is measured in degree based on the couple. The faithfulness is not to the individual. It's to the contract that you've made to that individual." The idea is that as long as you're open and honest with your partners, and they're comfortable with the terms of the arrangement, you are faithful, no matter how many people you sleep with.
And that's where the "ethical" portion of ethical non-monogamy comes in, referring to adherence to clearly laid out rules around the extra-relationship relationships. So instead of promising yourself to your partner, you're promising to obey the rules you've decided on with your partner.
Polyamory, a subset of ethical non-monogamy, refers to multiple concurrent sexual relationships, and is generally differentiated from open relationships by long-term, emotionally involved, and/or committed "secondary" relationships. Some poly relationships involve hierarchy, with primary, secondary, (and so on) relationships. And some are non-hierarchical, with no partner being more important than the other. In some poly relationships, "metamours," as partners of partners call each other, have romantic relationships. In others, partners either don't know about each other (Don't Ask; Don't Tell) or remain friendly but not romantically involved.
The site Polyamory in the News documents the growing coverage this "alternative lifestyle" has received in recent years. There's even a reality show about poly couples, called, appropriately, Polyamory: Married and Dating.
The main arguments against polyamory center around whether multi-partner relationships are good for children. "Marriage is the institution that provides social stability because it attempts to ensure, insofar as possible, that the mother and father who create a new life commit to caring for that child until adulthood," writes conservative author Mona Charen. "No other adult arrangement has ever been shown to benefit children as much."
There aren't many studies available regarding the impact of non-monogamy on children. Two studies by Elisabeth Sheff indicate some benefits: the children had more individualized time with adults, they "could spend less time in daycare because of the flexibility of having multiple parental figures involved in their lives," and "the greater diversity of interests available from adult figures helped children foster a wider variety of hobbies and skills."
However the studies also revealed some drawbacks, particularly "the discomfort of having partnerships between adults dissolve and the resulting emotional trauma for children who may have been very attached to a departing partner." But the research is also clear that family stability is more important for healthy child development than family makeup.
Conservative columnist Jonathan Rauch makes an interesting case against polyamory when he points out that multiple wives are far more common than multiple husbands, and that this kind of plural marriage is likely to result in a surplus of single men, which is bad for society. However, it's probably no coincidence that while this particular kind of plural relationship thrived throughout history, women were also terrifically oppressed, and wealth disparities meant that survival was more likely as the third wife of a rich man than the only wife of a dirt-poor one.
In the end, the main benefit of ethical non-monogamy is that it helps people who feel unsuited to monogamy enjoy their relationships. It also accepts that no one person is capable of meeting all of your needs. Acceptance of and education around ethical non-monogamy is important because too many people end up in monogamous relationships not because they enjoy monogamy, but because it's the default position, and they never consider other options.
This is where Facebook comes in. Of course, Facebook doesn't exactly grant rights or set policy. But can you imagine how many more people would consider and accept polyamory as a viable and ethical life choice if Facebook gave polyamory its imprimatur?

Continue reading for free
We hope you're enjoying The Week's refreshingly open-minded journalism.
Subscribed to The Week? Register your account with the same email as your subscription.