How to defend yourself on the laser battlefield of the future
Laser weapons are almost here. Will they spell the end of air power as we know it?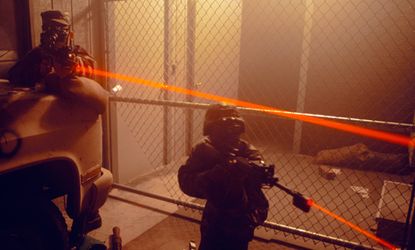 (Image credit: (Karen Kasmauski/Corbis))
Sign up to our 10 Things You Need to Know Today newsletter
A free daily digest of the biggest news stories of the day - and the best features from our website
Thank you for signing up to TheWeek. You will receive a verification email shortly.
There was a problem. Please refresh the page and try again.
Lasers and other directed-energy weapons, originally designed to defend against missiles and artillery, could pose significant challenges for air power in the near future. Cued by widely-spread-out sensors, lasers could strike anything in their line of sight at the speed of light, giving the target no chance to evade.
Moreover, ground- and ship-based directed-energy systems aren't constrained by energy, heat-dissipation, space, or weight like aircraft lasers are — and so the surface-fired weapons will have big advantages.
So does this spell the end of air power as we know it, or are lasers just empty hype? After all, military leaders and science fiction writers have dreamed of energy weapons since at least the debut of H.G. Wells' The War of the Worlds in 1898, and the science behind the laser is almost a century old.
Subscribe to The Week
Escape your echo chamber. Get the facts behind the news, plus analysis from multiple perspectives.
SUBSCRIBE & SAVE
Sign up for The Week's Free Newsletters
From our morning news briefing to a weekly Good News Newsletter, get the best of The Week delivered directly to your inbox.
From our morning news briefing to a weekly Good News Newsletter, get the best of The Week delivered directly to your inbox.
Supposedly world-changing weapons have come and gone many times. Sometimes these technologies seemed to be silver bullets, but ultimately created the incentive for armies to develop countermeasures.
In that sense, lasers are no different than tanks, airplanes, machine guns, artillery, or countless other wonder weapons of previous generations. Someone will develop countermeasures … eventually. In the meantime, here are at six ways a sophisticated attacker could overcome future laser defenses.
Swarm
Massed formations of cheap, expendable attackers — plus copious decoys — could overwhelm a laser-armed defensive position. Even the falling wreckage of destroyed attackers could help clutter the defenders' sensors and overwhelm their ability to shoot down all the attackers before one gets through.
Infiltrate
The attacker could probe for dead space not covered by overlapping fire between two systems, or even find routes that minimize exposure to the line of sight of any laser-equipped defender. The attacker must exploit these discoveries quickly, however, because the defenders will fill these gaps if they also discover them.
Stealth technology and doctrine also fall into this category. While radar-evading aircraft are not actually invisible, they can use their stealth characteristics and clever route-planning to make it difficult for defenders to track them. Bad weather and solar flares could also help cover the approach of the attacker by degrading some sensors and dissipating the laser's energy.
Shield
Specially-designed aircraft with smoke dischargers or ablative or reflective shielding could fly between the lasers and the actual attacking aircraft and hopefully survive long enough to protect the attacker.
I'm imagining a separate aircraft for this option because shielding could degrade other performance characteristics such as payload, range and maneuverability.
Sabotage
Agents could infiltrate into the defensive site and disable the energy weapon. Better yet, why not skip the defenses and send the saboteurs to attack the main target directly?
This concept has a very low barrier to entry, making it suitable for just about any state or non-state organization. The most high-tech weapon in the world could still be vulnerable to a suicide terror squad.
Hack
Laser defenses will be far more effective when connected to a network of sensors to cue them. These links are open to many types of attack, including brute-force jamming, introducing errors into the data stream, degrading their reliability or undermining trust in the network. Just to name a few.
Ban
Potential enemies could impede deployment of laser defenses by claiming they pose hazards to non-military air and spacecraft, for example.
Critics managed to portray laser "dazzlers" — meant for temporarily blinding people on the battlefield — as inhumane. Most non-lethal weapons have sat unused for the same reason.
Publicly amplifying concerns about the accidental targeting of commercial aircraft, damage to satellites or even harm to human health — not to mention environmental concerns — could undermine support for energy weapons. Domestic opponents of lasers could also paint them as too expensive.
Look, lasers still have technical, tactical and organizational obstacles to overcome before they're going to play a meaningful role on the battlefield. Fuel supplies alone pose huge technical problems.
But embedded within a larger system of sensors, anti-aircraft missiles, fighter aircraft and other complimentary defenses, energy weapons could be a big danger to attacking air forces. Even if the aerial attackers do use all these tricks.
Jonathan Jeckell is an Army officer who studies technology and strategy. This article represents his own opinion and does not necessarily reflect the positions of the Army, the Department of Defense, or any U.S. government agency.
From drones to AKs, high technology to low politics, War is Boring explores how and why we fight above, on, and below an angry world. Sign up for its daily email update here or to its RSS feed here.
More from War is Boring...
Continue reading for free
We hope you're enjoying The Week's refreshingly open-minded journalism.
Subscribed to The Week? Register your account with the same email as your subscription.
Sign up to our 10 Things You Need to Know Today newsletter
A free daily digest of the biggest news stories of the day - and the best features from our website