America broke Iraq. Iran needs to fix it.
It's time to amend the famous Pottery Barn rule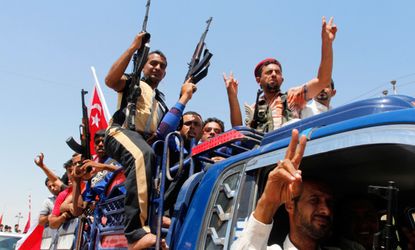 (Image credit: (REUTERS/ Essam Al-Sudani))
Sign up to our 10 Things You Need to Know Today newsletter
A free daily digest of the biggest news stories of the day - and the best features from our website
Thank you for signing up to TheWeek. You will receive a verification email shortly.
There was a problem. Please refresh the page and try again.
The old maxim about politics making for strange bedfellows barely begins to cover the shared interest Iran and the U.S. have in preventing Iraq's government from falling to Sunni Islamist militants sweeping toward Baghdad from the north.
So dire is the situation for Iraqi Prime Minister Nouri al-Maliki that he's asking for military aid from both the U.S., a country he declined to sign a status-of-forces agreement with in 2011, and Iran, a nation that Iraq fought in a brutal and bloody civil war in the 1980s. And U.S. and Iranian interests are aligned enough that the two longtime enemies are actually considering working together to fight off the encroaching Islamic State of Iraq and Syria (ISIS) insurgency.
In the U.S., the main conversation about the Iraq mess seems to be who is responsible for it. The options: 1. George W. Bush, for invading (and thus destabilizing) Iraq in 2003; 2. President Obama for not reaching an acceptable agreement with Maliki to keep troops in Iraq and then reacting late to the ISIS threat; 3. Maliki for enacting policies that alienated Iraq's minority Sunni population and benefited his own Shiite majority.
Subscribe to The Week
Escape your echo chamber. Get the facts behind the news, plus analysis from multiple perspectives.
SUBSCRIBE & SAVE
Sign up for The Week's Free Newsletters
From our morning news briefing to a weekly Good News Newsletter, get the best of The Week delivered directly to your inbox.
From our morning news briefing to a weekly Good News Newsletter, get the best of The Week delivered directly to your inbox.
I'd hazard that in Iraq, that discussion isn't all that interesting right now. But one point of common ground between the U.S. and Iran seems to be the conviction that this is a mess of Maliki's making and he needs to find a political solution, not just a military one. Obama has decided that any U.S. military aid is contingent on Iraq's government working to heal the sectarian divides with Iraq's Kurdish and Sunni minorities, hopefully through the formation of a unity government, The New York Times reports.
Iranian President Hassan Rouhani's deputy chief of staff Hamid Aboutalebi, in a series of tweets on Sunday, favorably quoted Obama's exhortation on Friday that Iraq officials have to "make tough decisions to keep the country together." He also said this (translated by Al-Monitor): "Iran and America are the only two countries, from a perspective of regional power, that can peacefully end Iraq's crisis."
Rouhani himself said on Saturday that as soon as "the Americans start to take action against terrorist groups, we can consider" cooperating with the U.S. in Iraq. A senior Iranian official was more direct, telling Reuters, "We can work with Americans to end the insurgency in the Middle East."
And support for a joint U.S.-Iranian effort is coming from surprising quarters in the U.S., too. "We are probably going to need their help to hold Baghdad," Sen. Lindsey Graham (R-S.C.) said on Sunday. "The Iranians have an interest. They have Shiite populations to protect. We need a dialogue of some kind." Speaking on CNN, Graham added: "The Iranians can provide some assets to make sure Baghdad doesn't fall. We need to coordinate with the Iranians."
How strange is this development? Let us count the ways.
Not only are the U.S. and Iran bitter enemies, but so are Iran and Iraq. Iran "will find it very difficult to justify having its military help the discredited Maliki government and the Iraqi army," Haleh Esfandiari, at the Woodrow Wilson International Center for Scholars, says at The New York Times. "The memory of the Iran-Iraq war, when Iraq invaded Iran and over 250,000 Iranians lost their lives, is still very vivid in people's mind. The generation that fought in that war, from 1980 to 1987, is still very much present." So while Iran has a powerful religious connection to the Shiite majority that controls Iraq's government, that doesn't mean there isn't any bad blood left between the two countries.
On top of that, the U.S. and Iran are fighting a proxy war next door in Syria, ISIS's other battleground — Iranian militias and military advisers are helping President Bashir al-Assad while the U.S. is cautiously arming the moderate forces (not ISIS) trying to unseat Assad. And ISIS is reportedly being financed by wealthy patrons in Saudi Arabia and other Persian Gulf allies of the U.S.
It's hard to even think of another international situation that would be as odd as a U.S.-Iran military partnership in Iraq — maybe the U.S. and Cuba teaming up to fight illegal cigar smuggling in Nicaragua? Or perhaps Russia and the U.S. conducting joint anti-terrorism exercises with the government of Afghanistan? Iran and the U.S. are both keenly aware of how bizarre this looks, and Iran seems to be dealing with the incongruity by inviting the U.S. to take the first step.
"The U.S. has no choice but to clear up this mess in Iraq, otherwise its achievements and credibility in the region would be gone," a senior Iranian government official told the Financial Times. "The U.S. should help remove this infection [Sunni extremists] from the region." Former deputy Iranian Foreign Minister Ali Khoshroo was reading from the same script: "The U.S. cannot sit idly and watch terrorists that it kicked out are now back and want to rule Iraq with swords."
Here's a better idea: Iran can send its crack Revolutionary Guards to help Maliki save Iraq. The U.S. has long-term security interests in preventing ISIS from taking over Iraq or even carving out a safe haven, but for Iran the rampaging, well-financed, heavily armed Sunni militants are a near-term threat. It's enough of a threat that Iran has armed militants inside Syria, and according to several reports, already has sent a few hundred of the Revolutionary Guards to fight alongside Iraqi troops.
Officially, Iran says it isn't sending its troops across the Iraq-Iran border, though the Wilson Center's Haleh Esfandiari predicts that "if the holy Shiite shrines in Karbala and Najaf are threatened," Iran would openly send troops because it "would be seen as a religious threat."
But self-interest isn't the only reason Iran should be the outside country bleeding to keep Iraq from falling apart. It also has a moral responsibility. Iran was reportedly one of the key factors that derailed U.S. plans to keep a small number of troops in Iraq. Fareed Zakaria in The Washington Post quotes a senior Iraqi official, from a conversation he had when the U.S. and Iraq were negotiating the fruitless status-of-forces agreement.
There's a geopolitical downside of letting Iran fight while the U.S. stays on the sidelines: "The United States is wary of furthering Iran's already considerable influence in Iraq," CNN notes, and throwing a Shiite power like Iran into what's turning out to be a sectarian nightmare would probably only worsen that aspect of Iraq's crisis.
But there are no good options for the U.S. in Iraq. Maybe Gen. Colin Powell's famous Pottery Barn rule should have an appended clarification: If you break it, you own it; but if you dump billions of dollars into fixing it, and Pottery Barn lights it on fire once you've left the store, you've washed your hands of the matter. Let Crate and Barrel put out this inferno.
Continue reading for free
We hope you're enjoying The Week's refreshingly open-minded journalism.
Subscribed to The Week? Register your account with the same email as your subscription.
Sign up to our 10 Things You Need to Know Today newsletter
A free daily digest of the biggest news stories of the day - and the best features from our website
Peter Weber is a senior editor at TheWeek.com, and has handled the editorial night shift since the website launched in 2008. A graduate of Northwestern University, Peter has worked at Facts on File and The New York Times Magazine. He speaks Spanish and Italian and plays bass and rhythm cello in an Austin rock band. Follow him on Twitter.