The Common Core backlash
Originally launched with bipartisan support, the ambitious education project is now facing a populist revolt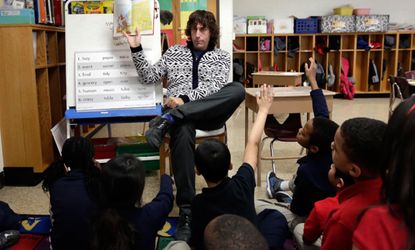 (Image credit: (AP Photo/AJ Mast))
Sign up to our 10 Things You Need to Know Today newsletter
A free daily digest of the biggest news stories of the day - and the best features from our website
Thank you for signing up to TheWeek. You will receive a verification email shortly.
There was a problem. Please refresh the page and try again.
What is the Common Core?
To opponents, it's an invasive national curriculum that brainwashes kids — or at least confuses them to the point of tears. To supporters, the Common Core State Standards Initiative is an attempt to ensure a good education for 40 million public school K-12 students across America by providing specific guidelines about what they should know, grade by grade, in math, reading, and writing. Adopted by 45 states and the District of Columbia in 2010, Common Core originally had widespread Democratic and Republican support, and was seen as a rare Obama-era bipartisan success. But as the 2014-15 deadline for testing of skills approaches, attacks against "Obamacore," as Tea Partiers have nicknamed it, are becoming mainstream, prompting Indiana — the first state to adopt the standards — to this year become the first to opt out, even though it risks losing federal education funding by doing so. Meanwhile, some 100 bills have been introduced in state legislatures to slow or block the implementation of the standards, and worried parents are in an uproar. "My kids used to love math. Now it makes them cry," comedian Louis C.K. recently complained in a tweet that got national attention. "Thanks standardized testing and Common Core!"
What did Common Core replace?
Subscribe to The Week
Escape your echo chamber. Get the facts behind the news, plus analysis from multiple perspectives.
SUBSCRIBE & SAVE
Sign up for The Week's Free Newsletters
From our morning news briefing to a weekly Good News Newsletter, get the best of The Week delivered directly to your inbox.
From our morning news briefing to a weekly Good News Newsletter, get the best of The Week delivered directly to your inbox.
Pre-Common Core, the country's 14,000 individual school districts developed their own curricula autonomously or followed general state guidelines. But that hodgepodge of educational standards meant that what students were taught varied widely from state to state. As a result, a student acing algebra in Alabama could move across the border to Tennessee and flunk the same subject. Many schools were clearly not preparing their students well: About 20 percent of incoming freshmen at four-year colleges require remedial courses in English or math, according to the National Center for Education Statistics. That's why the National Governors Association in 2009 asked a group of academic specialists to develop a new approach. And so the Common Core was born.
How is it different?
Kids are no longer asked to recall memorized facts in multiple-choice tests, or write emotion-based personal essays. Instead, the focus is on analyzing complex information and reasoning, which in theory better prepares students for college and employment. At Scholars' Academy in Rockaway Park, New York City, sixth-graders studying Homer's Odyssey are no longer asked, "When did you do something heroic?" Instead, they analyze the protagonist's character and the concept of heroism: "Is Odysseus truly a hero, and why?" Not everyone is a fan of the Core's approach.
What are the critics' objections?
One central concern is that the Core reduces how much literature English teachers can teach. Because of its emphasis on analysis of information and reasoning, the Core requires that 50 percent of all reading assignments in elementary schools consist of nonfiction texts, growing to 70 percent by grade 12. That requirement has sparked outrage that masterpieces by Shakespeare or Steinbeck are being dropped for informational texts like "Recommended Levels of Insulation," by the Environmental Protection Agency. "I'm struggling with this, and my students are struggling," middle-school teacher Jamie Highfill told The Washington Post. There is also widespread frustration over the Core's demand that students explain their mathematical computations, not just perform them. Then, of course, there are the political attacks against the Core.
From the left, or right?
From all sides. Tea Partiers view the project as an ominous Big Government attempt to take over local schools and indoctrinate their children with a liberal, anti-Christian worldview. Radio host Glenn Beck, for example, calls the Core "leftist indoctrination," adding, "They are breeding an entire new generation of slaves." Liberal critics say the Core will worsen America's rigid, standardized-testing culture, and argue that the standards will be used to scapegoat teachers in poorly funded public schools. In reality, the standards outline the skills required from students, leaving the actual curriculum — the textbooks, the teaching methods — under the control of local districts, schools, and teachers. Nonetheless, the rollout of national testing, due in the 2014–15 school year, will be fraught, says former Assistant Education Secretary Checker Finn. After all, "conservatives hate anything with the word 'national' in it, and liberals hate anything with the word 'test.'"
Are schools ready?
"There'll be a two- or three-year period that won't be very pretty," says Bruce Hunter of the American Association of School Administrators. This year, students in about 100,000 public schools in 41 states will start taking the online tests, which will be graded on a tougher curve than previous tests. Results are likely to be grim; in New York state last year, fewer than a third of students passed early Common Core exams. In the end, says Secretary of Education Arne Duncan, the Core's fiercest enemies won't be anti-federal-government conservatives or pro-teacher-union liberals, but the "white suburban moms who — all of a sudden — [discover] their child isn't as brilliant as they thought they were."
The Core's 'fuzzy math'
Under the Common Core, the emphasis in math classes is not just on getting the right answer, but on understanding the reasoning behind it. That conceptual approach, known as "fuzzy math," has sparked a number of viral blog posts from frustrated parents uploading pictures of the often absurdly complicated math problems their kids are now asked to solve. In one such example, pupils are asked: "Use number bonds to help you skip-count by seven by making 10 or adding to the ones, e.g., 7 + 7 = 10 + 4 = ?" Pre-Core, that question might have been: "7 + 7 = ?" Another problem asks students to answer "2 + 3 = ?" and then "write the double fact that helped you solve the double plus 1." This approach has left parents who try to help their kids do their math homework completely flummoxed. "I have a Bachelor of Science Degree in Electronics Engineering," wrote one parent, and "even I cannot explain the Common Core Mathematics approach."
Continue reading for free
We hope you're enjoying The Week's refreshingly open-minded journalism.
Subscribed to The Week? Register your account with the same email as your subscription.
Sign up to our 10 Things You Need to Know Today newsletter
A free daily digest of the biggest news stories of the day - and the best features from our website