These monkeys are the most monogamous primates on earth
Meet the owl monkey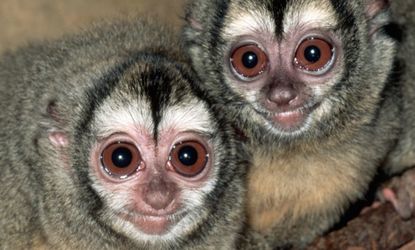 (Image credit: (Kevin Schafer/Corbis))
Sign up to our 10 Things You Need to Know Today newsletter
A free daily digest of the biggest news stories of the day - and the best features from our website
Thank you for signing up to TheWeek. You will receive a verification email shortly.
There was a problem. Please refresh the page and try again.
For most animals, mating is a "love 'em and leave 'em" situation. As a result, the ones that partner up for the long haul tend to capture our attention. Everyone loves the idea of certain animals being in it together for a while, like a fuzzy little marriage.
But even animals that appear to mate for the long term usually don't. They're socially monogamous but not genetically so: Males and females can mate and raise offspring together, but still engage in some hanky-panky on the side ("extra pair copulations," if you want the technical phrase). Many passerine birds (aka perching birds), for example, tend to live in bonded pairs, but researchers found extra pair offspring, or chicks born from a tryst, in 86 percent of those species.
That shouldn't be entirely surprising, since an animal could potentially have more offspring with more genetic diversity by sleeping around, even when it is "committed" to one partner. Which is to say that true monogamy is very rare among animals. And this week, researchers from the University of Pennsylvania announced that we can add a new member to one of the world's most exclusive clubs.
Subscribe to The Week
Escape your echo chamber. Get the facts behind the news, plus analysis from multiple perspectives.
SUBSCRIBE & SAVE
Sign up for The Week's Free Newsletters
From our morning news briefing to a weekly Good News Newsletter, get the best of The Week delivered directly to your inbox.
From our morning news briefing to a weekly Good News Newsletter, get the best of The Week delivered directly to your inbox.
Since 1996, biological anthropologist Eduardo Fernandez-Duque has run the Owl Monkey Project, a program studying the owl monkey's biology, behavior, genetics, and conservation. All owl monkeys, also known as night monkeys, are socially monogamous, while the males are the primary parental caregivers. They carry their kids around, play with them, and feed them. In their 18 years studying the monkeys in northern Argentina, Fernandez-Duque and his collaborators had never seen any of the monkeys sneaking away from their partners for some action on the side, and decided to see if genetic tests would back up their observations.
The team, led by Maren Huck, took samples from more than 100 Azara's owl monkeys (Aotus azarae), including 35 infants born to 17 social pairs, and didn't find any milkman-type surprises. Every little monkey's social parents were also its biological parents, and there weren't any signs of extra pair paternity. That makes the owl monkey the first primate species, and the fifth pair-living mammal, that's both socially and genetically monogamous (the others are the California mouse, Kirk's dik-dik, the Malagasy giant jumping rat, and the coyote).
But what makes these species this way? The team looked at 15 different pair-living mammals for clues about how genetic monogamy evolves, and found connections between that trait and the strength of an animals pair's bond, as well as the degree to which the male is involved in parenting.
The species with closer bonds — in which the male and female in a pair spent more time together — had lower levels of extra pair paternity. Same with the species in which males contributed more to raising their young. It's not clear which characteristic leads to the other, though. A preference for spending lots of time with a partner and caring for her babies might allow males to monopolize the partner and reduce the chances that she'll mate with another male. Or it could go the other way: genetic monogamy might lead the males to feel more certain about their paternity, promoting stronger bonds to their mates and more involvement in parenting. It's a chicken-and-egg question, one that scientists say will need more research to answer.
However, the owl monkey partnerships don't always have a happy ending. Fernandez-Duque and Huck found in a previous study that monkey pairs often have to deal with competition and aggression from unpartnered "floaters." These intruders will attack and expel one of the partners and take the mate for themselves. This not only affects the remaining partner's reproductive success (monkeys with only one partner had 25 percent more offspring per decade of pair living than those that had two or more mates), but can often be fatal for the one being replaced. 'Til death do us part, indeed.
Continue reading for free
We hope you're enjoying The Week's refreshingly open-minded journalism.
Subscribed to The Week? Register your account with the same email as your subscription.
Sign up to our 10 Things You Need to Know Today newsletter
A free daily digest of the biggest news stories of the day - and the best features from our website