The worrying rise of the anti-vaccination movement
With vaccination rates falling, diseases that once were nearly eradicated are making a comeback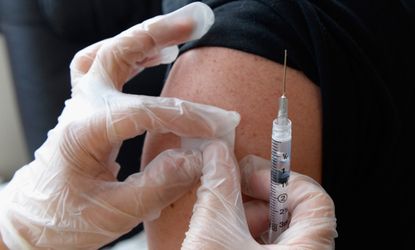 (Image credit: (Kevork Djansezian/Getty Images))
Why are vaccination rates falling?
Since the late 1990s, a growing number of American parents have become convinced — against all scientific evidence — that the risks of immunization outweigh the benefits. Their fears are rooted in a now-discredited 1998 study by a British doctor, Andrew Wakefield, who claimed that the onset of autism in 12 British children was linked to their being vaccinated for measles, mumps, and rubella (MMR). But subsequent studies failed to replicate Wakefield's findings, and an investigation found that his study was "an elaborate fraud," with deliberately falsified data. Nonetheless, Wakefield's bogus study started a wave of apprehension and confusion that continues to spread. In some states, from 5 to 8 percent of parents got a "personal belief" exemption to prevent their children from being vaccinated in 2012. Overall, more than 10 percent of parents are either delaying when their children are vaccinated or not getting the shots at all. "Every year, the number of kids getting exempted [from vaccines] grows," said Dr. Lawrence Madoff, director of epidemiology and immunization for Massachusetts. "When immunization rates fall, it doesn't take long, even in a developed country, for diseases to resurge."
Is that happening?
Subscribe to The Week
Escape your echo chamber. Get the facts behind the news, plus analysis from multiple perspectives.
SUBSCRIBE & SAVE
Sign up for The Week's Free Newsletters
From our morning news briefing to a weekly Good News Newsletter, get the best of The Week delivered directly to your inbox.
From our morning news briefing to a weekly Good News Newsletter, get the best of The Week delivered directly to your inbox.
Unfortunately, yes. In recent years there have been multiple outbreaks of measles, whooping cough, and other childhood diseases that not long ago were virtually wiped out by vaccination. In 2012, about 50,000 Americans contracted whooping cough (pertussis), a highly infectious respiratory illness that causes convulsive coughing for weeks and can be fatal to infants. It was the largest outbreak of that bacterial illness in more than half a century, and at least 18 people died. About 190 measles cases were reported in 2013, triple the previous year — virtually all in communities where there were large numbers of unvaccinated people. The Anti-Vaccine Body Count website, which is based on federal statistics, says that since 2007, 128,000 Americans have come down with preventable illnesses due to lack of vaccination, with 1,336 deaths.
Who is rejecting vaccines?
"Anti-vaxxers," as people who oppose vaccination are called, come from across the political and geographic spectrum. They include back-to-the-land progressives in Brooklyn and Oregon who see vaccines as "unnatural," libertarians who distrust government recommendations, and rural religious conservatives suspicious of science and modernity. Their ranks swelled when actress Jenny McCarthy publicly blamed her son's autism on vaccines and in 2007 launched a high-profile campaign, with a book and TV appearances, to "educate" the public about the dangers of vaccination. Some anti-vaxxers adamantly insist that vaccines are responsible for the autism epidemic of recent years, despite multiple studies that have found no link. Others have adopted the idea that giving vaccines for 16 different illnesses to infants in their first two years of life may somehow "overwhelm" their immune systems and trigger autism and other neurological and developmental disorders.
What's the evidence for this belief?
There is none. Modern vaccines contain very tiny amounts of killed, weakened, or partial portions of viruses and bacteria. In fact, researchers have found that the number of such "antigens" in the entire current recommended course of childhood vaccinations is just 315, compared to several thousands in the 1990s. "New vaccines provide only the minimum amount of material needed to create an immune response to give the child protection," says Michael Brady, chairman of the American Academy of Pediatrics' Committee on Infectious Diseases. Every day, experts point out, infants are exposed to dozens of living bacteria and viruses — without "overloading" their immune systems. The preservative thimerosal, which some anti-vaxxers claim caused autism, hasn't been in childhood vaccines for a decade.
Are immunized people now at risk?
Yes. The effects of most vaccinations diminish over time, so adults who haven't received "booster shots" can get measles, whooping cough, and other diseases from an unvaccinated person. That's why deciding not to get vaccinated is not simply a matter of personal choice. When vaccination rates are 95 percent or higher, the unvaccinated are protected because exposure is so rare thanks to "herd immunity." As more individuals opt out of vaccinations, the risk of exposure for the unvaccinated or under-vaccinated increases dramatically.
What can be done?
Bioethicist Arthur Caplan recently proposed holding people legally responsible for the illnesses and related damage they cause by not having their children vaccinated. Individuals can make their own choice not to vaccinate, Caplan said, "but that does not protect the person making that choice against the consequence of that choice for others." Most health officials, however, think the best strategy is to conduct a tireless public education campaign against the false fears of vaccinations. "Children have gotten sick because of this fraud," says Dr. Aaron Carroll, professor of pediatrics at the Indiana University School of Medicine. "It's likely that some children have died. Vaccinate your kids. Please."
The autism epidemic
"Vaccines do not cause autism," says the Mayo Clinic. But what does? From 2002 to 2013, rates of autism, a neurological disorder marked by pronounced social withdrawal, soared 300 percent. One in 50 children is now diagnosed with an autism spectrum disorder. The cause is unknown, though research has indicated it may be a mix of genetic and environmental factors, along with more diagnoses because of heightened awareness. A 2012 Danish study found that fathers older than 35 had a 28 percent higher chance of having an autistic child. That suggests that the genetic mutations that are more common among older parents may be a factor. Another study found that when one twin has autism, there's a 70 percent chance the second twin does, too — indicating that genes play a big role, but not a determinative one. Though research continues, most experts now believe that autism is caused by a complex interaction of multiple genes — anywhere from three to 20 — with environmental toxins, viral infections, or hormonal disturbances, probably while a fetus is still in the womb.

Continue reading for free
We hope you're enjoying The Week's refreshingly open-minded journalism.
Subscribed to The Week? Register your account with the same email as your subscription.