The linguistic lessons of Pig Latin
There's a reason this language game just makes a certain kind of intuitive sense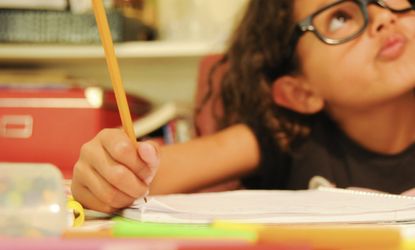 (Image credit: (Thinkstock))
Sign up to our 10 Things You Need to Know Today newsletter
A free daily digest of the biggest news stories of the day - and the best features from our website
Thank you for signing up to TheWeek. You will receive a verification email shortly.
There was a problem. Please refresh the page and try again.
As most English-speaking children know, you can temporarily confuse your friends by moving the consonant(s) from the beginning of a word to the end and adding the sound "ay." And once they too figure out how to speak Pig Latin, you can move on to more elaborate language games, such as Gibberish, Aigy Paigy, or Ubbi Dubbi, which involve inserting a syllable like itherg, aig, ob, or ub between the vowel and its preceding consonants in every syllable.
All of these language games manipulate sounds in a similar way. Take the word blink. Each of these language games splits the consonants that come before the vowel and the vowel plus everything after (bl+ink), never one of several consonants pre- or post-vowel (b+link or blin+k), or consonants+vowel versus post-vowel consonants (bli+nk).
This distinction is so important for describing language that linguists have names for these two positions: The pre-vowel consonants (such as the bl in blink) are called the onset, and the vowel plus following consonants together (such as the ink in blink) are called the rhyme, also spelled rime in this context.
Subscribe to The Week
Escape your echo chamber. Get the facts behind the news, plus analysis from multiple perspectives.
SUBSCRIBE & SAVE
Sign up for The Week's Free Newsletters
From our morning news briefing to a weekly Good News Newsletter, get the best of The Week delivered directly to your inbox.
From our morning news briefing to a weekly Good News Newsletter, get the best of The Week delivered directly to your inbox.
The sounds that get sent to the end of the word in Pig Latin are the onset: Spring in Pig Latin is ing-spray, not ring-spay or pring-say. And the split where the itherg or aig or ub gets added in Gibberish and Aigy Paigy and Ubbi Dubbi is between the onset and the rhyme: spr-itherg-ing or spr-aig-ing or spr-ub-ing.
What else can onsets and rhymes tell us?
As the name suggests, the rhyme is also the part of the word that, well, rhymes. So you might get a poem rhyming "moon" and "June," but you don't get poems that rhyme "moon" and "mood." (We do have other names for matching sounds, such as alliteration, assonance, and consonance, but they all refer to the individual sounds, not to groups of them, as "rhyme" does.)
Another interesting feature of rhymes is that the presence or absence of consonants in a rhyme can affect the vowel in a way that the presence of absence of consonants in an onset doesn't. For example, the vowel in seat can also occur in monosyllabic words without an onset (eat) or without a following consonant (see).
However, while the vowel in sit is still fine without an onset (it), there is no possible English word like sih that sounds like sit without the /t/. The same goes for the vowels in bait versus bet (bay, ate, and et sound like English words, but beh doesn't), in cot versus cat (caw is fine but cah isn't), in cooed versus could (coo but not cuh).
You might have learned in school that the vowels in seat, bait, bot, cooed, and boat are "long" vowels, while the vowels in sit, bet, cat, and could are "short" vowels, without learning that the distinction is for this reason. But the important point is that vowels show this contrast (at least in single-syllable words) based on whether there's a consonant in the rhyme, and never based on whether there's a consonant in the onset. This is another way in which the vowel and subsequent consonants have a closer relationship than the vowel and preceding consonants.
The importance of rhymes isn't just limited to English. For example, word games like Gibberish where a syllable is inserted between the onset and the rhyme are found in a wide variety of languages, from Afrikaans to French to Turkish. Many languages also have rhyming and other linguistic features that pay attention to whether there's a consonant in the rhyme, such as deciding which syllable is stressed.
Even pre-literate children are sensitive to this distinction. I once asked a 3-year-old cousin what sound the word "special" started with, just to see what would happen. After a moment's deliberation, she replied "sp." It was a pretty good answer, and underlines the linguistic lesson of Pig Latin: Onsets and rhymes just make a certain kind of intuitive sense.
Continue reading for free
We hope you're enjoying The Week's refreshingly open-minded journalism.
Subscribed to The Week? Register your account with the same email as your subscription.
Sign up to our 10 Things You Need to Know Today newsletter
A free daily digest of the biggest news stories of the day - and the best features from our website
Gretchen McCulloch is a linguist and polyglot. She has a master's in linguistics from McGill University and blogs daily at All Things Linguistic.