AI is so over: This is artificial empathy
Your local call center may know more about you than your therapist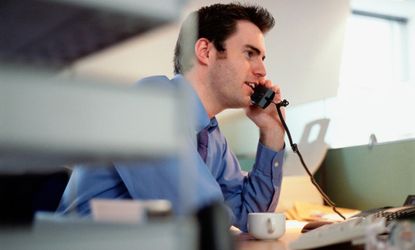 (Image credit: (Thinkstock))
Are you the kind of person who prefers to be chatty on customer service calls, or do you like to get right to the point? Do you prefer to be led through an explanation every step of the way, or do you prefer that the person on the other end just shut up and "do what they need to do"? Do you prefer person-centered explanations, or technical explanations? Are you outgoing, or are you shy?
Believe it or not, there is a computer system out there that can figure out the details of your personality and interaction style after listening to mere seconds of your phone calls. In fact, this may have already happened the last time you called a customer service line. There is no way you would ever know.
Mattersight is an extremely sophisticated data analysis system that listens to the way you respond on the telephone. It listens to you in the background, and breaks down hundreds of micro-features of your voice: Volume, tone, pauses, speed of response, and so on. It uses mathematical algorithms to interpret these features, compare them to data in its databases, and come up with a personality profile for you.
Subscribe to The Week
Escape your echo chamber. Get the facts behind the news, plus analysis from multiple perspectives.
SUBSCRIBE & SAVE
Sign up for The Week's Free Newsletters
From our morning news briefing to a weekly Good News Newsletter, get the best of The Week delivered directly to your inbox.
From our morning news briefing to a weekly Good News Newsletter, get the best of The Week delivered directly to your inbox.
All of this happens, by the way, during the first few seconds that you are on the phone. It could even be happening while you are working your way through a voice-activated menu system.
Then, when you are finally connected to a sales representative or customer service professional, Mattersight takes its analysis of your personality, compares it to the personality profiles of the call center employees that it has on file, and automatically connects you with the service agent that you are most compatible with.
As a result, you will have a better customer experience. If you like brusque and professional, you will be connected with someone who is brusque and professional; on the other hand, if you like friendly and chatty, you will be connected with someone who asks how your day is going.
You will never even know that Mattersight was behind the scenes, manipulating the whole thing. In some cases, even the customer service representative may not know. But the end result is that both parties come away from the experience knowing that they were talking to someone who was "easy to get along with."
How much of your personality is private?
How much information do you give away about yourself when you are on the phone with a call center? Exactly how much of a "deep dive," psychologically, can an analytics system like Mattersight really do? In reality, nobody knows the ultimate answer to this question.
Over time, if you are a repeat caller to a company's help line or sales department, the Mattersight analytics system could potentially build up a detailed profile of you. Every single second of every phone interaction that you have with another human being can yield hundreds of new micro-features of data. Each of these micro-features can then go into the system, be passed through complex algorithms, and refine the company's "personality profile" of you.
Over time, this means a better customer experience for you, because the system will become better at pairing you with people that you "just click with" on the other end of the call.
But how far can this profiling go? By gathering data about your vocal distress level, incorrect responses, or dialect, can Mattersight detect whether you might be someone who is trying to commit fraud? Can it be used to predict the chances that you might miss payments, or skip out on a debt?
Can it be used to detect psychopathy? As the raw amount of data that we can extract from vocal interaction increases, and as the mathematical systems for examining those data improve, we will be able to make increasingly better predictions about nearly all aspects of a caller's personality, even those that one might normally think of as being "private."
How comfortable do you feel that Mattersight can use "big data" techniques to find out more about you than your therapist can find out by laying you on a couch once a week?
Although Mattersight does not advertise its system as "artificial intelligence," its data mining techniques are reminiscent of many of the artificial intelligence techniques that have been discovered and refined over the last several decades. Traditional "artificial intelligence" is usually associated with, for example, taking voice commands and extracting the meanings of words and sentences.
Mattersight's system, on the other hand, is more like "artificial empathy": It takes the same stream of verbal input, and it extracts information about the speaker's mood, personality, and interaction style. This is basically the same thing that people do intuitively when listening to one another: Assessing mood, feelings, and personality.
A truly insightful person can "read" people very effectively. Empaths sometimes bill themselves as "psychics" and impress audiences by doing "cold reads" on strangers with amazing accuracy. In fact, however, such people are using the same types of subtle cues that Mattersight uses to recognize patterns and divine personality traits.
Yet it seems so much more creepy when a machine does it during a customer service call.
The deep, dark secrets of your personality are only "private" in the sense that most people cannot figure them out easily, most of the time. But computers are improving, and mathematical analysis is improving. Mattersight is right on the cutting edge, and is ready to turn your phone call into a personality test.
Mattersight will get to know you better than you know yourself, and it will only take seconds. While it listens in on your phone conversation, quietly and in the background, it will examine your personality, your level of empathy, your attention, and your interaction style. You won't even realize that it's there: All you will know is that you enjoyed the phone call.
More from The Kernel...

Continue reading for free
We hope you're enjoying The Week's refreshingly open-minded journalism.
Subscribed to The Week? Register your account with the same email as your subscription.