You definitely should not shop while you're drunk
Trust us — you'll regret what happens when you spend under the influence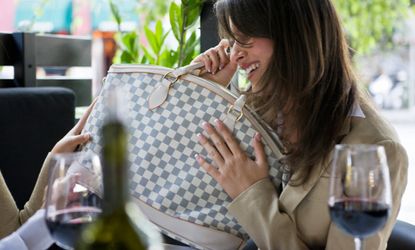 (Image credit: (Thinkstock))
Sign up to our 10 Things You Need to Know Today newsletter
A free daily digest of the biggest news stories of the day - and the best features from our website
Thank you for signing up to TheWeek. You will receive a verification email shortly.
There was a problem. Please refresh the page and try again.
On a random Saturday night in November in Fairfield, Conn., Jon Renner, 28, had no plans — but he did have a bottle of vodka and a Wi-Fi connection. So he poured himself a glass, kicked back and decided to indulge in some "me" time.
A couple of drinks later, he found himself watching a professional video game player on YouTube lead a tutorial on the game "Hitman: Absolution."
"I was watching him play, and after a while I was like, 'Wow, this seems like a game I could really get into,' " says Renner, who works in the music industry. He proceeded to log into his Amazon account, add it to his cart and buy a couple of CDs too.
Subscribe to The Week
Escape your echo chamber. Get the facts behind the news, plus analysis from multiple perspectives.
SUBSCRIBE & SAVE
Sign up for The Week's Free Newsletters
From our morning news briefing to a weekly Good News Newsletter, get the best of The Week delivered directly to your inbox.
From our morning news briefing to a weekly Good News Newsletter, get the best of The Week delivered directly to your inbox.
"I was feeling happy," he says. "When you're a little drunk, you feel confident, you feel like everything's a great idea. So I was like, 'You know what, I'm going to buy this!' "
After putting the game and CDs into his cart, Amazon suggested other games in the series he might like — so he bought those too. Total cost: about $70.
"I slept on it, then I woke up, looked at my emails and was like, 'Oh, crap, I did that last night?' " he recalls.
While Renner's most recent financial damage wasn't severe, he admits he also bought a plane ticket for $350 online — after a couple of cocktails — to see a friend in another state. And his experience highlights the ease with which we may tend to spend once we've had a bit to drink.
Retailers, too, have caught onto this slippery slope: In fact, Saks, Nordstrom, and Urban Outfitters have all applied for liquor licenses to incorporate bars into their retail environment, according to recent news reports. In the past year, Nordstrom doubled its food-service operations, which includes a full bar, as well as six new lounges and restaurants.
But the consequences of shopping under the influence can be costly, as those who've had to examine their banking statements after a bender can attest.
The haul: What happens when we shop drunk
Of course we all have wants: The problem with shopping and drinking is that it can make us infinitely more impulsive.
For Elizabeth Croydon, 43, a comedian and movie maker from Washington, D.C., it only took a couple of Grey Goose vodka and olive martinis before the urge to spend set in on her recent visit to NYC.
"I was on Broadway, had two martinis, and all of a sudden I started craving a Betsey Johnson bag," she recalls. "So I went downtown, popped into an upscale thrift shop I knew about and bought one."
Unlike Renner, Croydon doesn't regret her $80 buy. But she does acknowledge that alcohol plus retail therapy can produce mixed results. And, like Renner, she's done it more than once.
"I had a bunch of beers years ago when I was living in Cleveland, and bought a bunch of toys for adults," admits Croydon. "And I don't mean adult toys, I mean toys like rubber balls and Frisbees."
And there's more than one way to let alcohol dent your budget: While biologist Darby Jones*, 37, wasn't drinking when she convinced her husband to let her drop $400 on a rug, she made sure to make the entreaty when she knew he was.
"He was out, super drunk, and I was home online shopping, so I called him up and said, 'Hey, can I get this rug?', and he said 'Sure,' " says Jones. "When he sobered up, he said: 'Did I really agree to that?' "
How to know if you have a problem
Having the occasional glass of wine while visiting your favorite flash sale sites may not be a problem, unless, of course, you're trying to stick to a budget. Or if you have other compounding issues.
"People who drink may be prone to other impulse-control problems because the part of the brain that's involved — the reward center — is driven by both of those activities in slightly different ways," says David Sack, an addiction psychiatrist and CEO of Promises Treatment Center in Southern California. "We see a fair number of people who, in addition to drinking excessively, go through spending sprees where they literally buy up the store and have tremendous remorse and regret because they may not even remember having done it."
Specifically, adds Dr. Hersh Shefrin, a behavioral economist and professor at Santa Clara University, drinking alcohol impacts three areas in our brains: The cerebellum that directs how we move, the limbic system that directs how we feel, and the cerebral cortex that directs how we analyze, solve problems, remember, and learn.
"Brains are like computers with lots of communication between the different parts," says Shefrin. "We all know what it's like when some kind of glitch — hardware or software — slows our devices down. Well, that's what even a little too much alcohol does to our brain's ability to get us to move gracefully, be well balanced emotionally, and think clearly."
Studies seem to back this up, says Shefrin, and have shown that alcohol makes exercising self-control more difficult because it dulls neuro-communication links in the brain that warn people when they're making mistakes.
"Moreover, even when people who have been drinking are aware they are making a mistake, alcohol can interfere with them feeling badly about it," he says. "Spending responsibly usually means facing temptation and not giving in. Drinking while shopping makes it difficult for shoppers to face down temptation, so it becomes easier to overspend."
Smarter shopping and imbibing tips
Not everyone who has buyer's remorse after an alcohol-fueled expenditure needs professional help, says Sack, but there are ways to protect yourself from this type of retail regret.
1. Know your triggers: Katie Brewer, a CFP® with LearnVest Planning Services, says she helps her clients identify their spending triggers so they can outwit them. "A lot of times it's something in particular. For example, the spending starts when they start getting down, or when they get really stressed-out at work and that's what they do to let off some steam," she says. "It's good to recognize what might set you off and head off that temptation."
2. Bring a list: "It's really better to always go in with a plan," says Brewer. "So, for example, if you set a budget ahead of time that you're going to spend $400 on Christmas gifts, reevaluate when you've spent $100 and when you've hit $200, and figure out how many people you have left to buy for, and if you need to adjust to stick to your $400."
3. Create distance: If the temptation to shop is too great when you're drinking, you can minimize the damage by keeping your credit cards at home, or, if online shopping is your thing, in another room. "It could have gone a lot worse," says Renner, who usually keeps his wallet in his bedroom when he's in his living room with his laptop. Even having to cross the room can make you less likely to complete the transaction.
4. Shop before you drink: If the mood strikes for a martini when you're at the mall, it's OK to indulge — just save it for post-purchase celebrations. "For example, do all your shopping first, bring your list in with you, know how much you've got to spend,then have your drink afterward," says Brewer.
*Name has been changed.
LearnVest Planning Services is a registered investment adviser and subsidiary of LearnVest, Inc. that provides financial plans for its clients. Information shown is for illustrative purposes only and is not intended as investment, legal or tax planning advice. Please consult a financial adviser, attorney or tax specialist for advice specific to your financial situation. Unless specifically identified as such, the individuals interviewed in this piece are neither clients, employees nor affiliates of LearnVest Planning Services. LearnVest Planning Services and any third-parties listed, discussed, identified or otherwise appearing herein are separate and unaffiliated and are not responsible for each other's products, services or policies.
More from LearnVest...
Continue reading for free
We hope you're enjoying The Week's refreshingly open-minded journalism.
Subscribed to The Week? Register your account with the same email as your subscription.
Sign up to our 10 Things You Need to Know Today newsletter
A free daily digest of the biggest news stories of the day - and the best features from our website