Duck Dynasty star Phil Robertson insulted African-Americans, too
Everyone is focused on his anti-gay remarks. But the suspended star also tried to whitewash the injustices of the Jim Crow South.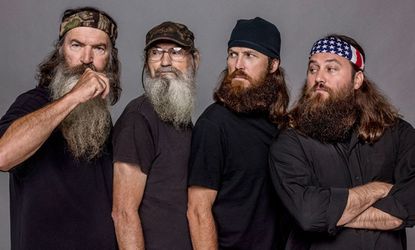 (Image credit: (Zach Dilgard/A+E Networks))
What happens when you turn a group of eccentric, rural Louisianans into television stars? They give interviews. And what happens when they give interviews? Sometimes, they say offensive things.
That's roughly what happened with Phil Robertson, star of Duck Dynasty, a popular reality show on the A&E network. In an interview with GQ magazine, the self-described "Bible thumper" made several disparaging remarks about gays. "Start with homosexual behavior and just morph out from there. Bestiality, sleeping around with this woman and that woman and that woman and those men," said Robertson.
And this:
Subscribe to The Week
Escape your echo chamber. Get the facts behind the news, plus analysis from multiple perspectives.
SUBSCRIBE & SAVE
Sign up for The Week's Free Newsletters
From our morning news briefing to a weekly Good News Newsletter, get the best of The Week delivered directly to your inbox.
From our morning news briefing to a weekly Good News Newsletter, get the best of The Week delivered directly to your inbox.
Outrage came quickly, and in response, A&E "indefinitely suspended" Robertson's contract. But in all the hubbub over his anti-gay comments, observers missed his more troubling riff on African-Americans and the Jim Crow South.
"I never, with my eyes, saw the mistreatment of any black person," said Robertson, discussing his childhood in Louisiana. "The blacks worked for the farmers. I hoed cotton with them. I'm with the blacks, because we're white trash. We're going across the field.... They're singing and happy."
He continued: "I never heard one of them, one black person, say, 'I tell you what: These doggone white people' — not a word!.... Pre-entitlement, pre-welfare, you say: Were they happy? They were godly; they were happy; no one was singing the blues."
In other words, as far as he knew, African-Americans had nothing to complain about under Jim Crow, and insofar that they were angry, it was because of agitators and liberals. This all but parrots the rhetoric of segregationist politicians in the 1950s and '60s, who denounced activists and civil rights workers — like NAACP lawyers or SNCC volunteers — as "communists" and "outside agitators" who made blacks discontent with their rhetoric.
The truth is that blacks were angered by their situation: A life of second-class citizenship, economic deprivation, and state-sanctioned terrorism. In fact, Robertson's home of Louisiana was ground zero for the tremendous violence directed at African-Americans. In 1868, white terrorists tried to prevent a Republican victory in state elections by murdering 200 freedmen in St. Landry Parish. Overall that year, ex-Confederates would murder more than 1,000 people in an effort to block black political participation.
This fight came to a head in 1873, during the "Battle of Liberty Place," when the armed supporters of Democratic gubernatorial candidate John McEnery attacked state militia and drove Republican Gov. William Pitt Kellogg out of office. This bona fide coup was followed by scores of political murders and assassinations, as white terrorists worked — successfully — to re-establish white supremacy.
Indeed, in the post-Reconstruction period, Louisiana was a hotbed of racist violence. With 391 lynchings from 1882 to 1968, its only rivals were Georgia, Mississippi, and Texas. On August 8, 1946 — barely a year before Robertson was born — a 28-year-old Army veteran named John C. Jones was arrested and charged with "loitering" in a white woman's yard. That night, while waiting in jail, he was beaten, kidnapped by a mob, and tortured to death. As historian Philip Dray writes in At the Hands of Persons Unknown: The Lynching of Black America, "Both of [Jones'] hands were chopped off with a meat cleaver; then, as the mob held him down, his face and body were seared with the flame of a blowtorch."
In 1959, just a few days after Robertson's 12th birthday, a mob kidnapped and killed Mack Parker, a 23-year-old man who was accused of raping a pregnant white woman near the Louisiana-Mississippi border. As with Jones, the mob broke into his jail, but instead of torture, he was shot twice and tossed into the river. His body was found several weeks later.
These are extreme examples, yes, but anti-black violence was a regular feature of African-American life throughout the Jim Crow South, and especially in Louisiana. Robertson's recollection is a tremendous whitewash that would be stunning if not for the sad reality of our national memory. For as much as Americans celebrate the lives of men like Martin Luther King Jr. and women like Rosa Parks, there's little awareness of what Jim Crow looked like for ordinary blacks. The quotidian violence that defined the era — from forced labor camps to attacks on whole communities — has vanished from our collective consciousness, if it was ever there to begin with.
It's no wonder we don't want to talk about Phil Robertson's other, impolitic comment, since — when it comes to remembering the past — he's just like the rest of us.

Continue reading for free
We hope you're enjoying The Week's refreshingly open-minded journalism.
Subscribed to The Week? Register your account with the same email as your subscription.