4 up-and-coming terrorist groups that wreaked havoc in 2013
These rising terrorist organizations could replace al Qaeda as Public Enemy #1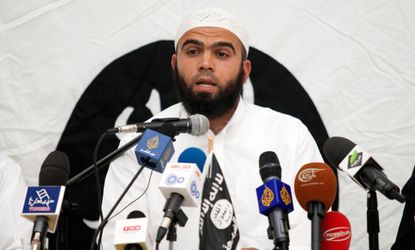 (Image credit: (AP Photo/Amine Landoulsi))
Sign up to our 10 Things You Need to Know Today newsletter
A free daily digest of the biggest news stories of the day - and the best features from our website
Thank you for signing up to TheWeek. You will receive a verification email shortly.
There was a problem. Please refresh the page and try again.
From the bloody siege of a Kenyan mall and captured Algerian oil fields, to high-profile political assassinations in Tunisia and vehicular rampage at Tiananmen Square, 2013 was marked by terrorist organizations that seemingly emerged from nowhere to wreak havoc and take innocent lives.
Here, a look at a few:
1. Islamic State of Iraq and al Sham (ISIS)
Subscribe to The Week
Escape your echo chamber. Get the facts behind the news, plus analysis from multiple perspectives.
SUBSCRIBE & SAVE
Sign up for The Week's Free Newsletters
From our morning news briefing to a weekly Good News Newsletter, get the best of The Week delivered directly to your inbox.
From our morning news briefing to a weekly Good News Newsletter, get the best of The Week delivered directly to your inbox.
Beginning as an umbrella organization for Iraqi insurgent groups in 2003, the Islamic State of Iraq (aka al Qaeda in Iraq) suffered major setbacks during the latter stages of the Iraq War, but since the withdrawal of U.S. forces and the start of the Syrian civil war in 2011, the group has returned with a vengeance.
This year, the predominately Sunni extremist group has stepped up its operations, perpetrating more than 40 deadly attacks each month across Iraq, primarily against Shiite targets in an effort to incite sectarian conflict. So far, the surge in violence has claimed roughly 800 civilian lives since mid-2013.
Most notably, in July the group successfully launched a massive attack on Abu Ghraib prison freeing more than 500 captured fighters, including many senior al Qaeda commanders. The highly-organized attack consisted of waves of car bombs, multiple suicide bombers, and mortar and rocket fire while prisoners rioted on the inside.
With the outbreak of conflict in Syria, the Islamic State of Iraq rebranded itself as Islamic State of Iraq and al Sham (ISIS) and has established itself as a significant player among opposition forces.
2. Ansar al Dine
In the chaos following the military coup that deposed Malian President Amadou Toumani Toure last March, Ansar Dine, loosely translated as "defenders of the faith," took control of a swath of land the size of Texas that included three major cities in the north Timbuktu, Kidal, and Gao.
Led by Iyad Ag Ghaly, a prominent leader of the Tuareg rebellion in the 90s, Ansar Dine is a militant Islamist group with close ties to al Qaeda in the Islamic Maghreb that seeks to impose a strict interpretation of sharia law. In areas under their control, they have banned alcohol, smoking, and soccer, and have required women to wear veils. Those who did not comply were beaten, tortured, or killed.
Following a French-led UN military offensive earlier this year, Ansar Dine, has gone underground. A senior commander was captured earlier this year and Ghaly's whereabouts remain unknown. However groups loyal to Ghaly have continued attacks on French troops and government security forces.
3. Ansar al Sharia
Described by some as "al Qaeda's response to the Arab Spring," extremists across the Arab world have taken to branding themselves Ansar al Sharia, or "Supporters of Islamic Law."
So far there has been no evidence linking these disparate groups together, but last year, influential Jihadist Shaykh Abu al Mundhir al Shinqiti urged Muslims to establish their own chapters of Ansar al Sharia and eventually unite them all into a single network. Currently the most prominent groups exist in Yemen, Tunisia, and Libya, and to a lesser extent in Egypt and Morocco.
Libya
Following the death of Libyan dictator Muammar Qaddafi, two groups using the name Ansar al Sharia emerged. The more prominent of the two is being held responsible for the deadly attack on the embassy in Benghazi that left a U.S ambassador and three other Americans dead.
While Ansar al Sharia was chased out of Benghazi and had their headquarters destroyed by a mob of angry residents following the embassy attack, they have returned as a social organization with a focus on providing services.
The group seeks to implement a strict interpretation of Islam, but there seems to be little protest over their resurgence as they operate a health clinic, provide aid to the poor, help construct new buildings, distribute money to the needy, and even keep the streets safe with regular patrols and checkpoints.
On the less charitable side, the group has desecrated and destroyed Sufi shrines, which it considers a heretical branch of Islam, and is believed to operate a training camp for combatants. More recently, Ansar al Sharia has launched an assassination campaign primarily targeting government security forces, which has sparked heavy clashes in Benghazi.
Tunisia
Founded by Abu Iyadh, a former al Qaeda fighter in Afghanistan, Tunisia's Ansar al Sharia is widely believed to be the most radical and dangerous group to emerge since the 2011 revolution that ousted President Zine El-Abdine Ben Ali.
The group has been blamed for several high-profile attacks including the assassination of two prominent politicians in July that plunged Tunisia into chaos. The transitional government continues to battle the group throughout the south and along the Algerian border.
Yemen
Yemen's Ansar al Sharia is closely linked to al Qaeda in the Arabian Peninsula (AQAP), operating as part of AQAP's rebranding efforts. The group has bolstered AQAP's already strong hold over Yemen; it captured large swaths of Southern Yemen in 2011 and held them until government forces backed by local militias and U.S. airstrikes staged a bloody counteroffensive in June 2012.
The group continues to launch deadly attacks against the Yemeni government, including this month's deadly assault on the Ministry of Defense headquarters that left more than 50 dead and nearly 170 injured. In addition, as proof of the group's wide-reaching influence, a U.S. citizen living in Brentwood, New York was recently arrested after plotting with several other homegrown radical Muslims to travel to Yemen and join the radical group in its fight against Yemen's government.
4. East Turkestan Islamic Movement
The East Turkestan Islamic Movement (ETIM), also known as the Turkestan Islamic Party, is a Muslim separatist movement based in northwest China's Xinjiang Province. Founded by Uighars, the Turkic-speaking ethnic majority in Xinjiang, ETIM seeks the overthrow of China's rule and the establishment of an Islamic caliphate.
ETIM members are scattered across Afghanistan, Tajikistan, Pakistan, and Uzbekistan, operating primarily in safe havens along the lawless Pakistan-Afghanistan border. A recent video has surfaced of young children receiving military training at camps in Pakistan's volatile North Waziristan tribal area.
The group has alleged links to al Qaeda and several ETIM members joined al Qaeda to fight against the United States in Afghanistan, including the 22 Uighar militants that were captured and held at Guantanamo by U.S. forces.
China has blamed ETIM for several high-profile attacks including the recent suicide car crash in Beijing's Tiananmen Square, bus bombings in southwest China, gunning down Chinese nationals in Pakistan's Balochistan province, an attempted plane hijacking, and foiled bomb plots in Dubai and Norway. Some analysts believe that many of these attacks are beyond the capabilities of the organization and that the Chinese government is using ETIM as a scapegoat in its efforts to clamp down on ethnic dissent and maintain order in a resource-rich province.
Continue reading for free
We hope you're enjoying The Week's refreshingly open-minded journalism.
Subscribed to The Week? Register your account with the same email as your subscription.
Sign up to our 10 Things You Need to Know Today newsletter
A free daily digest of the biggest news stories of the day - and the best features from our website
Eugene K. Chow is a speechwriter and freelance journalist. He is the former executive editor of Homeland Security NewsWire. Previously, he was a research assistant at the Center for A New American Security, a Washington-D.C. based think tank.