This week's new and notable video-on-demand releases
Don't feel like going to the theater this weekend? Watch Here Comes the Devil, The Punk Singer, or The Truth About Emanuel from the comfort of your couch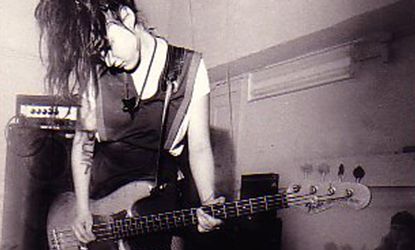 (Image credit: <a href="https://www.facebook.com/photo.php?fbid=270070803013894&amp;set=pb.267521383268836.-2207520000.1386262626.&amp;type=3&amp;theater">(Facebook/The Punk Singer)</a><a></a>)
Sign up to our 10 Things You Need to Know Today newsletter
A free daily digest of the biggest news stories of the day - and the best features from our website
Thank you for signing up to TheWeek. You will receive a verification email shortly.
There was a problem. Please refresh the page and try again.
1. Here Comes The Devil
For fans of: The House of the Devil, The Conjuring, slow-burn horror films
When you can watch it: Available December 13 on iTunes, Amazon Instant, VOD for $9.99
Subscribe to The Week
Escape your echo chamber. Get the facts behind the news, plus analysis from multiple perspectives.
SUBSCRIBE & SAVE
Sign up for The Week's Free Newsletters
From our morning news briefing to a weekly Good News Newsletter, get the best of The Week delivered directly to your inbox.
From our morning news briefing to a weekly Good News Newsletter, get the best of The Week delivered directly to your inbox.
The best horror films tend to hinge on building mood and tension instead of jump-scares and gross-out sequences. It's always scarier when you don't know what's coming next. Fortunately, writer/director Adrian Garcia Bogliani understands that. Here Comes The Devil is a slow-building, creepy, disturbing, and — at key times — downright terrifying film. By riffing on psychological horror films of the 1970s with its own satanic occult narrative, Here Comes The Devil offers pure, visceral terror that will linger long after the end credits roll.
From the first scene, Bogliani establishes that Here Comes The Devil isn't for the prude or the weak-stomached: A steamy lesbian sex scene ends with the savage attempted murder of one of the women. The seemingly possessed attacker eventually bolts and retreats to an ominous cave in the Tijuana mountains. Cut to Felix and Sol, a couple exploring the Tijuana mountainside, on a family vacation with their two pre-teen children, Sara and Adolfo. They let the kids go exploring in the hills while they hang back to fool around in the car — but when the kids don't return, things get tense between the parents. The next day, the police return with the children, who claim to have gotten lost in a cave. But the kids definitely aren't alright. Sol begins to suspect something more insidious happened while they were missing, and a psychologist suspects Sara was sexually assaulted, leading the parents to pay a murderous visit to the guy they think is responsible. Of course, the trouble with Sara and Adolfo is far more complicated than that.
Here Comes The Devil revels in building a sense of dread through slow reveals and viscerally creepy moments. The film's frantic, almost schizophrenic soundtrack aids its truly unhinged script, which never goes in the most obvious direction. Unfortunately, Here Comes The Devil eventually goes off the rails with one of its later revelations (and not in a way that's easy to stomach). But despite that misstep, the film is a wildly creepy, unsettling indie gem that offers a welcome reminder that, when it comes to horror, less is always more.
2. The Punk Singer
For fans of: Punk documentaries, American Hardcore, It Changed My Life: Bikini Kill In The UK
When you can watch it: Now available on iTunes, Amazon Instant, VOD for $6.99.
The mere presence of Kathleen Hanna — a musician/activist who famously fronted the bands Bikini Kill and Le Tigre, and is credited as one of the pioneering forces behind the riot grrrl movement — is enough to draw fans to The Punk Singer, which loosely traces the arc of Hanna's career. Fortunately, the film also functions as more than a flattering profile, as director Sini Anderson uses his prolific subject as an excuse to examine the cultural impact of third-wave feminism and the riot grrrl movement of the early '90s.
The Punk Singer begins with the early days of Hanna's artistic development. Having moved from the Maryland suburbs to the Pacific Northwest in her childhood, she enrolls at Evergreen State College where, as a photography major, she finds an outlet to express herself. However, much of her work is deemed too radical for the university and is censored from campus. Her solution? Teaming up with some friends to open a DIY gallery in downtown Olympia to put their work on display. After a brief stint doing spoken-word, Hanna received some sage advice: If she really wanted people to hear what she had to say, she should start a band. Thus, Bikini Kill was born.
Through a series of interviews with Hanna at her quiet home, Anderson digs into the Bikini Kill's eight-year tenure. Archival footage and various media clippings bring Hanna's recollections to life. She reminisces about milestones like the band's relocation to D.C. in order to be a part of a more punk- and activist-friendly community, as well as their quarrels with the mainstream media, who tried to quantify what riot grrrl was through patronizing articles and profiles of Hanna and her band. This resulted in a total media blackout that hindered their chances at breaking into the mainstream, but made them all the more essential to the feminist movement.
But for all the historical import, The Punk Singer is best when it moves away from Hanna's legacy as a feminist icon and focuses on her personal life. After Bikini Kill fizzled out, Hanna started a love affair with electronic music, which resulted in the starkly personal album The Julie Ruin and the formation of her electro-pop trio Le Tigre. Around the same time, Hanna recalls how she began a relationship with her Beastie Boys' Adam Horovitz (now her husband), and the initial anxieties she felt about "being madly in love with someone who wrote the lyric 'Girls,' to do the laundry.'" Ultimately, Hanna's musical career was dramatically sidelined because of a mysterious illness that took doctors nearly six years to properly diagnose as late-stage Lyme Disease. The depictions of Hanna's struggle with her illness, and how it devastated her music career, are some of the film's most human and deeply felt moments.
The Punk Singer is essential viewing for those who already have an interest in third-wave feminism and the development of riot grrrl — but even non-fans will find a deeply admirable and authentic portrait of an alt icon.
3. The Truth About Emanuel
For fans of: Tanner Hall, moody familial dramas
When you can watch it: Now available on iTunes, Amazon Instant, VOD for $9.99
The loss of a child and the loss of parent is something that's been explored in cinema countless times, but rarely together. Francesca Gregorini's sophomore feature, The Truth About Emanuel — originally titled Emanuel and the Truth About Fishes when it premiered at Sundance last January — combines these separate but similar experiences to unfortunately mixed results.
Emanuel (Kaya Scodelario) is all kinds of messed up. The knowledge that her mother died while giving birth to her has turned her into the kind of introverted, spiteful teenage girl who seeks out any excuse to be gloomy, and who treats those closest to her most terribly of all. That includes her father Dennis (Alfred Molina) and her step-mom Janice (Frances O'Connor), whom she treats with an especially high-caliber cruelty. But Emanuel's world is shaken when new neighbor, Linda (Jessica Biel) and her newborn move in across the street. Emanuel strikes up a peculiar fondness for her because she resembles her dead mother.
(Don't read any further if you don't want to be spoiled.)
As Emanuel gets closer to Linda she makes a shocking discovery: Linda's baby isn't a real baby — it's a doll. At this point, Linda's delusion and mental illness becomes painfully clear; like Emanuel, she has suffered the loss of someone very close to her. But unlike Emanuel, Linda is unable to contextualize her emotions and has instead chosen to ignore the fact that her baby has died, choosing to carry on as normal under the false reality that the doll is her beloved Chloe.
Emanuel plays along because she has an emotional connection with Linda and sees her as a matriarchal figure. Although Emanuel does everything she can to protect Linda, her secret inevitably comes out, and it's at this point that the film unhinges for the worse. Gregorini periodically injects metaphorical hallucinations into the narrative: Emanuel's surroundings slowly becoming flooded with a rising water. It's a painfully obvious ocean-womb metaphor that visualizes Emanuel and Linda's relationship: Emanuel just wants her mother back, while Linda just wants her baby back. Adding to the overstatement, the film is steeped in a pastoral blueish filter to give it all an especially depressing feel.
There's an interesting premise at the heart of The Truth About Emanuel, but Gregorini is too concerned with establishing a mood and injecting needless visuals to embrace the heart of the story. Both Scodelario and Biel are fine, but their characters are too one-dimensional to do much with. The Truth About Emanuel isn't a bad film, but it feels like a missed opportunity.
Continue reading for free
We hope you're enjoying The Week's refreshingly open-minded journalism.
Subscribed to The Week? Register your account with the same email as your subscription.
Sign up to our 10 Things You Need to Know Today newsletter
A free daily digest of the biggest news stories of the day - and the best features from our website
Matt is an arts journalist and freelance writer based in Washington, D.C. He has written about film, music, and pop culture for publications including Washington City Paper, The American Interest, Slant Magazine, DCist, and others. He is a member of the Washington D.C. Film Critics Association.