Why the economic recovery's gender gap is misleading
Sure, women have recovered all the jobs they lost when the economy crashed. But they're still lagging behind in important areas.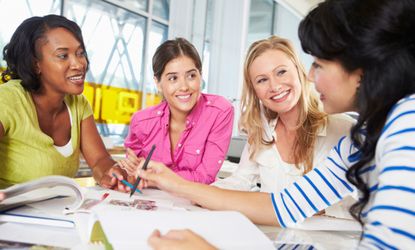 (Image credit: (Thinkstock))
Usually when people refer to the gender gap in the workplace, they're talking about wage inequality — the fact that American women still make 76.5 cents to every dollar men make.
But recently, we've been hearing about a different kind of gender gap pertaining to the economic recovery, which seems to be favoring women. Recent data shows that women have recovered all the jobs they lost during the recession, and have a significantly lower unemployment rate. Women are even earning more at part-time jobs than their male counterparts.
That all sounds pretty good for women, right? But of course, it's not that simple. Here, three problems with that narrative.
Subscribe to The Week
Escape your echo chamber. Get the facts behind the news, plus analysis from multiple perspectives.
SUBSCRIBE & SAVE
Sign up for The Week's Free Newsletters
From our morning news briefing to a weekly Good News Newsletter, get the best of The Week delivered directly to your inbox.
From our morning news briefing to a weekly Good News Newsletter, get the best of The Week delivered directly to your inbox.
1. There still aren't enough jobs
Today, 67.5 million women are working — the most ever — up from 67.4 million in early 2008, before the financial crash. Meanwhile 69 million men now have jobs, down from the 70.9 million who were working in June 2007.
When the economy cracked up, labor segregation — the fact that men and women often fill different types of jobs — worked in women's favor. "Women tend to hold jobs in health, education, hospitality, and retail, all sectors that have weathered the economic turmoil of recent years comparatively well," says The Wall Street Journal. Construction and manufacturing, industries with more male workers, suffered a greater blow.
The result was that men lost many more jobs. Technically, they recovered more, too; women simply had fewer losses to make up.
By another measure, however, neither gender has recouped its job losses. Neither has seen gains big enough to keep up with population growth. For a proportional recovery, the economy would need 3.8 million more jobs for women, and 5.5 million more for men.
2. Women are missing from the workforce
Another well-cited stat from the latest job report: The unemployment rate for women is now at 6.8 percent, significantly lower than men's 7.7 percent.
This, of course, does not mean that more women have jobs than men. Women typically have a lower unemployment rate because the two genders experience a wide gap in labor-force participation as well.
Workforce participation does not include those who have stopped looking for work. The labor force participation rate is 56.9 percent for women, and 69.2 percent for men. So when the Labor Department says the unemployment rate is lower for women than men, part of the picture is that a lower proportion of women are out looking for jobs.
That gap in recent years has stuck. Women joined the workforce in droves in the 70s and 80s, but the participation rate started to plateau in the 90s.
3. More women are working part time
Early in November, The New York Times pointed out that when it comes to part-time jobs, women actually outearn men.
New data from the Bureau of Labor Statistics shows that in 2012, women's median weekly earnings as a percent of men's topped 100 percent for part-time jobs that ate up between five and 39 hours a week.
But the gap dropped abruptly for full-time work, which often has higher salaries. And the fact is that the part-time labor market is dominated by women. 26 percent of all female wage and salary workers are working part time. In contrast, 13 percent of men in wage and salary jobs work part-time.

Continue reading for free
We hope you're enjoying The Week's refreshingly open-minded journalism.
Subscribed to The Week? Register your account with the same email as your subscription.