Is Facebook causing outbreaks of mass hysteria?
Social media could be taking empathetic pain to a whole new level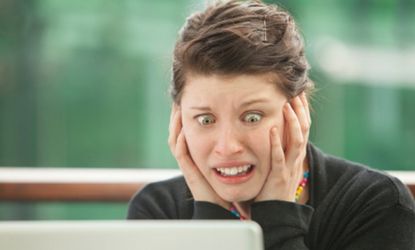 (Image credit: <a href="http://bit.ly/15n23E2">(Thinkstock)</a><a></a>)
Social media made Marge Fitzsimmons sick.
The 36-year-old nurse from Le Roy, N.Y., developed the same debilitating tics and stutters as a group of teenagers in her town. Her only connection to the afflicted? Facebook articles about the mysterious epidemic that she had read.
Social media contagion might sound like the stuff of a straight-to-DVD sci-fi film, but psychologists believe technology plays a key role in the spread of mass psychogenic illness (MPI). The historic term for this phenomenon is mass hysteria, and it appears to be on the rise, according to Robert Bartholomew, a leading scholar in MPI.
Subscribe to The Week
Escape your echo chamber. Get the facts behind the news, plus analysis from multiple perspectives.
SUBSCRIBE & SAVE
Sign up for The Week's Free Newsletters
From our morning news briefing to a weekly Good News Newsletter, get the best of The Week delivered directly to your inbox.
From our morning news briefing to a weekly Good News Newsletter, get the best of The Week delivered directly to your inbox.
It all started when two high school cheerleaders in Le Roy came down with a serious case of tics, stuttering, and fainting. Doctors were unable to pinpoint a physical cause for the episodes, but as the number of afflicted girls rose, the community found it increasingly difficult to believe it was all psychological. Le Roy was once a booming factory town, and many believed residual hazardous toxins were responsible.
The town came under major media scrutiny. Erin Brockovich, the environmental activist made famous by the eponymous film starring Julia Roberts, began investigating. Several of the afflicted girls appeared on the Today show and news vans lined Main Street. Many of the girls had shown signs of improvement, but once their stories came under the media microscope, their symptoms worsened.
The search for an environmental cause lasted for several months, during which more girls contracted the same strange symptoms. Eventually it was discovered that none of the areas suspected of being toxic were dangerous. Doctors and psychologists suggested that the young girls, many of whom had experienced some previous psychological or physical trauma, were suffering from conversion disorder, a condition in which emotional trauma manifests itself physically.
Susan Dominus of The New York Times explains:
Conversion disorder, however, is a fairly common and generally short-lived condition. What's unique about Le Roy is that individual cases of conversion disorder had apparently evolved into mass psychogenic illness in an extreme case of empathy pain. And while instances of mass hysteria are nothing new, these episodes could be exacerbated by the fact that this is the most inter-connected generation in human history.
Romeo Vitelli at Psychology Today writes:
Indeed, Fitzsimmons had no contact with the girls. She learned about the events largely through Facebook. Like the Le Roy girls, Fitzsimmons developed serious tics and stutters and eventually had to leave work. She, too, was a victim of violent childhood trauma and was diagnosed with conversion disorder after all other medical possibilities had been exhausted.
As Laura Dimon of The Atlantic notes:
Salem Village, the site of one of the most infamous cases of mass hysteria in history, recently saw another epidemic. The town of witch trial fame is now called Danvers, and in January it witnessed an eerie echo of its past when half a dozen teenagers at the Essex Agricultural and Technical School developed hiccups and vocal tics. Like the Le Roy case, the Massachusetts State Health Department couldn't find any physical cause for the epidemic. While many believe MPI is responsible, state health officials continue to investigate the strange case.
Bartholomew notes that social media will only widen the reach of MPI. Technology, he tells The Atlantic, creates "potential for a far greater or global episode, unless we quickly understand how social media is, for the first time, acting as the primary vector or agent of spread for conversion disorder."

Continue reading for free
We hope you're enjoying The Week's refreshingly open-minded journalism.
Subscribed to The Week? Register your account with the same email as your subscription.