Rethinking mandatory sentencing
States are rescinding laws that require long prison sentences for drug crimes. Why?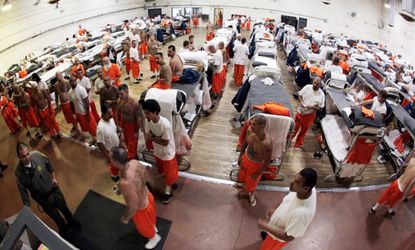 (Image credit: (REUTERS/Lucy Nicholson))
What is mandatory sentencing?
It's the automatic imposition of a minimum number of years in prison for specific crimes — usually related to drugs. By design, mandatory sentencing laws take discretion away from prosecutors and judges so as to impose harsh sentences, regardless of circumstances. Mandatory sentencing began in the 1970s as a response to a growing drug-and-crime epidemic, and over the decades has put hundreds of thousands of people behind bars for drug possession and sale, and other non-violent crimes. Since mandatory sentencing began, America's prison population has quadrupled, to 2.4 million. America now jails a higher percentage of its citizens than any other country, including China and Iran, at the staggering cost of $80 billion a year.
Is that a good thing?
Subscribe to The Week
Escape your echo chamber. Get the facts behind the news, plus analysis from multiple perspectives.
SUBSCRIBE & SAVE
Sign up for The Week's Free Newsletters
From our morning news briefing to a weekly Good News Newsletter, get the best of The Week delivered directly to your inbox.
From our morning news briefing to a weekly Good News Newsletter, get the best of The Week delivered directly to your inbox.
Most public officials — including liberals, conservatives, and libertarians — have decided that it's not. At least 20 states, both red and blue, have reformed their mandatory sentencing laws in some way, and Congress is considering a bipartisan bill that would do the same for federal crimes. Until federal law is changed, U.S. Attorney General Eric Holder recently directed federal prosecutors not to introduce evidence that might trigger a mandatory sentence for offenders with no significant criminal history. "Too many Americans go to too many prisons for far too long, and for no truly good law-enforcement reason,'' Holder said.
Who came up with mandatory sentencing?
It began in New York state 40 years ago, in response to the burgeoning heroin problem. Wanting to appear tough on crime, Republican Gov. Nelson Rockefeller created mandatory minimum sentences of 15 years to life for anyone caught with just 4 ounces of narcotics. The "Rockefeller Drug Laws" of 1973 were immediately controversial among liberals and drug-reform advocates, who argued that they treated recreational users the same as hardened drug dealers. But similar laws were soon taken up by other states as governors emphasized tough solutions to the nation's drug problems. Michigan passed an even stricter "650-lifer" law in 1978, mandating a life sentence for anyone caught with more than 650 grams of narcotics. In 1986, the federal government passed its own mandatory sentencing law.
What prompted that law?
The fatal cocaine overdose of Len Bias, the Boston Celtics' top draft pick. In response to the anguish of his Massachusetts constituents and to show that Democrats could be tough on crime, too, House Speaker Tip O'Neill immediately pushed the Anti-Drug Abuse Act through Congress. Under the law, first-time offenders caught with 5 grams of crack cocaine would get a mandatory minimum of five years, while those caught with 50 grams would get 10 years. Anyone convicted of being involved in a "continuing criminal enterprise" to deal drugs received 20-year sentences, from the highest drug kingpin to the lowliest courier or lookout.
Have the laws worked?
Some law-enforcement officials say they have helped get some major drug dealers off the streets and contributed to the steep decline in crime that began in the 1990s. But a chorus of critics say the laws have clearly failed to stop the flow of illegal drugs, while filling jails with young men convicted of non-violent crimes. About 1.3 million people, more than half the total prison population, are behind bars for non-violent crimes, and federal jails are 40 percent over capacity. "It's a waste of tax dollars and human lives," said Anthony Papa of the Drug Policy Alliance.
Who are these prisoners?
A majority of them are African-American men. Although blacks represent only 13 percent of the population, they make up more than 50 percent of those jailed for drug convictions. Blacks are four times more likely than whites to be arrested for marijuana possession, and typically receive sentences 20 percent longer than those handed to white offenders. This mass incarceration has hurt black communities nationwide; among black children, one in nine has a parent in jail. "This ill-fated [War on Drugs] has disrupted families, decimated communities, and rendered America's 'dark ghettos' zones of desperation, desolation, and despair," said Ron Daniels, a lecturer at York College, City University of New York.
What do reformers want?
An end to mandatory sentences for non-violent crimes, and a return to letting judges use their discretion and judgment in sentences for minor drug crimes. Ohio, Georgia, Pennsylvania, Hawaii, New York, and North Dakota have all reformed their sentencing laws, and California voters have rescinded the state's controversial "three strikes" law mandating a life sentence for a third felony conviction, no matter how insignificant the offense. Even the most conservative states are exploring new alternatives to draconian jail sentences. Texas, for example, diverted money earmarked for prison construction into setting up drug courts, electronic monitoring, and enhanced parole supervision for non-violent offenders. The state has since closed three prisons, and the state's crime rate has fallen to its lowest level since 1973. "Mandatory minimums are costly, unfair, and do not make our country safer," said Sen. Rand Paul (R-Ky.), who is co-sponsoring the federal legislation. "The American people are ready to make sentencing reform a priority."
A dad's 25-year mistake
When a friend asked John Horner if he could buy some painkillers, the 46-year-old father of three didn't see a problem. The Osceola County, Fla., resident had been taking prescribed painkillers for years after losing his eye in an accident, and agreed to sell his friend, "Matt," four unused bottles. After the pills exchanged hands, Horner discovered that "Matt" was in fact a police informant, and he was charged with dealing drugs. At the advice of his public defender, Horner pleaded guilty, and was later sentenced to the mandatory minimum of 25 years in jail. He will be 72 by the time he is released, and his three young children will have grown up without him. "Matt," who turned out to have a long history of drug offenses, was more fortunate — he received a reduced sentence of just 18 months after informing on Horner, and is now free.

Continue reading for free
We hope you're enjoying The Week's refreshingly open-minded journalism.
Subscribed to The Week? Register your account with the same email as your subscription.