6 secrets of cooking a better burger
Grind your own meat — and check the fat ratio!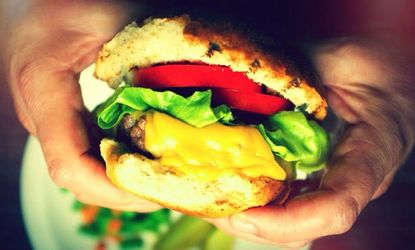 (Image credit: <a href="http://food52.com/blog/7893-6-tips-for-building-a-better-burger">Tom Hirschfeld/Food52.com</a><a></a>)
If you think about it, a hamburger is nothing more than a sausage without a casing. Once you accept this notion, you open yourself up to endless burger possibilities! I mean really, there are as many burger recipes as there are cooks. Everyone has their own little tweaks and a go-to recipe.
With that being said, I am not going to sit here and try to convince you this is a recipe for the best hamburger in the world — even though it is — because someone will undoubtedly draw a line in the sand, slap me with gloves in hand, and challenge me to a duel. It's inevitable.
But there are some guidelines I might offer the newbie. I am sure many of you out there can too, and I welcome each and every one of them in the comments section below. I might even get lucky and toss in an idea or two the seasoned cooks amongst you might not have known. Nevertheless, seasoned cooks — fill in the blanks.
Subscribe to The Week
Escape your echo chamber. Get the facts behind the news, plus analysis from multiple perspectives.
SUBSCRIBE & SAVE
Sign up for The Week's Free Newsletters
From our morning news briefing to a weekly Good News Newsletter, get the best of The Week delivered directly to your inbox.
From our morning news briefing to a weekly Good News Newsletter, get the best of The Week delivered directly to your inbox.
Form your own patties
Put down that log of preformed beef! Yeah, the one with the additives for shelf stability that sweat like a fat man in a sauna when you see it resting on that black foam tray. Do you want to feel like a deer at a salt lick? No, I didn't think so. Put it back.
Check the fat ratio
Even sausage has a ratio. In good sausage, it is 1 part fat to 3 parts protein. For burgers, a meat buyer's guide will tell you ground beef shouldn't be more than 22 percent fat. The buyer may request a higher fat content, but it cannot exceed 30 percent. However, the beef can come from anywhere on the cow (with the exception of guts and organs). Ask your butcher about the type of meat and fat content they buy.
Grind your own meat
For the most part, I grind all meats myself. Here is why: There is bacteria on a steak that remains on the surface of the steak; it doesn't claw its way to the interior. So when you cook the steak, it is easily killed by the heat. However, if you buy ground meat at the grocery and don't cook it in a reasonably short time, the bacteria from the exterior that have been ground into the burger have a lot more surface space to grow and hide from the heat that kills them. If you buy ground beef that has been sitting in the meat case at the store, you should be nervous about cooking it to anything below an internal temperature of 165˚ F, or well-done, which makes for a dry burger, especially since you're using leaner beef. If I buy good whole cuts of beef and grind it myself, I have no fears of cooking it to medium-rare or medium.
Find the cut of meat you really like and use that
I like chuck. It has a good fat content (20 percent or so — remember: just ask!), great flavor, and is very reasonably priced. For a good, all-around burger, it can do the heavy lifting. Beef round or sirloin are also a good choice, having a 15 percent or less fat content, but are more expensive and obviously leaner.
The grill
I like the charcoal to burn down a touch from its hottest before I cook burgers. The burgers flare up as the fat drips out. If the grill is too hot, not only is there heat under the grill grate but on top, too. You want a burger to caramelize but not burn. It can be a fine line. Medium-high heat, closer to the medium side, is what I shoot for.
Don't ignore your buns!
Grill those buns, damn it. No excuses. A grilled, buttered bun makes a better burger.
Here's the recipe for my favorite burger.
1 1/2 pounds ground chuck
3 tablespoons tamari soy sauce
1 teaspoon salt
1/2 teaspoon freshly ground black pepper
1/2 teaspoon fresh squeezed lemon juice
See the full recipe (and save and print it) here.
Photos by Tom Hirschfeld
More from Food52...

Continue reading for free
We hope you're enjoying The Week's refreshingly open-minded journalism.
Subscribed to The Week? Register your account with the same email as your subscription.