Sofa cinema: A Single Shot, TV Junkie, and A Teacher
Don't feel like going to the theater this weekend? Check out out roundup of new and notable video-on-demand releases.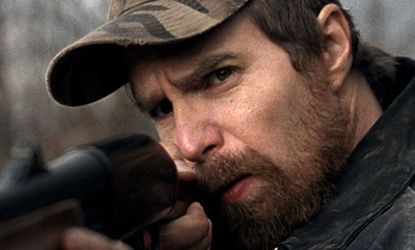 (Image credit: <a href="https://www.facebook.com/pages/A-Single-Shot/316075361849266" target="_blank">Facebook.com/ASingleShot</a>)
1. A Single Shot (Directed by David M. Rosenthal. Starring Sam Rockwell, William H. Macy, and Jeffrey Wright)
For fans of: The Coen Brothers, Sam Rockwell, Winter's Bone
When you can watch it: Now available on iTunes, Amazon Instant, VOD for $6.99
Subscribe to The Week
Escape your echo chamber. Get the facts behind the news, plus analysis from multiple perspectives.
SUBSCRIBE & SAVE
Sign up for The Week's Free Newsletters
From our morning news briefing to a weekly Good News Newsletter, get the best of The Week delivered directly to your inbox.
From our morning news briefing to a weekly Good News Newsletter, get the best of The Week delivered directly to your inbox.
If you have any doubts about Sam Rockwell's versatility as an actor, look a little more closely at his IMDb page. In his last three films — The Way, Way Back, Seven Psychopaths, and The Sitter — he's played a sarcastic man-child, an unhinged dognapper, and a maniacal, sexually ambiguous drug dealer. And now his lead performance in this haunting crime thriller offers one of the most straight-laced, grounded performances of his career.
In the film's dialogue-free opening scene, Rockwell's John Moon — a gruff backwoods hunter — ventures into the secluded, foggy woods behind his isolated home to hunt deer, but accidentally shoots and kills a teenage girl. Panicked and grief-stricken, he hides the body in a nearby dumpster to cover his tracks, but succumbs to temptation when he discovers and steals the nearly $100,000 in cash that the girl had stashed at her campsite.
John Moon has failed to learn the lesson we've learned from countless other thrillers: Don't take the money. As soon as the dangerous men looking for the money puzzle out who might have taken it, the narrative takes on an all-too-familiar cat-and-mouse turn as Rockwell's hunter becomes the hunted. As Moon spirals closer and closer to both danger and a mental breakdown, director David M. Rosenthal relies heavily on the gloomy, bleak West Virginia landscapes, as well as a creeping, anxiety-inducing score to establish the claustrophobia of a small town.
Unfortunately, A Single Shot stumbles when it gets too caught up in its own narrative. The familiar plot becomes unnecessarily garbled and over-complicated when the story forces auxiliary characters to the forefront. (William H. Macy and Jeffrey Wright are excellent, but their characters are almost entirely unnecessary.) A Single Shot is fundamentally flawed, but Rockwell's magnetic performance is enough to make it worth a look.
2. TV Junkie (Directed by Michael Cain and Matt Radecki. Starring Rick Kirkham.)
For fans of: American Movie, personal documentaries
When you can watch it: Now available on iTunes, Amazon Instant, VOD for $3.99
Beginning in 1978, Rick Kirkham, then 14, began filming himself and his life in a series of video diaries. He hasn't stopped since. His obsession eventually led him to become a television news reporter; at the peak of his career, Kirkham served as a senior correspondent for Inside Edition, covering the quirky lifestyles of thrill seekers and adrenaline junkies in his "Inside Adventure" segment in the early-to-mid 1990s.
Throughout that success — along with the reckless partying, sex, and drug use that came with it — Kirkham was unable to put the camera down. The end result is the harrowing and candid documentary TV Junkie, which filters more than 3,000 hours worth of Kirkham's home videos into a brutally raw 90-minute narrative chronicling how Kirkham's long battle with drug addiction tore his family apart.
The quick introductory montage depicts twenty-something Kirkham climbing the ranks in the TV journalism world, juxtaposed with footage of his hard partying lifestyle. When Kirkham meets the woman of his dreams, the film's central conflict kicks into motion, and we're presented with two different versions of Kirkham that constantly battle with each other: The loving, hardworking husband and father, and the addict, whose need for cocaine is slowly tearing his family apart.
What's most fascinating about TV Junkie isn't so much Kirkham's life story — which is nothing more than inspiring Oprah-fodder — but his unflinching commitment to capturing it all on video. At both his highest and lowest points, Rick constantly returns to his camera as a kind of cathartic release, and the unfiltered honesty and candor of his years on film are unforgettable.
3. A Teacher (Directed by Hannah Fidell. Starring Lindsay Burdge and Will Brittain)
For fans of: Michael Haneke, psychological character studies
When you can watch it: Now available on iTunes, Amazon Instant, VOD for $3.99
We never learn how it started, but it's clear from the beginning that the steamy affair between twenty-something high school teacher Diana (Lindsay Burdge) and her 17-year-old student Eric (Will Brittain) will end disastrously. But A Teacher is less focused on the consequences of an inappropriate relationship will be than on the psyche of a person who would recklessly engage in such a relationship to begin with.
A Teacher eschews a traditional narrative structure in favor of episodic vignettes of Diana and Eric's relationship. At a bar with her friends on her birthday, Diana blushes when Eric texts her. Her roommate presses her about it until she says, misleadingly, "Oh, it's just a guy that I met at school." It's obvious early on that Eric is just in it for the sex and eventual bragging rights when the whole thing is well behind him. But Diana becomes increasingly clingy and affectionate.
We only get hints at the psychological backstory that may drive Diana's behavior — a brief meeting with her estranged brother over the condition of her Alzheimer's-stricken mother quickly sends Diana storming off — but otherwise, director Hannah Fidell is intent on showing Diana's psychological well-being slowly unravel.
At its best, A Teacher most closely resembles an early Michael Haneke film. The frenzied score slowly builds tension and anxiety as Diana slowly loses grip on her sanity when the relationship deteriorates. By the end of the film, Diana seems to have completely reverted into an emotionally unhinged teenage girl, willing to risk her entire life and career to get Eric back into her arms. It's both sad and haunting.
A Teacher isn't for everyone. Though Burdge is terrific, those expecting a steamy, sexy romantic thriller may be turned off by the terse character study Fidell presents. But those who can appreciate the director's mastery at crafting tension and establishing atmosphere will certainly be delighted by A Teacher.
Read more Sofa Cinema:
Prince Avalanche, Ain't Them Bodies Saints, Touchy Feely, and Passion
The Canyons, Europa Report, and Drinking Buddies

Continue reading for free
We hope you're enjoying The Week's refreshingly open-minded journalism.
Subscribed to The Week? Register your account with the same email as your subscription.