You're making your to-do list wrong
This is how to do it right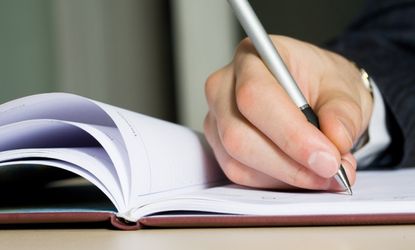 (Image credit: <a href="http://shutr.bz/1b9rxUh">Shutterstock</a>)
What's currently on your to-do list?
A 2012 global survey by professional networking site LinkedIn found that 63 percent of professionals frequently create them.
But are we as productive as we are organized? Not exactly: The same survey found that only 11 percent of professionals accomplish everything they plan to do in a given workday.
Subscribe to The Week
Escape your echo chamber. Get the facts behind the news, plus analysis from multiple perspectives.
SUBSCRIBE & SAVE
Sign up for The Week's Free Newsletters
From our morning news briefing to a weekly Good News Newsletter, get the best of The Week delivered directly to your inbox.
From our morning news briefing to a weekly Good News Newsletter, get the best of The Week delivered directly to your inbox.
Clearly, most of us are on board with keeping to-do lists — but finishing them is a different story. So we spoke with productivity experts to figure out not only how best to plow through our lists but also whether there's a best type of list out there to begin with. And then, just to make you feel a little less alone, we snagged the looming lists of four real, aspiring list-finishers.
If "figure out how to be more productive" is on your list, you're about to check it off.
How to actually do your to-dos
Documenting the people and things that need our attention isn't so much of a challenge in itself — the tricky part is checking off tasks without that "I haven't accomplished anything today!" feeling. To keep moving forward, keep these four expert tips in mind:
1. Maintain one master list
Ken Zeigler, a productivity and time management expert who has conducted over 16 years of research in the field, suggests a "Master List": a portable pad of paper (he finds the old-school medium most effective for retention) where you keep all to-do items (whether financial, personal, or professional) for an entire week. When you have a thought, write it down immediately, then delete it from your mind. "Allow your mind to be a strategic thinker," he says, "not a memory chip."
2. Batch your tasks
The next step in Zeigler's process is to review your Master List daily and transfer action items onto a Daily List, which should be in electronic form to make it easily portable and accessible from multiple devices. This list should be "batched," or separated into groups of similar tasks (like the three separate emails you must answer in the next hour or the five errands you need to run in town). Zeigler explains that batching tasks improves productivity. "By working on all of the similar tasks, it will prevent your jumping from task to task and help you focus on one type at a time," he says.
3. Work toward larger goals
Peter Bregman, author of 18 Minutes: Find Your Focus, Master Distraction and Get The Right Things Done, has created his own method for a list that tackles not just the minutiae of daily life but your larger goals. It's called the "18 Minutes To-Do List." To get started, you identify no more than five goals for the year — both personal and professional — and generate your daily to-dos keeping those annual goals in mind. Of course, there is space for the unavoidable minutiae, which is called "the other 5 percent," because according to Bregman, you shouldn't be spending more than 5 percent of your time on these tasks.
4. Set an expiration date for each to-do
When setting yourself up for success, "next week" isn't an effective time limit. "There's a tremendous amount of research that points to the fact that if you decide when and where you're going to do something, you'll do it," says Bregman. If items stay on your list for more than three days, Bregman gives you three options: Do it right away, put it on your calendar for a specific time in the future (place the hardest and most important items at the beginning of the day), or delete it.
Is there a best format for your list?
We all have that friend who dutifully totes around his leather-bound day planner ... and another who is completely bereft without the "Notes" function on her smartphone. But is there really a best place to keep your list? Half of those surveyed by LinkedIn use pen and paper, about 45 percent use electronic lists, and the remaining 5 percent store their lists elsewhere, like on white boards — or in their heads.
So which list is the best list? "It's very personal," explains Bregman. "Either can be effective depending on your process."
If you go high-tech, there's no shortage of options. Pete Pachal, technology editor at Mashable, suggests the following simple apps:
Remember the Milk: Organizes your shopping and to-do lists by due date, includes time estimates, and can send you text and email reminders for each task.
Do!: Along with a standard list, this app lets you share your tasks and lists for larger projects with friends and family members.
Minimalist To Do: Allows you to add detailed notes for each task, as well as reorganize your to-dos and email tasks or lists.
If you're looking for something a bit more advanced to keep track of websites, documents, and all of the other aspects of your to-do list, Pachal suggests virtual filing app Evernote, photo/voice/note-storing service Google Keep, or note-taking software OneNote.
A peek at four real to-do lists
Still feeling a little intimidated by your list? No matter how long it's getting, don't worry — you're not alone. The following folks were brave enough to share their to-do lists (and list-tackling techniques) with us.
Ashley Law, 28, Washington, D.C.
Occupation: Program coordinator, American University (AU); server, DeCarlo's restaurant; soon-to-be graduate student at AU
Law keeps her short-term to-do's on a dry erase decal hung on her kitchen door and longer-term items in a portable agenda. She writes her weekly activities on her decal sorted by day.
"The first thing I do in the morning is brew a cup of coffee, look over my to-do list and mentally strategize for the day," says Law. She loves the gratification of crossing things off her list. "I think this is why I prefer not to use apps," she says.
Paul Pattison, 35, Toronto, Ontario
Occupation: Principal, Technology at Relish Interactive (a digital design and development service) and commercial real estate investor
"I like to use paper if I'm sketching a plan or writing down numbers," Pattison says of his parallel work and home lists. For his own to-do's, he relies on Reminders, a built-in app that comes with Mac OSX. "I like it because it has a mobile app that keeps all my to-do's in sync," says Pattison.
To stay organized, his company uses project-management software Basecamp. "I collaborate on almost everything I do, so having lists that can be shared and commented on so that I can track the history is pretty crucial," he says.
Aloysius Fobi, 40, Portland, Oregon
Occupation: Emergency medicine physician
Fobi uses his lists to keep his work and personal responsibilities separate. "I like to make lists when work, family and business obligations start colliding," he says. He's a fan of pen and paper — more specifically, he uses one quarter of a sheet of paper. Due to its size, only the most important things make it onto his list.
Joanne Cleaver, 55, Chicago
Occupation: President, Wilson-Taylor Associates, Inc. (a strategic communications and messaging consultancy), and author, The Career Lattice.
To-do lists are nothing new to Cleaver. "I've been organized from birth," she says. "One of my earliest memories is, as a toddler, organizing the toys in the church nursery and wondering if the other kids would mess up my system." She uses Microsoft Outlook for her calendar, but every night, Cleaver makes a written priority list for the next day. "This lets me pick up where I leave off with ongoing projects and keeps me on track."
Cleaver's secrets to success include sorting the urgent from the important, identifying "housekeeping" chores that can get done quickly, and accepting that "if it doesn't get done in a month, maybe it doesn't have to get done at all."
More from LearnVest...

Continue reading for free
We hope you're enjoying The Week's refreshingly open-minded journalism.
Subscribed to The Week? Register your account with the same email as your subscription.