9 common words that come from words for heat
Temperature has a surprising effect on language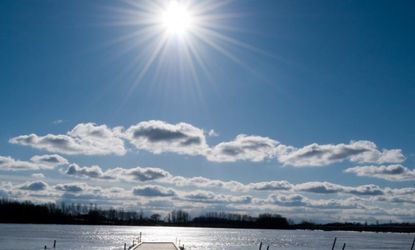 (Image credit: Think Stock)
Sign up to our 10 Things You Need to Know Today newsletter
A free daily digest of the biggest news stories of the day - and the best features from our website
Thank you for signing up to TheWeek. You will receive a verification email shortly.
There was a problem. Please refresh the page and try again.
1. CALM
Calm is related to Old Spanish and Portuguese calma, which meant "heat of the day." That was the time when everything stopped for a while so people and animals could find some shade; the time when everything got quiet and calm. It comes from the Latin cauma for "burning heat." Now would be a good time to go find some shade and be still.
2. DAY
Subscribe to The Week
Escape your echo chamber. Get the facts behind the news, plus analysis from multiple perspectives.
SUBSCRIBE & SAVE
Sign up for The Week's Free Newsletters
From our morning news briefing to a weekly Good News Newsletter, get the best of The Week delivered directly to your inbox.
From our morning news briefing to a weekly Good News Newsletter, get the best of The Week delivered directly to your inbox.
Day comes from Old English daeg, which is related to the words for "day" in other Germanic languages (dag in Swedish Danish, Tag German). Etymologists have traced it back to a root that also gave rise to Sanskrit dah, "to burn." It shows up with its "hot" sense in Lithuatian dagas, "hot season," and Old Prussian dagis, "summer." I think "burn season" may be more appropriate than "hot season" this summer.
3. BATH
Bath can be traced back to an Old Germanic base bajo-, meaning "to foment," and related to the Latin fovere, meaning "to warm something up." It originally had the primary meaning of submersion in hot liquid and then came to be used for a bath in liquid of any temperature. Make that cold baths in cold Champagne for everyone!
4. BREED
Breed is related to the Old Germanic root bro-, "to heat something up," like when birds warm their eggs to help them hatch. I hate to think of what new kinds of mold and bacteria might be breeding in garbage cans right now…
5. CHAFE
Chafe comes from the French chauffer, "to warm." It was used in English in the sense of warming things (this is how we get "chafing-dish"), but also for rubbing the limbs in order to warm them up, which led to the sense of "irritation through friction." What we need right now is a word for irritation through heat.
6. FLAGRANT
Something that is flagrant is glaring and obvious, like … something that is on fire! It comes from the Latin flagrare, "to burn." Flagrant was indeed used to mean "fiery" for a time, but now the metaphorical meaning seems to be more popular. However, I will not take exception if you were to exclaim, "this day is positively flagrant!"
7. EFFERVESCENCE
Effervescense comes from the Latin exfeverscere, "to begin to boil," which is based on fervere, "to be hot." (The root that also gives us fervid, fervent, and fervor). The word has lost the hot part of its sense leaving us with just the bubbly part. Cold effervescent Champagne for everyone!
8. INK
Ink can be traced all the way back to the Greek form that also gave us "encaustic," meaning "to burn in," and referring to the process of burning wax paints onto objects to make the colors stay. Thankfully, we don't have to use fire to burn our words onto the page anymore, although my hot computer is kind of burning my wrists right now.
9. PHLEGM
For as long as it's been in English, "phlegm" has been associated with mucus and phlegmatic humor (from the theory of the 4 humors). The phlegmatic humor has always been thought of as the cold, clammy one, but the word "phlegm" relates back to the Ancient Greek phlegma, which referred to inflammation or the clamminess caused by being heated, which in turn relates back to the Ancient Greek for "burn" or "blaze." And about the image of burning phlegm, I have nothing more to say. Apologies.
Continue reading for free
We hope you're enjoying The Week's refreshingly open-minded journalism.
Subscribed to The Week? Register your account with the same email as your subscription.
Sign up to our 10 Things You Need to Know Today newsletter
A free daily digest of the biggest news stories of the day - and the best features from our website
Arika Okrent is editor-at-large at TheWeek.com and a frequent contributor to Mental Floss. She is the author of In the Land of Invented Languages, a history of the attempt to build a better language. She holds a doctorate in linguistics and a first-level certification in Klingon. Follow her on Twitter.