Should you quit your job?
How to know when it's time to go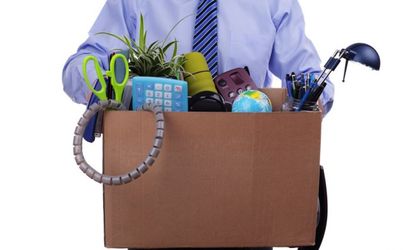 (Image credit: Thinkstock)
Sign up to our 10 Things You Need to Know Today newsletter
A free daily digest of the biggest news stories of the day - and the best features from our website
Thank you for signing up to TheWeek. You will receive a verification email shortly.
There was a problem. Please refresh the page and try again.
You religiously watch the clock. You're annoyed by every single one of your co-workers. Your job has lost its thrill.
It's obvious that it's time for a change, but how exactly should you go about leaving a job — especially when the unemployment rate is hovering at 7.5 percent?
Guess what? You're not alone. According to a survey conducted by recruiting software maker Jobvite, three out of four Americans are either actively searching for a new job — or seriously considering it.
Subscribe to The Week
Escape your echo chamber. Get the facts behind the news, plus analysis from multiple perspectives.
SUBSCRIBE & SAVE
Sign up for The Week's Free Newsletters
From our morning news briefing to a weekly Good News Newsletter, get the best of The Week delivered directly to your inbox.
From our morning news briefing to a weekly Good News Newsletter, get the best of The Week delivered directly to your inbox.
"The reasons range across the board," says Stacia Pierce, CEO of Ultimate Lifestyle Enterprises, a life coaching firm. "Some have become bored to death with their jobs, while others want more money and more opportunities."
So we decided to check in with three intrepid professionals to find out how they pulled off leaving cushy gigs for something more fulfilling — proving that work shouldn't have to be a grind.
Overstaying a job welcome
As a government employee for 12 years, 35-year-old Kory Chaumley of Orlando, Fla., had a steady paycheck, job security and great benefits.
Despite these coveted perks, the computer technician wasn't happy — and it began to affect his health. "I hated going to work to the point that I would get sick or just call in sick," he says.
According to Chaumley, his long-standing funk was a mixture of boredom from being in a job where many of his tasks had become rote and working with outdated technology. As the years went by, he says, his mundane work existence began to wear on him.
Although it was clear that he was suffering from job burnout, Chaumley was afraid to leave. "Since we were working with older technology, I didn't think that my tech skills were marketable anymore," he explains.
As a career coach, Pierce has seen this scenario before. "If you're getting physically sick at the thought of work, it's time to find a new job," she says. "A lot of people, like Chaumley, simply outgrow a position, and there's no room for them to advance at the organization — these are also signs that it's time to make a change."
With Pierce's encouragement, Chaumley sought four additional IT certifications over the course of a year. "Then I updated my resume, put it out there... and started getting bites," he says.
Chaumley also developed his interview skills with Pierce, stepped up his networking — and worked on getting his groove back. All those years at the government job had left Chaumley feeling like he'd lost his edge and confidence, but "talking to Stacia helped me a lot in that respect," he says. "She really opened my eyes to what is possible with my career if I just made certain changes."
Seven months ago, it finally all came together: Chaumley received two job offers. Today, he's working at a Fortune 100 company making far more than he did at his government gig, but more importantly, he focuses on interesting projects with new technologies. "Sometimes I work beyond the hours that I bill," he says, "because I'm just so fascinated with what I'm doing now."
Striking out on her own
When she was in her thirties, Cathleen Campbell Stone, 49, had an accidental fall at work that left her partially paralyzed. She went from being a successful, active marketing executive to someone who was in constant pain.
Western medicine wasn't able to help Campbell Stone cope with her pain, so she turned to just about everything else. "I began investigating any possible resource, from acupuncture to energy work," she says. Her frustrating health experience did something else for Campbell Stone: It changed her outlook on her career.
During her recovery, she became restless at her job as the vice president of marketing and education for the Home Sewing Association, where she'd been for about five years. Campbell Stone liked the work and the colleagues — but she came to the conclusion that she'd have more control over her future if she worked for herself. Another big realization: She wanted to find a way to provide the same healing for others that had helped her.
"I came to the conclusion that even if you work for a lovely company and the people are nice, generally speaking, working for others doesn't provide you with the ability to dramatically increase your income," she says.
So after about a year of saving enough money to build an emergency fund that she could live off for several months, Campbell Stone quit her high-paying executive job to found LivingHarmony, a holistic healing practice that offers alternative health and consulting services.
Campbell Stone was methodical about her leap from high-paid executive to small-business owner: She started with a close-knit client pool of friends and acquaintances who needed help with aches and pains. Over time, as her reputation built, requests began coming in from friends of friends and beyond.
"Entrepreneurship is something that I would advise people to consider very carefully — and plan for it in painstaking detail," she says, adding that, in retrospect, she would have saved up even more money before striking out on her own.
But there are no regrets. "Working for yourself, doing what you believe in," she says, "I can't describe to you how empowering that feeling is."
Trading up
Carl Gaines, 41, is the editor of Mortgage Observer, a position that he's held for a little over a year after leaving a similar job at another publication. The reason for his jump: Compensation. Simply put, it wasn't enough to live on in New York City. "If it weren't for my partner, who picked up some of our expenses, it never would have worked," he says.
Although most people would think twice about leaving a job after just one year, Gaines had other reasons to conclude that the gig really wasn't a good fit. For one, he quickly discovered that the structure of the company was too rigid — and he had a vague sense that being gay was off-putting to a few people in management. According to Gaines, it wasn't that big of a deal, but coupled with the low pay, it made him think about looking for another position almost immediately.
So what did it take for Gaines to land another job so quickly? Networking and lucky timing. At a black-tie industry function one evening, he ran into the man who'd be his future boss. "He told me that he was launching a new publication, so he was looking for an editor," Gaines says. "That very night, I dropped him a note, along with my resume, telling him that I was interested."
A month later, the job was his. And he's making about 20 percent more. "It worked out perfectly," he says.
Taking your own job leap
As the above stories show, quitting a job is rarely an easy decision, which is why Charley Polachi, a partner at Polachi Access Executive Search, advises anyone in this scenario to first find a mentor.
The decision to leave a job — even for a reason as fundamental as more money — should never be made alone, Polachi says. "I think that the average person spends more time planning a vacation than charting a career," he adds.
The benefit of a mentor is twofold: That person can take an unbiased look at whether you are moving ahead in your career, and if you aren't, will help you figure out why not — and work with you to plot that next move.
Of course, sometimes the answer isn't to quit at all. "Often, people are vaguely unhappy with their jobs, and they just haven't figured out how to deal with certain situations," says Don Maruska, co-author of Take Charge of Your Talent: Three Keys to Thriving in Your Career, Organization, and Life. "They simply feel stymied by a lack of opportunities, frustrations with their bosses or other problems."
To help you decipher if the time is indeed right to quit, Amanda Augustine, a job search expert for TheLadders, suggests asking yourself the following questions:
What are you great at?
What are you passionate about?
Is it possible to combine those in a long-term career?
What do you ultimately see yourself doing over the next five to 10 years?
What steps — in the form of work experience and skill development — do you need to take to get there?
The answers, Augustine says, "will help you decide if you should explore other opportunities within the same company or if you need to look elsewhere."
More from LearnVest...
* Why hiring a career coach was the best thing I ever did
Continue reading for free
We hope you're enjoying The Week's refreshingly open-minded journalism.
Subscribed to The Week? Register your account with the same email as your subscription.
Sign up to our 10 Things You Need to Know Today newsletter
A free daily digest of the biggest news stories of the day - and the best features from our website