Can the military solve its sexual assault crisis?
In the latest installment of a growing scandal, an Army sexual-assault prevention officer allegedly ran a prostitution ring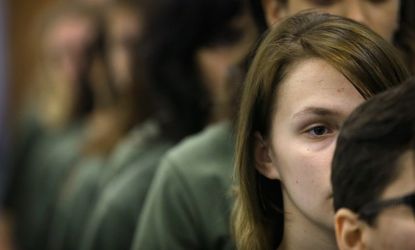 (Image credit: Scott Olson/Getty Images)
Sign up to our 10 Things You Need to Know Today newsletter
A free daily digest of the biggest news stories of the day - and the best features from our website
Thank you for signing up to TheWeek. You will receive a verification email shortly.
There was a problem. Please refresh the page and try again.
The Defense Department said on Tuesday night that a sergeant first class at Fort Hood in Texas is under investigation for sexual assault, abusive sexual contact, maltreating subordinates, and "pandering" — a euphemism, USA Today reports, for forcing a subordinate into a prostitution ring he allegedly helped run. The unidentified officer was the sexual-assault prevention and response coordinator for his battalion, until relieved of duty when the allegations surfaced.
No charges have been filed yet, but the timing is inauspicious for the U.S. military. Just over a week ago, Air Force Lt. Col. Jeffrey Krusinski, the officer in charge of his entire branch's sexual-assault prevention program, was arrested for allegedly violently groping a woman in a parking lot. Defense Secretary Chuck Hagel responded Tuesday night, much as he had in the Krusinski case, with deep "frustration, anger, and disappointment over these troubling allegations and the breakdown in discipline and standards they imply," according to a spokesman.
The Pentagon recently estimated that rape and sexual assault in the armed forces had jumped 35 percent since 2010, to more than 26,000 military personnel who experienced "unwanted sexual contact" in 2012. The number of reported sexual crimes — 3,374 — was also up; only a small fraction of troops raped or otherwise sexually attacked are believed to report their assault, because of military culture and fears of retaliation.
Subscribe to The Week
Escape your echo chamber. Get the facts behind the news, plus analysis from multiple perspectives.
SUBSCRIBE & SAVE
Sign up for The Week's Free Newsletters
From our morning news briefing to a weekly Good News Newsletter, get the best of The Week delivered directly to your inbox.
From our morning news briefing to a weekly Good News Newsletter, get the best of The Week delivered directly to your inbox.
If Hagel is angry and frustrated about the Fort Hood case, lawmakers are livid. After the Krusinski arrest, "to say this report is disturbing would be a gross understatement," said Sen. Kirsten Gillibrand (D-N.Y.), who heads the Senate Armed Services Committee's military personnel panel. Rep. Buck McKeon (R-Calif.), chairman of the House Armed Services Committed, said he was "outraged and disgusted by the reports out of Fort Hood," calling them "the latest chapter in a long, sordid history of sexual abuse in our armed forces."
Anger is all well and good — and certainly called for — but what can be done to tackle the problem of military sexual assault? A look at various ideas being floated or implemented:
1. Retrain or replace the military's sexual-assault officers
On Tuesday, Hagel ordered the Pentagon to immediately "retrain, re-credential, and rescreen" all military sexual-assault prevention officers, plus the 20,000 recruiters for the Army, Navy, Air Force, and Marine Corps. Hagel argued last week that the growing public perception that the military can't deal with its sexual-assault problem will hurt recruitment efforts and service-wide readiness and effectiveness.
Sen. Claire McCaskill (D-Mo.) suggests that the military pick better people to handle sexual-assault prevention. If the Fort Hood pimping and assault allegations are true, "then now is the time for our military leaders to re-evaluate who is being put into these positions," she says. "Are folks filling these jobs who aren't succeeding elsewhere? Or are these jobs being given to our best leaders?"
2. Hold the military brass accountable for subordinates' crimes
Rep. McKeon, who has a granddaughter in the Army, says his confidence that the military can handle its rape problem has been "deeply shaken" by the Fort Hood report. He suggests that Hagel "conduct a review of the military and civilian leadership within the military services to determine whether they continue to hold his trust and his confidence to lead in this area."
There should be "no meaningful distinction between complacency or complicity," no "distinction between the service member who orchestrated this offense and the chain of command that was either oblivious to or tolerant of criminal behavior," McKeon adds. "I will not be satisfied with any response to this crime that fails to hold both the perpetrator and the chain of command responsible." Combating sexual assault will be a "cornerstone" of the fiscal 2014 appropriations bill in his committee, he pledges.
This puts McKeon on the same page as President Obama. "I expect consequences," Obama said last week. "I don't just want more speeches or awareness programs or training, but ultimately folks look the other way. If we find out somebody's engaging in this, they've got to be held accountable — prosecuted, stripped of their positions, court-martialed, fired, dishonorably discharged. Period."
3. Change how the military handles sex-assault cases
Sen. Gillibrand plans to introduce legislation this week to take the handling of sexual-assault cases out of the hands of military commanders and assign them to independent military prosecutors. In at least one high-profile case, an Air Force general overturned the convictions of subordinates court-martialed for sexual assault. That type of winking at rape is a big reason assaulted military personnel don't report their attacks, according to assault victims.
"If a victim does not believe that the system is capable of believing her, there's no point in risking your entire career," McCaskill said at a May 7 Senate hearing. The military leadership is strongly opposed to this route, arguing that it would undermine military order. "It is my strong belief that the ultimate authority has to remain within the command structure," Hagel said at the same hearing.
4. Try to change the military culture
With the "utterly abhorrent" Fort Hood allegations merely the latest example, said Rep. Niki Tsongas (D-Mass.), "it has become painfully evident that saying the military has a cultural problem in regard to sexual assault and sexual misconduct is a glaring understatement." For the problem to change, the military culture must change.
How do you do that? "Taking the investigations and prosecutions out of the military's hands is a first, necessary step to address this systemic rape culture presided over by the Pentagon," says syndicated columnist Amy Goodman.
The military says that better training is the key to changing military culture. Carolyn Collins, who heads the Army's Sexual Harassment/Assault Response and Prevention program, says that changing the military culture "takes time," but that the armed forces are on an "aggressive timeline" and are making progress. Army Chief of Staff Gen. Ray Odierno struck a similar note before Congress last week. Everyone from the top brass to the newest recruit must know that preventing sexual assault is a top priority, he said, and the Army is making sure "we have the training mechanisms necessary to educate and ensure people understand the importance of this issue."
Anu Bhagwati, a former Marine captain who leads the advocacy group Service Women's Action Network, says that if change doesn't come from the top, it must come from the outside. "If military culture is to transform in any meaningful way, we need to break down the doors of silence and make sure our troops who are harmed have access to the same legal remedies as all civilians whom they protect and defend."
5. Force change from the outside by publicizing the military rape epidemic
Rape isn't a new problem, and it isn't just a military problem, but we can't start tackling it until people are aware the problem exists, says Nancy Doyle Palmer at The Atlantic. That's where documentaries like The Invisible War, which premiered on PBS this week, can help. (Watch a trailer below.) "The film focuses on the testimony of several women who were sexually assaulted, and in some cases were also beaten," Palmer says, and "there is also a wrenching account from a man who also was raped and suffered in silence for years."
In fact, the Oscar-nominated documentary has prompted much of the focus on military rape since its debut a year ago, Palmer says. The Pentagon brass and members of Congress have screened it, and the military is now using it as a training tool. Last year's defense authorization act instituted a lot of changes to military procedures on rape, including setting up a special victims unit. "That's a lot of progress for a movie."
The military can not only fix this but help lead a societal change, Amy Ziering, the film's co-producer, tells The Atlantic. "If the military really takes this on with the same determination, will, and purpose that they have engaged other equally challenging societal issues, they could not only easily reduce the proliferation of these crimes in the military but also provide a model for the public at large of the best ways to respond to sexual assault."
Here's a trailer for The Invisible War:
Continue reading for free
We hope you're enjoying The Week's refreshingly open-minded journalism.
Subscribed to The Week? Register your account with the same email as your subscription.
Sign up to our 10 Things You Need to Know Today newsletter
A free daily digest of the biggest news stories of the day - and the best features from our website
Peter Weber is a senior editor at TheWeek.com, and has handled the editorial night shift since the website launched in 2008. A graduate of Northwestern University, Peter has worked at Facts on File and The New York Times Magazine. He speaks Spanish and Italian and plays bass and rhythm cello in an Austin rock band. Follow him on Twitter.