Summer movie preview: All the films you should see in May and June
Your week-by-week guide to the most promising movies hitting theaters in the first half of the summer blockbuster season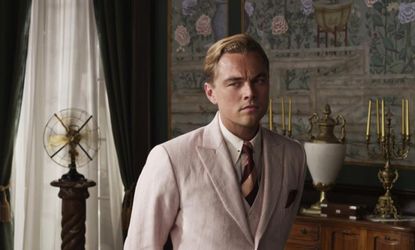 (Image credit: Facebook/<a href="https://www.facebook.com/photo.php?fbid=533536460022107&amp;set=pb.198997176809372.-2207520000.1368122673.&amp;type=3&amp;theater" target="_blank">The Great Gatsby</a>)
Sign up to our 10 Things You Need to Know Today newsletter
A free daily digest of the biggest news stories of the day - and the best features from our website
Thank you for signing up to TheWeek. You will receive a verification email shortly.
There was a problem. Please refresh the page and try again.
Just as the robin's song marks the beginning of spring, and the first fallen leaf heralds the advent of autumn, the release of last week's Iron Man 3 kicked off Hollywood's favorite time of year: The summer blockbuster season. Studios are about to drop dozens of movies into theaters in an attempt to capitalize on filmgoers' seemingly insatiable appetite for superheroes, post-apocalyptic futures, and cops who play by their own rules. It can be overwhelming for even the most seasoned cinephile. Which superheroes are actually super? Which comedies are actually funny? And which modest indie movies are actually worth seeking out?
The Week is here to help. Some weeks, the big-budget blockbuster really is the most promising moving hitting theaters; in others, it's a quiet drama that runs the risk of getting lost in all the bluster of the summer movie season. Which films in May and June are actually worth your time and box-office dollar? Here, a guide:
(UPDATE: See our primer on July and August movies here.)
Subscribe to The Week
Escape your echo chamber. Get the facts behind the news, plus analysis from multiple perspectives.
SUBSCRIBE & SAVE
Sign up for The Week's Free Newsletters
From our morning news briefing to a weekly Good News Newsletter, get the best of The Week delivered directly to your inbox.
From our morning news briefing to a weekly Good News Newsletter, get the best of The Week delivered directly to your inbox.
May 10:
The Great Gatsby
What it is: Moulin Rouge! director Baz Luhrmann's lavish 3D adaptation of F. Scott Fitzgerald's classic novel casts Leonardo DiCaprio as Jay Gatsby, who enlists the aid of his neighbor and friend Nick Carraway (Tobey Maguire) as he embarks on a doomed love affair with the beautiful Daisy Buchanan (Carey Mulligan). If you need a more in-depth plot summary than that, feel free to visit your local 10th grade English class.
Why you should care: Hollywood has been fumbling adaptations of The Great Gatsby since 1926, and early reactions to the latest adaptation have been mixed. But love or hate Baz Luhrmann, his instantly recognizable, over-the-top style is sure to make The Great Gatsby one of the most talked-about and polarizing movies of the summer. And after so many decades of stiff, costume drama-style Gatsby adaptations, aren't you a little curious to see what a 3D, $100 million version of the Great American Novel looks like?
What else is coming out: Peeples, a dismal-looking family comedy starring Craig Robinson and Kerry Washington.
May 17:
Star Trek Into Darkness
What it is: A sequel to J.J. Abram's successful, massively entertaining reboot of the Star Trek franchise. Chris Pine's Captain James T. Kirk leads the crew of the U.S.S. Enterprise in a high-stakes battle against a mysterious new villain played by Sherlock's Benedict Cumberbatch.
Why you should care: Abrams' Star Trek was exactly the shot in the arm that the increasingly lifeless Star Trek franchise needed, and Star Trek Into Darkness ups the stakes considerably by adding a villain who seems to be more than a match for Kirk. There are few working directors more talented at making fun, smart blockbusters than J.J. Abrams, and there's no knocking the stellar cast the first film assembled — and the sequel reassembles — to re-imagine the crew of the Enterprise (which includes Zachary Quinto as Spock and Zoe Saldana as Uhura).
What else is coming out: Frances Ha, a gorgeous-looking film about an aspiring dancer in New York City, the latest collaboration between writer-star Greta Gerwig and writer-director Noah Baumbach; Stories We Tell, a highly acclaimed documentary in which director Sarah Polley digs deep into the fractured history of her own family; and Erased, a lame Bourne Identity knockoff starring Aaron Eckhart as an ex-CIA agent on the run from his former employers.
May 24:
Before Midnight
What it is: The third entry in a series that began with 1995's Before Sunrise and continued with 2004's Before Sunset, Before Midnight revisits star-crossed lovers Jesse (Ethan Hawke) and Celine (Julie Delpy) nearly two decades after they first met, as they spend a characteristically talky evening together in Greece.
Why you should care: For all the hundreds of films that tell stories about romantic relationships, almost none of them manage to say anything truly insightful — but Before Midnight is the rare and dazzling exception. This powerful, intimate movie, which was directed by Richard Linklater and co-written by stars Hawke and Delpy, manages to surpass the sky-high standard set by its predecessor. Before Midnight was easily the best movie screened at the Tribeca Film Festival last month. Seriously, don't miss it.
What else is coming out: Fast & Furious 6, a low-budget mumblecore drama about a gang of criminals who reluctantly reunite for one last score; The Hangover Part III, which brings the hard-R comedy series back to Las Vegas for its definitive finale; and Epic, an animated film from the creators of the Ice Age series, which follows a teenage girl lost in a forest who gets entangled in a war between good and evil.
May 31:
The Kings of Summer
What it is: This coming-of-age dramedy, which premiered at the Sundance Film Festival under the title Toy's House, follows a misunderstood teenager (Nick Robinson) who teams up with a couple of friends (Gabriel Basso and Moises Arias) to escape their lives by building a secret house in the woods.
Why you should care: The Kings of Summer was very well-received at Sundance, and its clever premise puts it in line with other coming-of-age classics like Stand By Me. But the real treat for TV watchers is the film's supporting cast, which is loaded with talented TV actors who rarely get a crack at the silver screen, including Nick Offerman (Parks and Recreation), Alison Brie (Community), Megan Mullally (Will & Grace), and Mary Lynn Rajskub (24).
What else is coming out: The East, an action drama about a group of anarchists targeting high-powered CEOs; The Purge, a conceptual horror-thriller about a single night in which any crime can be committed without punishment; After Earth, a sci-fi drama in which Will and Jaden Smith attempt to survive on a post-apocalyptic Earth more than a thousand years from now; and Now You See Me, a Jesse Eisenberg-led thriller about a team of bank-robbing magicians.
June 7:
Much Ado About Nothing
What it is: For his cinematic follow-up to last year's massive superhero blockbuster The Avengers, director Joss Whedon went in the opposite direction: A sleek, low-budget adaptation of Shakespeare's beloved comedy, which stars a bunch of Whedon's friends and was filmed in just 12 days at his own mansion in Santa Monica.
Why you should care: Whedon is famous for his snappy dialogue, and the famously witty exchanges between the characters in Much Ado About Nothing are a perfect fit for his rapid-fire directorial style. And just as The Avengers mashed up an array of fan-favorite superheroes, Much Ado About Nothing brings together many fan-favorite actors from previous Joss Whedon productions, including Alex Denisof (Angel), Nathan Fillion (Firefly), and Reed Diamond (Dollhouse).
What else is coming out: The Internship, an unappealing comedy/advertisement for Google that reunites Weddings Crashers stars Vince Vaughn and Owen Wilson.
June 14:
Man of Steel
What it is: Watchmen director Zack Snyder returns to the superhero genre for this Superman reboot — the character's first big-screen outing since 2006's underperforming Superman Returns. Henry Cavill straps on the cape in Man of Steel, which retells the hero's origin story before he squares off against the villainous General Zod (Michael Shannon).
Why you should care: Man of Steel is the first D.C. superhero to hit screens since last summer's The Dark Knight Rises brought Christopher Nolan's Batman trilogy to a close. The company is sparing no expense in its attempt to catch up to Marvel, which scored yet again last week with Iron Man 3. Early previews for Man of Steel look very, very promising, and the film's stellar supporting cast — which includes Russell Crowe as Jor-El, Kevin Costner as Jonathan Kent, and Amy Adams as Lois Lane — doesn't hurt either.
What else is coming out: This Is the End, a comedy in which celebrities like Seth Rogen and James Franco play themselves as they face the apocalypse; and The Bling Ring, Sofia Coppola's based-on-a-true-story film about a group of teenage girls who robbed the houses of celebrities like Paris Hilton.
June 21:
Monsters University
What it is: A prequel to Pixar's 2001 animated comedy Monsters, Inc., Monsters University reunites original stars Billy Crystal and John Goodman to show how best pals Mike and Sulley originally started out as rivals in college, with Helen Mirren joining the franchise to voice the school's no-nonsense dean. Think a kid-friendly Revenge of the Nerds, with 100 percent less sexual misadventures and 100 percent more weird monsters.
Why you should care: Monsters, Inc. isn't the brightest star in the Pixar canon, but it's a sweet, enjoyable comedy with a premise that's ripe for revisiting. Monsters University isn't as bold or genre-expanding as Wall-E or Up, but in a summer that's looking fairly light on offerings for younger children, Pixar remains your safest bet.
What else is coming out: World War Z, a Brad Pitt-starring zombie drama that has endured a long and troubled production process.
June 28:
The Heat
What it is: An action-comedy that stars Sandra Bullock and Melissa McCarthy as two fiercely independent law-enforcement agents, who are forced to team up to take down a Russian gangster.
Why you should care: Sandra Bullock and Melissa McCarthy are both enormously talented comic performers, and the idea of doing a buddy-cop comedy with two female detectives is refreshing in a summer filled with a series of similar-looking action blockbusters. The Heat is director Paul Feig's first film since 2011's smash hit Bridesmaids, which also featured McCarthy in a scene-stealing supporting role.
What else is coming out: Byzantium, a so-so horror/drama starring Saorise Ronan and Gemma Arterton as a mother/daughter pair of vampires; White House Down, the second movie this year that features the White House being attacked by terrorists; I'm So Excited, a Pedro Almodovar-directed comedy about a wacky flight to Mexico City; and Hummingbird, the 27th generic Jason Statham thriller to hit theaters over the past few years.
Continue reading for free
We hope you're enjoying The Week's refreshingly open-minded journalism.
Subscribed to The Week? Register your account with the same email as your subscription.
Sign up to our 10 Things You Need to Know Today newsletter
A free daily digest of the biggest news stories of the day - and the best features from our website
Scott Meslow is the entertainment editor for TheWeek.com. He has written about film and television at publications including The Atlantic, POLITICO Magazine, and Vulture.