Reality show drive-by: Preachers' Daughters
Shocker: There are lots of rules in preacher' homes, and watching a teenager on camera is super awkward and incredibly boring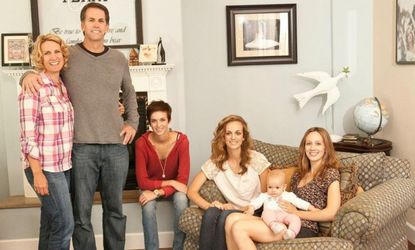 (Image credit: Facebook.com/<a href="https://www.facebook.com/PreachersDaughtersTv" target="_blank">PreachersDaughterTV</a>)
Sign up to our 10 Things You Need to Know Today newsletter
A free daily digest of the biggest news stories of the day - and the best features from our website
Thank you for signing up to TheWeek. You will receive a verification email shortly.
There was a problem. Please refresh the page and try again.
Sadly, there isn't nearly enough devilishness or self-reflection in the lives of the eponymous daughters featured on Lifetime's new series Preachers' Daughters to make the show as compelling as it should be.
It seems like a perfect setup: Unbridled adolescence of one generation butting up against the religious conservatism of another. But if last night's painfully on-the-nose episode is any indication, Preachers' Daughters is simply missing that vital spark of self-awareness that might make the show a hit. And so, the audience is stuck puttering along the same, tired storylines and clichés that gunk up most narrative-driven reality shows.
Let's start with Taylor, who lives in Illinois. Her father is a well-respected preacher. Taylor is nearing her 18th birthday, and has just dropped the news to her parents that she'd like to move to L.A. to pursue acting and singing. Needless to say, Taylor's parents are far from pleased with the idea of their daughter heading out west. But before they can deal with the potentially explosive drama of her long-term plans, it's time to get ready for her big 18th birthday party!
Subscribe to The Week
Escape your echo chamber. Get the facts behind the news, plus analysis from multiple perspectives.
SUBSCRIBE & SAVE
Sign up for The Week's Free Newsletters
From our morning news briefing to a weekly Good News Newsletter, get the best of The Week delivered directly to your inbox.
From our morning news briefing to a weekly Good News Newsletter, get the best of The Week delivered directly to your inbox.
We then skip over to California, where we meet Olivia, 18, and her young baby, Eden. There's no explanation in this episode on how Eden has come to be a young single mom, though there are hints that she left behind a life of partying before joining the show. But because new viewers don't really get to know Eden, it's difficult to feel invested in her storyline, which sees her wavering on whether to get baptized at her father's church. Doing so would mean rededicating herself to God and fully closing the door on her past. That's a commitment she seems hesitant to make.
And then there's bubbly Kolby, 16, who lives near Nashville with her preacher mom and a gaggle of sisters. Kolby's dad, Nikita, is also a preacher (and a former professional wrestler!), lives in North Carolina, and is divorced from her mom, though they remain friendly. Kolby's storyline in this episode is all about her working up the nerve to ask her mom to finally be allowed a "solo date" with her sweet, nerdy boyfriend Micah.
None of these stories unfold in particularly surprising ways — other than the amount of unabashed intensity that gets needlessly poured into certain scenes and then completely ditched in others. For instance, we have Olivia explaining to her preacher-dad and mom that her reason for not wanting to get baptized has to do with the fact that she currently feels like she's "dating" God and isn't quite ready to have "an exclusive relationship with Him." The family chuckles at her awkward comparison, but seems to accept her choice. The very next time we check back in with Olivia, it's for an unbearably dramatic scene in which she admits to her baby's pediatrician that she unknowingly drank and smoked during the first month of pregnancy. The contrast of her doctor having to administer an exam to the baby while cutting away to hazy, musically charged shots of her father preaching about sin is underwhelming and uncomfortable. It feels ham-fisted and lands with a thud. It's also frustrating to not get to hear more of Olivia's actual feelings about such a serious topic. Her story is clearly a unique one, and deserves to be told in a more honest way than crashing cymbals and cartoonish editing allow.
Otherwise, our stories wrap up just as you might expect. Taylor's party is a big success even though things get a little rowdy after her parents leave. Mom and Dad purposefully duck out early enough to let the kids get up to some fun, proving that they're trying to let Taylor grow up and be herself. There's no further mention of her L.A. plans. I guess we'll have to tune in next week?
Meanwhile, Kolby gets to go on her first solo date, and Mom catches her kissing Micah. Mom had been (creepily?) watching the driveway through the blinds in her bedroom after the kids had returned home. This, too, is handled in such a cartoonish and uninteresting way that it totally deflates.
And for some reason, Kolby's father comes over to have dinner at Mom's house — even though he apparently hasn't been there for seven years — and we're immediately bombarded by all his daughters rattling off secrets they've been keeping from him. Some are relatively small-scale, like hidden tattoos, and some are way too intense for the dinner table, like virginity. In the midst of that, Kolby's secret make-out is revealed. Dad barely reacts. You feel bad for him, mostly, with all the confusion and bad reality acting swirling around.
Olivia's baby is healthy and she credits God with the whole thing, which is nice for her family and for her. There is zero commentary on what it might actually be like to be an 18-year-old single mom and recovering substance abuser trying to reintegrate into a highly religious family.
While shows like Teen Mom have been heavily criticized for showcasing poor behavior and inadvertently creating tabloid stars, they at least show the first-person perspective of those choices and that life in a way that feels authentic. It would have been so interesting to have had the same in a show like Preachers' Daughters, or for it to have gone in the clear opposite direction and erred on the side of actual comedy and skewering of stereotypes. Instead, the show meanders in the middle and says little to nothing, other than the fact that there are lots of rules in preachers' homes and that being a teenager on camera will always be one of the most awkward and boring things to observe in the world.
More reality show drive-bys...
Naked and Afraid
Ultimate Treehouses
Wedding Island
Continue reading for free
We hope you're enjoying The Week's refreshingly open-minded journalism.
Subscribed to The Week? Register your account with the same email as your subscription.
Sign up to our 10 Things You Need to Know Today newsletter
A free daily digest of the biggest news stories of the day - and the best features from our website
Jessica Jardine is from Northern California and has written for The Onion's A.V. Club, FILTER, BUST, Backstage, and Metromix.com. She is also a performer at the Upright Citizens Brigade Theatre in Los Angeles and owns a Calico Persian cat named Beyoncé.