The author is dead; long live information?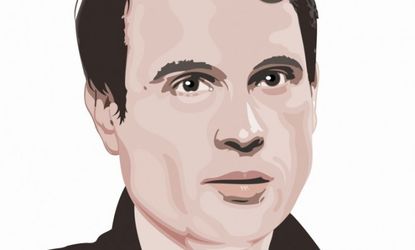 In 1967, the literary theorist and scourge of modernists, Roland Barthes, wrote an essay announcing the imminent death of the author. No longer, in the information age, (if ever) could the author of a work influence its reception, its meaning. Now, 45 years later, authors are still around, and so is Barthes' observation, having become a foundational principle of crit-lit. But the modern incarnation is much more prosaic. Authors might be alive, and maybe even have some influence over how their work is received, but damn it if they can get published and make a living off of it. The irony is not lost on me: The day my book was published, my publisher essentially went out of business.
In a New York Times op-ed, Scott Turow writes that trends in technology and commercial publishing have devalued copyrights to such an extent that everyone who isn't already a best-selling author is at risk of never being able to make it in the business.
Take e-books. They are much less expensive for publishers to produce: there are no printing, warehousing or transportation costs, and unlike physical books, there is no risk that the retailer will return the book for full credit.
Subscribe to The Week
Escape your echo chamber. Get the facts behind the news, plus analysis from multiple perspectives.
SUBSCRIBE & SAVE
Sign up for The Week's Free Newsletters
From our morning news briefing to a weekly Good News Newsletter, get the best of The Week delivered directly to your inbox.
From our morning news briefing to a weekly Good News Newsletter, get the best of The Week delivered directly to your inbox.
But instead of using the savings to be more generous to authors, the six major publishing houses — five of which were sued last year by the Justice Department's Antitrust Division for fixing e-book prices — all rigidly insist on clauses limiting e-book royalties to 25 percent of net receipts. That is roughly half of a traditional hardcover royalty.
Best-selling authors have the market power to negotiate a higher implicit e-book royalty in our advances, even if our publishers won't admit it. But writers whose works sell less robustly find their earnings declining because of the new rate, a process that will accelerate as the market pivots more toward digital.
And there are many e-books on which authors and publishers, big and small, earn nothing at all. Numerous pirate sites, supported by advertising or subscription fees, have grown up offshore, offering new and old e-books free.
All that hits home. But there is a counter-pressure to these trends. Expertise and authorships, and authors, are being devalued. But access to previously curated information is about to significantly expand. On April 18, the Digital Public Library of America, a project devised by the writer and chief Harvard library Robert Darnton, aims to make "the holdings of America's research libraries, archives and museums available to all Americans." The collection will be quite limited at first, and it does not necessarily hold Google's attempt to digitize the world's books as a model. Darnton wrote in the New York Review of Books (!) that the DPLA hopes to "win Google over as an ally in working for the public good." Most works published since around 1920 are copyrighted, and one wonders how DPLA will incorporate the trends Turow mentions without, at least atmospherically, further devaluing the value of an individual author's work. He gives no details. DPLA's aim is complementary, in a sense; there is clearly a value in digitalizing access to libraries. DPLA has an interesting set of plans to do their best to make sure that public schools and other institutions take advantage of what they're being offered.
The trends in academic publishing are difficult to boil down. There are open-access journals of varying qualities, more ways of getting published, top scientists who have started to publish their laboratory findings in real time, different publications taking different approaches to allowing free access to their articles, and the Obama administration now insists that taxpayer-funded research be made available to everyone for free.
Maybe it will be harder to make a career in book publishing. But if you've got an interesting idea, it's much easier for you to self-publish. And if you've got a knack for self-promotion, it's easier to get your self-published work noticed by someone who can help you make money of your next work. The actual slots available for significant book advances may be winnowing, but the chances of an aspiring newcomer to get one of them remains viable, and the chances that a good idea, a good story, or a good book will get around, get into the bloodstream of the conversation somehow, are somewhat higher than the economics of publishing might suggest.

Continue reading for free
We hope you're enjoying The Week's refreshingly open-minded journalism.
Subscribed to The Week? Register your account with the same email as your subscription.