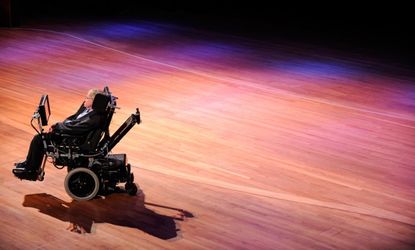 (Image credit: Jemal Countess/Getty Images)
When I was growing up, Stephen Hawking was pretty much the closest thing to a genuine hero I had. But before I saw A Brief History of Time, thinking about physics was like watching water boil. All I could think about was the scientist's incredible mind-power, which seemed to make any of my bothers seem small.
Today, a friend texted me that Hawking was in the neighborhood. Apparently, he was visiting with doctors and scientists at Cedars-Sinai Medical Center in Los Angeles, better known as The Place Where Celebrities Are Treated For Exhaustion. In real life, Cedars-Sinai is a top-notch research hospital, endowed by celebrities and wealthy Hollywood types.
I decided to try and find him. This would not be easy. Cedars is notorious for its security. When I once tried to take an iPhone photo of a friend who had sent himself to the emergency room with alcohol poisoning, I was loudly reprimanded by a nurse.
Subscribe to The Week
Escape your echo chamber. Get the facts behind the news, plus analysis from multiple perspectives.
SUBSCRIBE & SAVE
Sign up for The Week's Free Newsletters
From our morning news briefing to a weekly Good News Newsletter, get the best of The Week delivered directly to your inbox.
From our morning news briefing to a weekly Good News Newsletter, get the best of The Week delivered directly to your inbox.
I walked around the large campus, looking for vans that might transport wheelchair-bound passengers. I found a lot of them. This was, after all, a hospital. But maybe Hawking traveled in a special bus of sorts. I looked for signs of heightened security, or maybe news vans; some media had been invited. The news vans were parked along a street that was far away from anything official.
My texting friend was stingy with the details because he didn't want to get in trouble. Whenever anyone from Cedars logs on to a computer, they're greeted by a screen reminding them that talking to outsiders about ANYTHING that goes on in the hospital is forbidden. I asked him to snap a picture for me. He responded with an epithet.
My friend knew I was a fan of Hawking because of a rather insensitive joke I kept making. One of the major parking lot payment machine companies uses a similar metallic voice pattern to Hawking's own. "Please put your ticket into the machine." "IF you need a receipt, please press the blue button." The first time I heard this, I said aloud: "Thank you, Professor Hawking." Now, when I need to pay for parking, I'll go find "Stephen."
Why did Hawking keep that voice? The technology he uses to translate his facial movements into speech has improved — there is an infrared sensor that detects currents in his cheek muscles — and artificial voices are no longer robotic and tiny. It turns out that the robotic voice is something that Hawking is used to. It is his. He sees it as his own. It contains a remnant of his original voice print, the one he recorded as he knew he was going to lose his ability to move. Hawking did get an upgrade last year; he was down to one word a minute, and now he's back up to five. Still, he does not compose original speeches anymore; that would take too much time. I don't know how he managed to write his recent book; I assume his authorship is mostly supervisory.
The lecture he gave today to biomedical professionals was about rudimentary physics. It was rather boring. Some of those who listened might have wondered why he bothered to speak at all. A visit would be just as honorific. Still, he is a medical wonder. ALS, his disease, should have claimed his life a long time ago. He's gotten the best care in the world, of course, but maybe it's magical thinking to believe that his incredible brain has played some role. It worked when his body did not; or, rather, it worked, while the rest of his body atrophied.
That's why I wanted to see him. For me, what's amazing about Hawking is not his contribution to physics, (which I learned later made him only the most famous physicist alive, but not the most influential) but his contribution to neuroscience and the attention he's brought to science in general. He embodies emergence in a fascinating way: The best medicine cannot yet cure what ails him, but he's used the same methods to give back more than what's been taken away.

Continue reading for free
We hope you're enjoying The Week's refreshingly open-minded journalism.
Subscribed to The Week? Register your account with the same email as your subscription.