Game of Thrones recap: The women of Westeros
"Dark Wings, Dark Words" shows the series' female characters finding new ways to assert their power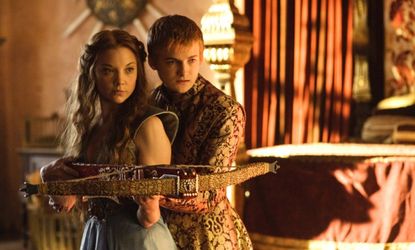 (Image credit: HBO/Helen Sloan)
Sign up to our 10 Things You Need to Know Today newsletter
A free daily digest of the biggest news stories of the day - and the best features from our website
Thank you for signing up to TheWeek. You will receive a verification email shortly.
There was a problem. Please refresh the page and try again.
"Are you frightened, child? No need for that. We're only women here."
— Olenna Tyrell
After last week's dense, sweeping Game of Thrones premiere, tonight's "Dark Wings, Dark Words" spends most of its time in Westeros proper, only briefly visiting Jon Snow beyond the Wall and declining to do even that with Daenerys to the far east. And though the episode opens with the heartbreaking image of the Stark sons together again, replete with a voiceover from Ned Stark himself — which turns out to be another of Bran's strange, symbol-laden dreams — "Dark Wings, Dark Words" is chiefly concerned with the women of Westeros.
Subscribe to The Week
Escape your echo chamber. Get the facts behind the news, plus analysis from multiple perspectives.
SUBSCRIBE & SAVE
Sign up for The Week's Free Newsletters
From our morning news briefing to a weekly Good News Newsletter, get the best of The Week delivered directly to your inbox.
From our morning news briefing to a weekly Good News Newsletter, get the best of The Week delivered directly to your inbox.
When it first premiered, Game of Thrones was attacked by some critics for its sexual and gender dynamics. But as the series has developed, its female characters have proven to be some of the most diverse and complex on television. And despite the near-universal strength of an already stacked cast that includes the likes of Daenerys Targaryen, Catelyn Stark, and Cersei Lannister, "Dark Wings, Dark Words" introduces a new character who immediately stands out from the many we've already met: Olenna Tyrell (Dame Diana Rigg), a woman so sharp and withering that she could probably cut Downton Abbey's Dowager Countess down to size. (And while we're on the subject, sign me up for a Downton Keep spinoff series ASAP.)
The "Queen of Thorns, " as Olenna is aptly nicknamed, is new to us, though it's immediately clear that she's a seasoned and formidable player in the Game of Thrones. But unlike virtually every other person we've met, her weapons aren't swords or spies; they're words. In her first two minutes of screen time, Olenna verbally slaughters several heretofore sacred cows, including her buffoonish son and two of the clashing kings (Margaery Tyrell's former husband, Renly Baratheon, and her would-be husband, King Joffrey). Candor isn't the same thing as honesty, and the Queen of Thorns is clearly working a few angles of her own. But after two seasons of entrenched treachery, it's disarming and thrilling to meet a character who's unafraid to call out all the elephants in the room.
Unlike most of the women of Westeros, who lack her age and social status, Olenna Tyrell has the luxury to speak her mind. But she's far from the only woman that finds a way to assert her power in "Dark Wings, Dark Words." Margaery, who's every bit as wily as her grandmother — but younger and more willing to play by the rules of the game — finds herself at the wrong end of Joffrey's crossbow as he grills her about her brief marriage to Renly. It's a lose-lose question; if she admits to sleeping with Renly, she risks Joffrey's wrath, but if she says she didn't, she'll be deemed a bad wife. Margaery slips out of Joffrey's trap by asserting that she simply tried to do "the duty of any wife to any husband." She's canny enough to use the rules of the patriarchy against Joffrey; if he really believes, as he tells Cersei, that intelligent women do what they're told, he can't fault Margaery for consenting to a marriage with Renly — even though she was a far more active participant in that arrangement than she lets on. (Her willingness to play with Joffrey's crossbow doesn't hurt, either. And yes, only in Joffrey's world is that not just a euphemism for something else.)
"Dark Wings, Dark Words" doesn't spend all its time in King's Landing. Arya Stark was conspicuously absent in last week's premiere, and it is a relief to see her here again, free of Harrenhal and in the company of Gendry and Hot Pie. As always, the youngest Stark girl doesn't lack for courage; when the trio are beset by a group of warriors calling themselves the Brotherhood Without Banners, she warns them that she'll kill them if they don't leave her alone. In Game of Thrones it's generally an asset to be born into a noble family, but Arya has always been the square peg of the Starks, and her famous name proves to be a burden when the Hound reveals who she is to her friendly captors just as they've consented to let her go.
In both her strength and her burden, Arya Stark has more than a little in common with the other traveler to get the spotlight in "Dark Wings, Dark Words": Brienne of Tarth, the devoted solider whose quest to swap Jaime Lannister for the Stark girls, who she believes are in King's Landing, hits a major snag. Brienne is another stellar character who has forged a path for herself in the strictly patriarchal world of Westeros, and she spends the episode sparring with Jaime — first verbally, then literally — in both characters' best scenes yet. Brienne manages to disarm Jaime, despite his reputation as the best fighter in Westeros. But like Arya, fame proves to be her downfall, when Jaime is recognized and the two are captured by a host of Robb Stark's bannermen.
And for all the grimness of our heroes' situation, "Dark Wings, Dark Words" offers a rare moment of hope in the form of our other new female hero, Meera Reed, who joins Bran Stark alongside her brother Jojen. Osha, the fearsome female warrior who has loyally protected the paralyzed Bran, mocks the able-bodied Jojen for needing protection from his sister Meera. When Meera responds, she says something that's diametrically opposed to the traditional message of Game of Thrones: "Some people will always need help. That doesn't mean they're not worth helping." As Game of Thrones expands its already absurdly expansive scope for its third season, new viewpoints and perspectives are beginning to creep in. Is there an alternative to the cutthroat game we've been watching for two seasons, as Meera Reed and Olenna Tyrell seem, in varying degrees, to suggest? Or are there darker motives at play? Knowing Game of Thrones, it won't be long before we find out.
Read more Game of Thrones recaps: