How legally unlocked cell phones will — and won't — improve your life
You may not even know that jailbreaking your phone is now illegal. The White House wants to change that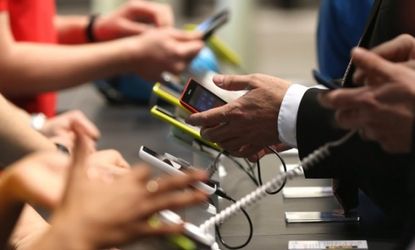 (Image credit: Sean Gallup/Getty Images)
Since January, it has been illegal to "unlock" your cell phone — or decouple it electronically from the service provider that sold it to you. That's because in October, the Librarian of Congress James H. Billington decided not to re-up an exemption to a portion of the 1998 Digital Millennium Copyright Act (DMCA) that makes it a crime to unlock your cell phone, punishable by up to $500,000 in fines and/or five years in jail. After two three-year waivers for that part of the law, Billington and his relevant underling, Registrar of Copyrights Maria Pallante, decided that proponents of unlocking mobile devices hadn't proved their case.
Digital libertarians and consumer advocates didn't take this sitting down, exactly. Having lost at the Library of Congress, handset-unlocking entrepreneur Sina Khanifar started a petition at the White House "We the People" page, and more than 114,000 signatures later, the Obama administration got on board Monday. R. David Edelman, Obama's senior adviser for Internet, Innovation, and Privacy, issued the official response:
Federal Communications Commission Chairman Julius Genachowski signaled his support for legally unlocked cell phones, too, arguing that "from a communications policy perspective, this raises serious competition and innovation concerns, and for wireless consumers, it doesn't pass the common-sense test." In other words, the Obama administration "thinks 'illegal' cell-phone unlocking is just as stupid as you do," says Andrew Couts at Digital Trends. But since the DMCA grants authority over unlocking phones to the Library of Congress, a part of the legislative branch, Obama just can't overrule the decision. The FCC is looking into what it can do to on its own, on the grounds of improving competition, but it's not clear it has much authority to act.
Subscribe to The Week
Escape your echo chamber. Get the facts behind the news, plus analysis from multiple perspectives.
SUBSCRIBE & SAVE
Sign up for The Week's Free Newsletters
From our morning news briefing to a weekly Good News Newsletter, get the best of The Week delivered directly to your inbox.
From our morning news briefing to a weekly Good News Newsletter, get the best of The Week delivered directly to your inbox.
The Library of Congress stood by its October ruling, even as it agreed diplomatically that the policy "would benefit from review" and that the library's rule-making function, while very important, "was not intended to be a substitute for deliberations of broader public policy." The best solution, then, is for Congress to act. Kudos to the Obama administration for siding with consumers, says Khanifar, but "I think the real culprit here is Section 1201 of the DMCA."
Whether Congress actually acts "depends on how much opposition they get from the phone and entertainment companies that argued against renewing the unlocking exemption last year," says Jon Healy at The Los Angeles Times. Because while Section 1201 prevents you from ripping DVDs for personal use, jailbreaking your smartphone and tablet, and other actions you might take on items you legally own, it also contains less controversial provisions.
So, what's the big deal about unlocking cell phones? And how might you benefit? A decade-old FCC rule allows cell-phone customers to take their phone numbers with them when they switch carriers, and legal unlocking would allow them to take their phones, too, says Edward Wyatt in The New York Times. "For consumers, being able to take their iPhone or any other type of handset with them when they switch carriers could make it easier to take advantage of lower rates once an initial contract is fulfilled. That might mean more price competition and more choices for cell-phone customers."
Edelman also notes in the White House statement that legal untethering "is particularly important for secondhand or other mobile devices that you might buy or receive as a gift, and want to activate on the wireless network that meets your needs — even if it isn't the one on which the device was first activated." Then there's the basic fairness factor. "People pay hundreds of dollars to buy smartphones and the idea that a mobile device carrier could tell you what you can and can't do with the hardware — especially after you've fulfilled your contract — is beyond unsettling," says Caleb Garling at the San Francisco Chronicle. "You'd be hard-pressed to find an American consumer that feels differently."
But "consumers shouldn't get their hopes up about being free to use cheaper foreign SIM cards overseas or selling their unlocked used smartphones on EBay," says The Los Angeles Times' Healy. Even if Congress does act, or the FCC finds some legal authority to step in, there are a few issues a DMCA law won't fix. Technology is one of them: "Unlike in Europe, cell-phone systems in the United States do not all operate using the same technology, meaning a phone from one carrier might not easily transfer to another," says The New York Times' Wyatt. And the big nationwide wireless companies "say they do not understand what the fuss is about." AT&T and Verizon say that they'll unlock your phone for you when your contract is up, and note that you can already buy unlocked phones, though they cost quite a bit more up front.
And of course, fixing this one problem with the law won't solve its other problems, say Mitch Stoltz snd Parker Higgins at the Electronic Frontier Foundation.

Continue reading for free
We hope you're enjoying The Week's refreshingly open-minded journalism.
Subscribed to The Week? Register your account with the same email as your subscription.