The war on terror isn't over. Here's how America can win it
After more than a decade of fighting, many Americans are weary of war. But we can't stop now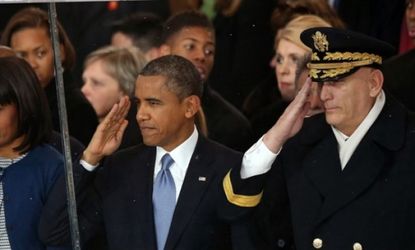 (Image credit: Mark Wilson/Getty Images)
"A decade of war is now ending."
— President Obama, January 21, 2013
Those words, so simple and so significant, earned the president loud applause at his second inauguration on Monday. But only gross naïveté would cause America to fall for the notion that we've achieved a lasting and comfortable peace. Sadly, for many years to come, America will have to grapple with the multi-faceted challenge of Islamic extremism. And we lack a winning strategy. For too long, we have fixated on terrorism in the moment, perilously ignoring the deeper-running currents beneath individual acts of terror. Treating symptoms does not cure a disease. To win the war on terror, we require a plan that combines resolve, honesty, and original thinking.
Subscribe to The Week
Escape your echo chamber. Get the facts behind the news, plus analysis from multiple perspectives.
SUBSCRIBE & SAVE
Sign up for The Week's Free Newsletters
From our morning news briefing to a weekly Good News Newsletter, get the best of The Week delivered directly to your inbox.
From our morning news briefing to a weekly Good News Newsletter, get the best of The Week delivered directly to your inbox.
No longer can we tolerate the delusion that suggests that military power and law enforcement alone can defeat our enemies. We need more.
The Arab Spring has brought freedom to much of the Middle East and North Africa. This is good news for America. Ultimately, democracy shapes healthy societies. Where governments are responsive to the aspirations of their citizens, despair is gradually replaced by hope. And terrorist atrocities are not acts born of satisfied minds. This being said, it's also true that the Arab Spring has empowered political Islamists. So America has a choice to make. Either we engage with new political realities or we retreat into isolation.
Engagement is clearly preferable. Take Egypt's Muslim Brotherhood. Certainly, the party is no guardian of social liberalism. But neither is the Brotherhood a bastion of terrorist extremism. If we simply ignore governments like that of Egypt, we will inevitably lose influence on those (including Iran) desperate to shape circumstances to their own advantage.
But specifically, how can we engage? We could pursue a Middle Eastern free trade agreement. This would help fuel the growth of a regional middle class. It would spread prosperity and the desirability of prosperity across regional societies. It would empower civil society movements to push for greater minority rights.
We could expand our cultural exchange programs. With deeper understanding, a more durable trust would soon follow. And we could make it clear that our economic aid comes with expectations.
Clearly, the U.S. can do far more to persuade Muslims that we are a friend to their interests, rather than an enemy to their aspirations. To do so, we should adopt an expansive but honest public relations campaign. W e must point out the obvious, sickening hypocrisies of our adversaries. The central truth of the war on terror? Islam's greatest enemy is not America, it is the extremists who usurp the Muslim faith in order to wage war against their fellow believers. From Pakistan to Iraq, Muslims are subjected to a daily epidemic of destruction. In Syria, the charlatan emancipators, Hezbollah, are joined with the Iranian theocrats in a brutal campaign of murder against civilians demanding democracy. In Lebanon, Hezbollah uses murder as a political weapon. In Afghanistan, the Taliban hang children and shoot teachers.
These terrorists are neither agents of liberation nor servants of Islam. And we should make sure everyone knows it.
And while we shouldn't hide behind the false pretense of American perfection, we must also challenge the dishonest narrative that argues that America is responsible for the ills of the Islamic world.
Another crucial initiative: For terror suspects detained abroad, we should adopt a legal framework that can bring these detainees to speedy military trial at Guantanamo Bay. Our current judicial framework for capturing, detaining, and prosecuting terrorists is excessively confused and far too slow. Fortunately, the Obama administration is showing new interest in solving this troubling problem.
And whether in Algeria, Mali, Somalia, Yemen or elsewhere, we must ensure that extremist groups fail to find sanctuary in weak states. We have highly competent intelligence officers and military personnel who deserve the latitude to work legally but creatively. The continuing threat of Islamist terrorism is not something imagined by conservative propaganda. We must confront it.
Tom Rogan is a conservative writer who blogs at TomRoganThinks.com. Follow him on Twitter: @TomRoganTweets.

Continue reading for free
We hope you're enjoying The Week's refreshingly open-minded journalism.
Subscribed to The Week? Register your account with the same email as your subscription.