13 things 'linked' to autism
Frustrated by the elusiveness of the origins of the mysterious disorder, scientists have put forth a range of (sometimes far-reaching) theories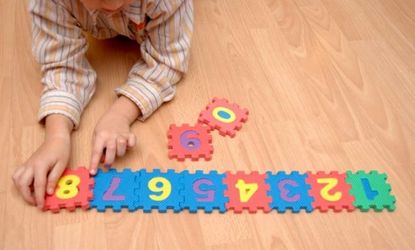 (Image credit: <a href="http://shutr.bz/W0SrYz">Courtesy Shutterstock</a>)
Thanks to improved diagnostic tools, doctors are identifying autism spectrum disorders at "unprecedented rates." And yet, the causes of the disorder continue to elude us. While the widely discussed notion that childhood vaccines cause autism has effectively been debunked, a whole host of studies have popped up since, fostering fear around purported risk factors both in and out of our control. The most recent revelation offers a rather complicated connection — variations in DNA that may predict whether a person will develop the disorder — but previous hypotheses have targeted more everyday elements and activities. Here, 13 things reportedly linked to autism:
1. Older dads
In August 2012, a study released in the journal Nature suggested that older fathers pass on more genetic mutations to their offspring, which can give rise to autism. With each year they age, men are likely to develop as many as two new mutations.
Subscribe to The Week
Escape your echo chamber. Get the facts behind the news, plus analysis from multiple perspectives.
SUBSCRIBE & SAVE
Sign up for The Week's Free Newsletters
From our morning news briefing to a weekly Good News Newsletter, get the best of The Week delivered directly to your inbox.
From our morning news briefing to a weekly Good News Newsletter, get the best of The Week delivered directly to your inbox.
2. Older moms
A previous study had found that that it was older moms who elevated the autism risk. The chances of having a child with the disorder increased by 18 percent for each five-year increase in maternal age.
3. Overweight moms
Researchers studied more than 1,000 children in California and found that the risk of autism and other developmental delays was 60 percent higher among those born to mothers who were obese, hypertensive, or diabetic. But, as one author noted in April 2012, drawing a definitive connection is difficult, since there could be "environmental factors that contribute to both" issues.
4. Having the flu during pregnancy
A Danish survey that came out in November 2012 found that mothers who reported having the flu during pregnancy were at least twice as likely to have a child with autism. Those whose fever persisted for a week or more before their third trimester were three times as likely to have a child on the autism spectrum.
5. Back-to-back pregnancies
A study published in early 2011 found that children conceived less than 12 months after the birth of an older sibling were three times as likely to be diagnosed with autism as their peers. The study examined the medical records of 662,730 second-born children.
6. Vitamin D deficiency
One U.S. researcher put forth this controversial hypothesis in August 2011 — that lagging levels of vitamin D during fetal development and early childhood are related to autism. The evidence, vague at best, comes down to the coincidence of autism rates having "skyrocketed in lockstep with medical advice given to the public since the late 1980s to avoid all exposure to bright sunlight." Yeah, it's a stretch.
7. "Assortative mating"
Let's say a place, a city, a neighborhood, attracts a particular type of person. That person, in this instance, is a science nerd. A theory, proposed in August 2011, assumes that what science nerds have in smarts, they lack in empathy and the ability to relate to others — characteristics also found in autism. So, in this place filled with science nerds, it's possible that two might meet, marry, and have a child, who, the theory continues, may grow to develop the same deficiencies as his or her parents but to an even more pronounced degree. This theory is largely unsupported.
8. Too many brain cells
Some compelling evidence came out of a small study in November 2011. Comparing the brains of seven deceased autistic children to those of deceased kids who didn't have the disease, researchers found that the autistic brains had, on average, 67 percent more neurons than those without. And those neurons were concentrated in the prefrontal cortex, which is key to complex thoughts and behaviors, including language, social behavior, and decision-making.
9. Low birth weight
In October 2011, a study in the journal Pediatrics suggested that babies who are unusually small at birth have a higher-than-average risk of developing an autism spectrum disorder later in life. The long-term study followed more than 1,000 premature babies over 21 years and found that 5 percent of them met the criteria for an autism-like disorder. At the time, that rate was roughly five times higher than the rate among the general population of children. The "striking" findings urged for more developmental screenings.
10. Jaundice
Researchers in 2010 took a page from a prior study that hinted at a connection between autism and jaundice — a common condition among newborns characterized by a yellowing of the skin. In the newer and larger study, scientists dug deep into Denmark's national registries, analyzing the records of the 733,826 babies born between 1994 and 2004. They found that the children born full-term with jaundice had a 56 percent greater chance of developing an autistic spectrum disorder than those without the condition.
11. Air pollution
A November 2012 study compared the early proximity to air pollution of children with and without autism. It found that kids in the top 25 percent of pollution exposure (found out of the home — including traffic volume and vehicle emissions — and excluding second-hand smoke) were far more likely to develop autism than children in the bottom 25 percent. In fact, children in the highest tier were two to three times as likely to be diagnosed with the disease.
12. Chemicals found in plastics
Bisphenol A, a chemical present in plastic food packaging and water bottles, was reported in June 2011 to interfere with the body's natural estrogen system. Anti-microbials, an additive in soaps, toothpaste, and other things, were also a concern for artificially enhancing androgenic activity, which, in plain speak, means these regular household items "could potentially play a role in autism or other neurodevelopment disorders," one researcher said.
13. The typical American diet
A study in April 2012 went so far as to connect the "epidemic of autism" among our nation's children with the "typical American diet," which is to say, an unhealthy one. Manufactured ingredients like high-fructose corn syrup, for example, may be preventing the body from ridding itself from common toxic chemicals. Consuming high-fructose corn syrup, the study noted, has been associated with dietary loss of zinc, and such an insufficiency can have a negative impact on the body's ability to eliminate heavy metals, which can then have an adverse effect on young children's brain development.
Sources: ABC News (2), Autism Today, Blisstree, CNN (2), Medical News Today, Reuters

Continue reading for free
We hope you're enjoying The Week's refreshingly open-minded journalism.
Subscribed to The Week? Register your account with the same email as your subscription.