HBO's Girls season 2 premiere: Almost getting it kind of together
The buzzy dramedy returns for its sophomore season with a funny, resonant premiere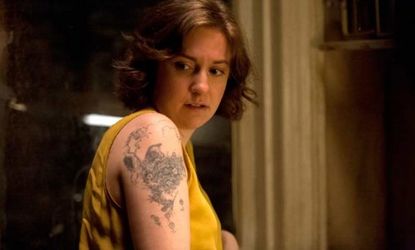 (Image credit: HBO/Jessica Miglio)
Sign up to our 10 Things You Need to Know Today newsletter
A free daily digest of the biggest news stories of the day - and the best features from our website
Thank you for signing up to TheWeek. You will receive a verification email shortly.
There was a problem. Please refresh the page and try again.
The first episode of HBO's buzzy hit series Girls, which premiered last April, opened as protagonist Hannah Horvath (Lena Dunham) preemptively defended herself while wolfing down mouthfuls of pasta: "I'm a growing girl." It's a throwaway line that also effectively doubles as a summary of the entire series. Last year, we spent 10 episodes watching Hannah and her friends grow, or attempt and fail to grow, as they navigated their messy, confusing lives in Brooklyn, New York.
Since its first season, Girls itself has grown, too. In the months-long gap between Girls' rookie year and its breathlessly awaited second season, the onetime "little show that could" has become a genuine cultural phenomenon. Girls has taken great pains to de-glamorize the lives of its characters, but the lives of the four actresses at the show's center have undoubtedly changed. Girls has skyrocketed these girls to fame, putting more distance than ever before between their actual lives and their small-screen doppelgangers. As aspiring-writer Hannah struggles to write a halfway interesting story, Lena Dunham signs a book deal for $3.7 million. Celebrity manicurist Deborah Lippman has created a Girls-inspired nail polish collection, with colors ranging from Hannah's "hapless hunter green" to Jessa's "bohemian burgundy." On Location Tours, which has run an incredibly successful Sex and the City tour in New York City for years — a tour that Girls' Shoshanna (Zosia Mamet) would almost certainly have taken —is in the early stages of developing a Girls-themed tour of Brooklyn.
Some critics will undoubtedly argue that Girls' massive success somehow renders its depiction of struggling Brooklyn twenty-somethings less authentic. They will be wrong. The Walking Dead's Andrew Lincoln is a wealthy British actor in real life, and that hasn't made him any less fit to play an agonizingly desperate zombie-slayer with a southern twang. Still, with more spotlights on Girls than ever before, there was always the chance that Dunham's show simply couldn't have as much impact as the sucker-punch of its powerful first season.
Subscribe to The Week
Escape your echo chamber. Get the facts behind the news, plus analysis from multiple perspectives.
SUBSCRIBE & SAVE
Sign up for The Week's Free Newsletters
From our morning news briefing to a weekly Good News Newsletter, get the best of The Week delivered directly to your inbox.
From our morning news briefing to a weekly Good News Newsletter, get the best of The Week delivered directly to your inbox.
I'm happy to report that with the first episode of its second season in the bag, Girls is as good as ever. For all of the attention the show has gotten for its liberal use of nudity, the most striking thing about the series is its emotional nakedness — its willingness to show us our protagonists at their most cruel, petty, and self-absorbed without doing anything to soften the blow. Girls isn't the best show on TV, but it might be the most honest one, and tonight's episode, "It's About Time," is proof that time off the air hasn't changed that.
(Beware: Spoilers lie ahead!)
When we last saw Hannah, she was sitting on the beach, eating a piece of wedding cake after stumbling off a subway train she had passed out on. In the time that has passed between the finale and "It's About Time," Hannah seems to have — as the season two tagline suggests — almost gotten it kind of together. She has a new roommate — ex-boyfriend Elijah (Andrew Rannells) — a new boyfriend in Sandy (Community's Donald Glover), steady employment at a coffee shop, and plenty of time to write (even if, perhaps tellingly, we never actually see her writing). Instead, Hannah is content to spend three nights with three boyfriends — two exes, one current — without making a firm commitment to any of them. "I don't want any love," Hannah insists to Sandy. But she's getting plenty of it anyway, as she revels in the honeymoon stage with Sandy while doting on ex-boyfriend Adam (Adam Driver), who's still in a cast after being hit by a car in Girls' season one finale.
But if Hannah is riding high, her former roommate and (former?) best friend Marnie (Allison Williams) is lower than we've ever seen her: Single and miserable about it, and suddenly fired — or, as her boss stubbornly insists, "downsized" out of a job. "You're gorgeous, and totally bright. You'll land on your feet," insists Marnie's boss. (Note the less than flattering order in which she lists Marnie's skills.) After trying and failing to connect with Hannah, she appears, childlike, at the door of ex-boyfriend Charlie (Christopher Abbott) and says she just needs to sleep next to someone for the night.
And let's take a quick survey of the "adults" we spend time with in the season two premiere of Girls. There's Marnie's enormously messed-up boss, who cravenly attempts to disguise the fact that she's firing her. There's Marnie's enormously messed-up mom, who brags about her weight loss and her "cater-waiter" boy-toy while complaining that Marnie doesn't treat her more like a friend. There's Elijah's boyfriend, George, who gets so drunk at a house party that Hannah is forced to throw him out. And there's Jessa's weird new husband Thomas-John, who selfishly bullshits his way past a long line to get a cab at the airport. If this is what it means to be an adult in Girls, it's hard not to sympathize with Hannah when she says, "I fucking hate grownups."
And that's the tension at the heart of Girls: The weird mix of hyper-aspiration and hyper-narcissism that characterizes contemporary young adulthood, even as the show's characters continue, in their own distinct ways, to leave the "young" part behind. At the end of "It's About Time," when Hannah shows up to "borrow a copy of The Fountainhead" from her apparently Republican boyfriend — the Girls equivalent of an earth-shattering plot twist — he calls her "Lady," a nickname that's the polar opposite to Adam's habit of calling her "Kid." We'll see which label is a better fit as the season continues.
Continue reading for free
We hope you're enjoying The Week's refreshingly open-minded journalism.
Subscribed to The Week? Register your account with the same email as your subscription.
Sign up to our 10 Things You Need to Know Today newsletter
A free daily digest of the biggest news stories of the day - and the best features from our website
Scott Meslow is the entertainment editor for TheWeek.com. He has written about film and television at publications including The Atlantic, POLITICO Magazine, and Vulture.