Back to 1968: Re-enacting the Vietnam War
Lots of history buffs re-stage famous battles of America's Civil War. But Charlie Schroeder found a group that re-fights the war in Vietnam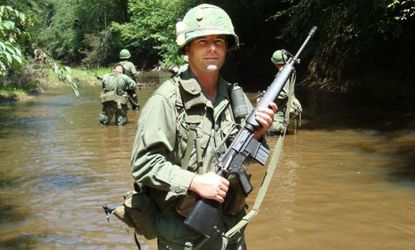 Sign up to our 10 Things You Need to Know Today newsletter
A free daily digest of the biggest news stories of the day - and the best features from our website
Thank you for signing up to TheWeek. You will receive a verification email shortly.
There was a problem. Please refresh the page and try again.
IT WAS THE start of a sweltering August morning, in a remote and wooded part of Virginia. Inside a large general-purpose military tent, I rolled off my period-authentic air mattress and headed toward the woods for a quick pee. Then I felt something catch my right boot, looked down, and saw a piece of fishing line about 4 inches off the ground that stretched along the tent's perimeter. I followed it until it terminated at a party popper noisemaker. I was a dead man. Overnight, a "Vietcong" had stolen into our camp and set a trip wire inches from my head. If this were the real war, and not a re-enactment, I'd have been sent home in a body bag.
Perhaps I should have known. I'd spent the better part of the past 10 months embedded with a series of historical re-enactment groups in an effort to learn about history and one of America's quirkiest hobbies. To most Americans, the word "re-enactor" conjures up images of overweight, middle-aged white guys bivouacking among the hills of Gettysburg. And there's good reason for this. The Civil War is by far the most popular war to re-enact, with an estimated 50,000 people regularly kitting up in blue or gray. It was also the first war to be re-enacted in America. From its modest beginning at the war's centennial celebrations, the modern re-enactment era was born.
The Civil War, however, is just one of many conflicts Americans revive. I've met people who dress up as soldiers from ancient Greece and Rome; I've seen Vikings and Revolutionary War soldiers. But no time period provokes as strong a reaction as the fringe-of-the-fringe hobby of re-enacting the war in Vietnam. On more than a few occasions, re-enactors I met expressed their dismay to learn that people would want to re-enact their generation's most polarizing conflict. As one French and Indian War re-enactor told me, "Vietnam isn't history, it's a reality."
Subscribe to The Week
Escape your echo chamber. Get the facts behind the news, plus analysis from multiple perspectives.
SUBSCRIBE & SAVE
Sign up for The Week's Free Newsletters
From our morning news briefing to a weekly Good News Newsletter, get the best of The Week delivered directly to your inbox.
From our morning news briefing to a weekly Good News Newsletter, get the best of The Week delivered directly to your inbox.
I'D BEEN INVITED to "do the 'Nam" by Patrick Hubble, a kind, soft-spoken mortician from Lynchburg, Va. When we arrived at base camp on a muggy afternoon, I volunteered to be a radio telephone operator (RTO), thinking that I'd be able to put to use some of my skills as a contributor to NPR. But I soon realized that being an operator involved carrying a 25-pound "brick" on my back. A guy named Buck, who wore a straw fedora and thick black glasses, briefed me on how to operate it. Then he handed me a topographical map with Vietnamese village names on it and an index-card-size cheat sheet with military codes and squad names like Alpha, Bravo, Charlie, and Bulldog, Hellcat, Foxhound. "There's a strong possibility that the slopes have radios," he told me while demonstrating how to dial in the right frequency. "We know the dinks are going to listen." I hadn't heard racial epithets tossed off so casually since John McCain called his Vietnamese prison guards "gooks" during his 2000 presidential campaign.
I asked Buck what my duties were.
"You're going to hump that thing and be up Sgt. Miller's anus," he replied.
For a moment I considered all that that would entail, then quickly tried to block it out. I grabbed one of the radio's shoulder straps and started to pick it up. It barely budged.
After breakfast the next morning, with the sun so low it hardly penetrated the wooded surroundings, I marched behind Sgt. Miller on a dirt road. About 10 other squad members followed me. After only 100 yards, I saw a quick flash of fire, followed by an incredibly loud blast. It was the loudest gunshot I'd ever heard. We hung a sharp right into the woods. In the distance, startled dogs howled.
Saddled with over 30 pounds of equipment, I could barely clear fallen trees, and the radio's 10-foot metal antenna often got caught on limbs and thwapped whomever I was near. After about 10 minutes of trudging through thick growth, we heard an exchange of loud and prolonged gunfire. Another squad was engaging the enemy. Sgt. Miller, who, like Buck, wore thick black glasses, looked at me, pointed two fingers at his eyes, then pointed into the distance. I started to get up, but the radio was so heavy it pulled me back down. I quickly grabbed hold of a tree to stay upright.
Then a tinny voice from inside my jacket asked, "What are your coordinates? Over."
This was my big chance. I pulled out the receiver and pressed the call button. "This is Charlie," I whispered.
"Did you say Charlie? Over."
I realized that I'd told him that I was the enemy, the Vietcong, Victor Charlie. "This is…" I couldn't remember our squad's code name, so I dug out my cheat sheet.
"Rumpunch Two here," I whispered. "Over."
"Rumpunch Two, this is Rumpunch One. What are your coordinates? Over."
I looked around but all I saw were trees, leaves, and a handful of aging GIs crouching down to avoid detection. I consulted the topographical map — rings of squiggly circles and elevation points labeled 30, 50, 40.
"I think we're to the right of everybody," I said.
"Where do they want us to go?" Sgt. Miller asked. I shrugged. He grabbed the receiver and started talking in code.
"The village," he said.
FULL IMMERSION TACTICALS like this one always take place on private property, far from the public's gaze. The intent, as organizers will tell you, is to give participants a "period rush" or, rather, a "you were there" experience. In two of my previous engagements on private land, re-enacting the Battle of Stalingrad and Rome's 1st-century invasion of Britannia, we were often told that misery was part of the fun. As a "German general" put it, "When it sucks — and I promise you it will — remember, that's why you came." As we lumbered ahead a few hundred yards, it wasn't yet clear how miserable I'd soon feel.
Ahead, in a clearing, I saw an older white guy dressed head to toe in black pajamas, wearing a coolie hat and fiddling with a rake outside a hootch. He looked right at us — 10 GIs, weapons drawn — but didn't change his expression. Past him, in the "village" — a small cluster of bamboo and wooden hootches — more "Vietnamese villagers" "tilled" theland. "Ba toc kam," one villager said in imitation Vietnamese. "Tuc lum bop," another answered. I felt as if I'd just landed in a surreal George Saunders story. Or Platoon.
Soon another squad of 10 soldiers joined us. "Keep your eyes peeled for any booby traps," said their sergeant, a thick 30-something in rectangular glasses named Ewing. I lumbered into the village and felt a wave of discomfort wash over me. Part of it was empathy — just what was it like for a 20-year-old GI from Iowa to be in a mysterious country? Not knowing if that guy over there was a villager or a Vietcong about to kill him? But the other part was just how strange it all felt.
"Sarge, this bunker's seriously jacked," one of the GIs said. He was standing next to a small pit. "Permission to blow it."
"Not yet," Ewing ordered.
Another GI rifled through a bamboo hut, searching for weapons. "There's a shit ton of ammo over here, Sarge. Fucking goddamn arsenal!"
"All right, make sure none of them have any weapons," he said.
One grunt, a dead ringer for Joey on Friends, whom I'll call LeBlanc, quickly rounded up a handful of villagers. LeBlanc grabbed their hoes and rakes from them.
"Where are the weapons, gook? Huh, motherfucker?" he shouted. "I asked you, where are all the goddamn weapons?"
"Ba no ba ba bano," a gray-haired "Vietnamese" answered, sticking his hands in his pockets.
"Take your hands out of your pockets, you fucking dink!" LeBlanc said, but the guy didn't.
"Bo nap na tem."
LeBlanc yanked the villager's hands out of his pockets. "Keep 'em where I can see 'em, motherfucker!" He ordered the villagers to lie on the ground, kicked their feet apart, and spread their hands in front of them.
Watching all this made me feel sick to my stomach, so I withdrew to the village's perimeter, switched my gun to safety, and leaned up against a tree. Near me, two GIs chatted. "My dad said they used to put out cigarettes behind guys' ears to get 'em to talk," one of them said, chuckling.
"Sarge, this gook is wearing GI boots," LeBlanc said, then held up his wrist. "And a GI watch." The villager remained face-first on the ground, expressionless. "You know what we do to gooks that we find wearing GI fatigues?" LeBlanc asked.
Another soldier lifted the villager up by an armpit, walked him toward the opposite end of the village, and forced him to his knees. Then he grabbed his hands and placed them behind his head. "Bap he lam no!" the villager protested loudly. The GI walked 20 feet away, turned, and, with one hand on his machine gun, mowed down the villager. I got a period rush all right.
LATER AT BASE camp, soldiers cracked cans of PBR and Miller. An old transistor radio blared Jefferson Airplane's "White Rabbit." On the drive home Patrick would tell me, "In 'Nam the soldiers would celebrate that they'd lived another day." I'm sure many of the GIs — Iraq and Afghanistan veterans themselves — could identify.
Before we reached the highway, Patrick asked me what I thought of the experience. "I found it to be really disturbing," I said. His face was lit up by the dashboard, and I could see out of the corner of my eye that he was disappointed.
We didn't talk about it again until early the next morning, while en route to the airport. I told Patrick that I found the repeated use of racial epithets upsetting and that I thought LeBlanc needed help. Patrick listened closely and thought about it for a bit, then suggested that LeBlanc should come before a "war crimes trial."
Patrick told me that many of the participants were sons of Vietnam vets and that they grew up hearing war stories from their fathers, who've never forgotten what the enemy did to them and their fellow soldiers. The idea of forgiveness entered our conversation. According to Patrick, many World War II veterans have forgiven the Germans — after all, they were just soldiers following orders — but not the Japanese. Many Vietnam vets will also never forgive their enemy. "The Americans worship the same God as Germans, they looked like them, they ate similar food," Patrick said. "But a lot of the Vietnam vets and the sons, they carry that hatred around," he said. When I got back to Los Angeles, the first thing I did was hug my wife; then I downloaded "White Rabbit." For the next three days I listened to it repeatedly during my work commute. I'd been at fake war for 24 hours, but Vietnam stayed with me. I still can't hear that song without thinking about the jungles of Virginia.
From Man of War, by Charlie Schroeder. ©2012 by Charlie Schroeder. Reprinted by arrangement with Hudson Street Press, a member of Penguin Group (USA), Inc.
Continue reading for free
We hope you're enjoying The Week's refreshingly open-minded journalism.
Subscribed to The Week? Register your account with the same email as your subscription.
Sign up to our 10 Things You Need to Know Today newsletter
A free daily digest of the biggest news stories of the day - and the best features from our website