5 reasons Ecuador is protecting WikiLeaks' Julian Assange
The small South American nation is getting a lot of blowback for its decision to grant Assange asylum. Here's why it did it anyway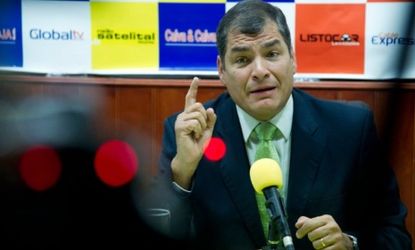 (Image credit: REUTERS/Guillermo Granja)
On Thursday, Ecuador formally granted political asylum to WikiLeaks founder Julian Assange, who's been holed up in Ecuador's London embassy for two months to avoid being extradited to Sweden where he faces sexual assault charges. The decision by Ecuador's leftist president, Rafael Correa, angered Sweden, Interpol, and the U.S. — Ecuador's rationale for asylum is Assange's claim that Sweden will send him to the U.S., where he supposedly wouldn't get a fair trial for leaking state secrets. Correa's call also led to a tense standoff between Ecuador and Britain, which says it won't let Assange out of the country and issued thinly veiled threats to strip Ecuador's embassy of its diplomatic status, allowing UK police to waltz in and arrest Assange. The move could also cost Ecuador preferential trade agreements with the European Union and U.S. Given the downsides, why did Correa decide to stick his neck out for the WikiLeaker-in-chief? Here, five theories:
1. Ecuador is angry at Britain's heavy-handedness
Let's face it, Ecuador's "feisty president" was probably always going to grant asylum to his fellow critic of U.S. foreign policy, says Philip Dorling in Australia's Sydney Morning Herald. But if he was on the fence, Britain's "ill-advised response" sealed the deal. "Telling Correa's strongly nationalist government that the UK reserved the right to violate the diplomatic immunity of its London embassy was bound to trigger a strident response, and it certainly did."
Subscribe to The Week
Escape your echo chamber. Get the facts behind the news, plus analysis from multiple perspectives.
SUBSCRIBE & SAVE
Sign up for The Week's Free Newsletters
From our morning news briefing to a weekly Good News Newsletter, get the best of The Week delivered directly to your inbox.
From our morning news briefing to a weekly Good News Newsletter, get the best of The Week delivered directly to your inbox.
2. Correa is trying to build up his own global stature
The Assange asylum request "gave Ecuador's president a chance to seize the global spotlight," and he took it, says the AP's Frank Bajak. Offering asylum to a secret-spiller loathed by the U.S. government also lets Correa "stake a claim to moral high ground, associating himself with a man whose adherents see him as a digital age Robin Hood crusading against abuses of big governments and corporations." It's bound to raise his stature in Latin America, U.S. Rep. Eliot Engel (D-N.Y.) tells the AP. This lets Correa "be the head of the poke-the-United States-in-the-eye group," putting him first among the leaders of Cuba, Venezuela, Bolivia, and Nicaragua.
3. Correa is legitimately saving Assange from U.S. persecution
"Correa didn't want this mess and it has been a lose-lose situation for him," but he made this decision because "it was the only ethical thing to do," says Mark Weisbrot in Britain's The Guardian. If you look at the evidence, "Assange clearly has a well-founded fear of persecution," both in Sweden but more seriously in the U.S. Thank goodness Ecuador is brave enough to stand up for Assange's human rights.
4. Correa is a hypocrite
Simply put, Correa granted Assange asylum in a naked "bid to whitewash his own image as an oppressor of free speech," says Roger Noriega at Fox News. He has a terrible record of using his power to quash "what's left of Ecuador's independent media," relentlessly assaulting the independent judiciary, and even revoking political asylum to a Belarus whistleblower who faces actual risk of death back home. So "here's where the hypocrisy kicks in": Every abuse Correa's baselessly accusing the U.S., UK, and Sweden of committing, he's doing himself, only 10 times worse.
5. Assange and Correa are pals
There's an element of this being a personal favor, too, says NPR's Philip Reeves. Assange and Correa obviously "get along." When he was under house arrest in Britain, Assange had his own show on Russian TV, and conducted a long, "very friendly" interview with Correa. "At one point, Correa welcomed Assange into what he called the club of the persecuted. And it now looks as if that embrace into that club has become an even tighter one."

Continue reading for free
We hope you're enjoying The Week's refreshingly open-minded journalism.
Subscribed to The Week? Register your account with the same email as your subscription.