The murder case roiling China
Bo Xilai was a rising political star until his wife, Gu Kailai, was charged with murder. Here, a guide to the complex, controversial case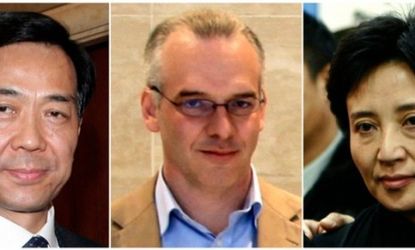 (Image credit: REUTERS)
Sign up to our 10 Things You Need to Know Today newsletter
A free daily digest of the biggest news stories of the day - and the best features from our website
Thank you for signing up to TheWeek. You will receive a verification email shortly.
There was a problem. Please refresh the page and try again.
Why are Bo and Gu important?
Known as "the Kennedys of China,'' the couple had power, popularity, and glamor, and seemed destined to play a major role in the country's future. Bo Xilai, the son of one of Mao Zedong's generals and a leader of the party's left-wing, neo-Maoist faction, was until recently a Politburo member who was climbing toward the top of the Communist Party hierarchy. As party boss of sprawling metropolitan Chongqing, he launched lavish government projects, called for the revival of communist ideology and Mao-era "red songs," and steered a high-profile crackdown on organized crime. Bo's combination of charisma and ruthless ambition, and rumors that he was amassing millions through kickback schemes, made China's party leaders nervous. So did his wife, Gu Kailai, a sophisticated lawyer who wrote a best-selling book that went on to spawn a popular TV drama. Their spectacular ascent came to a sudden end in February, when Bo's police chief, Wang Lijun, showed up at a U.S. consulate with an extraordinary tale.
What did Wang allege?
Subscribe to The Week
Escape your echo chamber. Get the facts behind the news, plus analysis from multiple perspectives.
SUBSCRIBE & SAVE
Sign up for The Week's Free Newsletters
From our morning news briefing to a weekly Good News Newsletter, get the best of The Week delivered directly to your inbox.
From our morning news briefing to a weekly Good News Newsletter, get the best of The Week delivered directly to your inbox.
He claimed that Gu personally ordered the killing of British businessman Neil Heywood, who had helped the family's business deals and, some say, had laundered its money. When Heywood's body was found in a Chongqing hotel in November, Chinese police said he had died of alcohol poisoning. But Wang allegedly told U.S. officials a different story: that Gu asked Heywood to move a large sum of illicit money abroad, got angry when he asked for a bigger cut than expected, and then ordered one of her staff to poison him. Wang said he feared for his life after confronting Bo with his account, but he was denied asylum by the U.S. and disappeared into Chinese custody.
What happened to Bo and Gu?
The charges gave Bo's enemies all they needed to snuff out his high-flying career. Within a few weeks, he was removed as Chongqing governor and kicked out of the Politburo; he hasn't been seen in public since March. Gu was arrested in April, and late last month she and an aide were indicted on murder charges. Her trial, expected to start Aug. 9, could be the country's biggest courtroom sensation since the 1980 treason trial of the so-called Gang of Four. The allegations against Gu have riveted the Chinese public, largely because the murder appears linked to the nest-feathering business activities that have made so many Chinese officials extremely rich. "This could really open a can of worms," says Bo Zhiyue, a senior fellow at Singapore's East Asian Institute. "The relatives of other party leaders are also doing lots of business deals, and people will begin to ask: What about them? Was the Bo family the only one doing this kind of thing?"
What is China's media saying?
The state-run media is demonizing Gu as a grasping, power-hungry woman who had a man murdered out of greed; the political context is either ignored or denied. Xinhua, the state news agency, said there is "irrefutable and substantial" evidence of Gu's guilt. The state media's approach seems designed to blame Bo's downfall on his wife's wicked ways rather than on his ambitions to move up China's leadership ladder. "It has nothing to do with a so-called political struggle," Xinhua insisted.
Is that true?
Many doubt it. "This is a political rather than a legal case," said China scholar Steve Tsang of Nottingham University in the U.K. Numerous Chinese officials and journalists have told American reporters that Bo, with Wang as his henchman, had used an extensive surveillance system, originally designed to uncover organized crime, to spy on visiting high-ranking officials. The last straw came when he tapped a call between a federal official visiting Chongqing and President Hu Jintao. When that wiretap was discovered, Politburo authorities ordered the party's Central Commission for Discipline Inspection to go after Wang and Bo. Wang then fled, fearing he would become the fall guy.
Will Bo himself be tried?
Almost certainly not. A trial that revealed details of top party officials spying on one another might be too embarrassing to the Communist Party. Bo's wife's implication in Heywood's murder offers a less damaging reason for his dramatic fall, and given China's conviction rate of 98 percent, a guilty verdict is a near certainty. Chinese officials want to be sure the affair is tidied up before the Politburo Standing Committee meets in the fall for its once-a-decade transfer of power. Seven new members of the nine-member body are to be named, and Bo won't be among them. But the problem he embodies won't be so easily swept under the carpet. "Failure to contain endemic corruption among Chinese officials," said Minxin Pei of Claremont McKenna College, "poses one of the most serious threats to the nation's future economic and political stability."
A pampered son
In China, he's called the "princeling." Bo and Gu have a controversial son, Bo Guagua, 24, whose flamboyant displays of wealth as a student in the U.S. and the U.K. have strongly irritated the conservative guardians of the Communist Party. State media are now partly blaming the princeling for his mother's downfall, claiming that Gu wanted to get rich to give her son a privileged life abroad, and had Heywood murdered because she feared he'd harm her son out of anger over their business differences. That explanation is part of the government's effort to portray the scandal as a purely personal matter and to avoid sensitive political discussions. The young Bo is certainly not a sympathetic figure for the average Chinese. He attended Britain's elite Harrow prep school and then Oxford, and is a recent graduate of Harvard University's Kennedy School of Government. After the scandal broke, Bo wrote to The Harvard Crimson to deny news stories claiming that he had spent his college years partying, chasing women, and tooling around in a Ferrari. "I have never driven a Ferrari," he said. Harvard classmates say he drove a Porsche.
Continue reading for free
We hope you're enjoying The Week's refreshingly open-minded journalism.
Subscribed to The Week? Register your account with the same email as your subscription.
Sign up to our 10 Things You Need to Know Today newsletter
A free daily digest of the biggest news stories of the day - and the best features from our website