The drone over your backyard: A guide
U.S. skies are being opened to police and private drones. Will it be the end of privacy?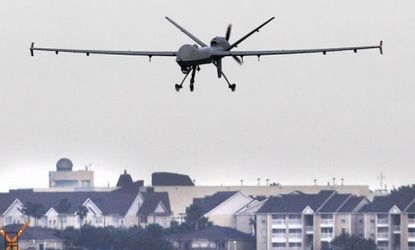 (Image credit: AP Photo/Eric Gay)
Drones are coming to the U.S.?
They're already here — and the drone era is just beginning. Predator drones — the same remote-controlled, camera-equipped aircraft used to hunt terrorists in Afghanistan and Pakistan — have been patrolling U.S. borders since 2005. Emergency responders have used smaller drones to search for missing persons and track forest fires, and police departments in Florida, Maryland, Texas, and Colorado are testing drones for surveillance and search-and-rescue missions. Last month, the Federal Aviation Administration, acting at the behest of Congress, relaxed the rules for deploying unmanned aerial vehicles. Police departments across the country can now fly drones weighing up to 25 pounds, as long as the aircraft stay within sight of the operator and fly no higher than 400 feet (so as not to get in the way of commercial aircraft). More rules easing restrictions on commercial drones are expected by 2015. By the end of the decade, the FAA expects 30,000 unmanned aerial vehicles — some as small as birds — to be peering down on American soil.
Why are they allowing more drones?
Subscribe to The Week
Escape your echo chamber. Get the facts behind the news, plus analysis from multiple perspectives.
SUBSCRIBE & SAVE
Sign up for The Week's Free Newsletters
From our morning news briefing to a weekly Good News Newsletter, get the best of The Week delivered directly to your inbox.
From our morning news briefing to a weekly Good News Newsletter, get the best of The Week delivered directly to your inbox.
Law-enforcement officials love them. They believe the mobile, eye-in-the-sky technology will improve public safety at a low cost. With high-resolution cameras, drones can help police patrol large areas, spot runaway criminals, and track drug shipments. And since a small police drone with a camera can be purchased for around $50,000 (with some basic models costing as little as $300), they're far cheaper than standard helicopters, which can cost $1 million or more. "Our neighborhoods deserve safer streets, and these systems can help provide that," says Rep. Buck McKeon (R-Calif.). Defense companies have also lobbied hard to bring the technology stateside, with the market expected to double, to $12 billion, by 2020. Police agencies shopping for drones that fit the new FAA regulations can already choose from 146 models manufactured by 69 different companies in North America. "We see a huge potential market," says Ben Gielow of the Association for Unmanned Vehicle Systems International, an industry trade group.
Are domestic drones different?
They're not armed with missiles. But otherwise, the technology is similar, with domestic drones ranging in size from a small airplane to a hummingbird. The Predator drone used on the border has a 66-foot wingspan and needs a runway to take off. Most other drones are made to be easier to use: They might be launched by hand, like the military's Raven, or fit in the trunk of a car, like the Qube police drone. Many are controlled remotely from the ground via a laptop or even an iPad, while others can fly autonomously on a programmed flight path. AeroVironment, a leading supplier of military drones, has developed a palm-size hummingbird drone that carries a video camera and weighs less than a AA battery. It's capable of flying 11 miles per hour and landing on a window ledge, where it can record sound and video.
What can these drones do?
Mainly, they can snoop on people without their realizing it. Drones can read license plates, spot body heat at night, or identify faces. In 2009, police in Austin launched a bird-size drone called the Wasp over a drug suspect's house before sending in a SWAT team. Last year, a North Dakota sheriff called in a Predator drone from the Canadian border to locate a rancher and two sons suspected of cattle theft and to make sure the trio — all members of an anti-government group — were unarmed. And if drone lobbyists get their way, police won't be the only ones with the technology. Real estate brokers have already used drones to photograph for-sale properties, and in the future, the devices could be used to monitor oil pipelines, dust crops, or snap paparazzi photos of celebrities.
What about privacy?
The American Civil Liberties Union warns that drones may "profoundly change the character of public life," ushering in an era in which Americans could be monitored every time they step outside. Important roads and public spaces might be constantly patrolled by hovering drones. Fences and property lines may no longer serve as barriers to police surveillance — or Peeping Toms. "You want to sunbathe in the nude on your own property?" says Jay Stanley of the ACLU. "Now you can't be sure nobody is watching you." That prospect alarms many people: A recent Rasmussen poll found that more than 50 percent of Americans oppose drones' use in domestic skies. Still, in separate cases in 1986 and 1989, the Supreme Court ruled that police don't need a warrant to observe a private property from public airspace. And some argue that in this era of private data mining, government scrutiny of emails and phone calls, and ubiquitous security cameras in public places, privacy is already moot. What remains to be seen is how the public reacts as drones regularly start showing up overhead. "The technology is here," says Peter W. Singer, a robotics expert at the Brookings Institution. "And it isn't going away."
A drone of one's own
Drone manufacturers and law enforcement aren't the only ones eager to see unmanned vehicles hit the skies. There's a growing and enthusiastic subculture of do-it-yourself drone-makers across the United States, who spend weekends tinkering on homemade drones. Chris Anderson, the editor-in-chief of Wired magazine, is perhaps their biggest evangelist. Several years ago, he brought home a toy robotics kit and a remote-controlled airplane and combined the two, so that the plane could fly on autopilot. His kids went back to their video games, but Anderson was hooked. He created DIYDrones.com, a site for amateur drone enthusiasts that now has more than 25,000 members. They say the proliferation of cheap sensors, chips, and cameras makes it easier than ever to assemble your own flying robot. "If you have an iPhone or an Android, you basically have an autopilot in your pocket," says Anderson, who compares DIY drone-makers to early personal computer hobbyists. "Right now, drones are scary," Anderson says. "I'd like to make them unscary."

Continue reading for free
We hope you're enjoying The Week's refreshingly open-minded journalism.
Subscribed to The Week? Register your account with the same email as your subscription.