NASA vs. doomsday theorists: Why the world won't end in 2012
An ancient Mayan calendar supposedly points to Dec. 21, 2012 as our day of reckoning. "Ridiculous," says a NASA astronomer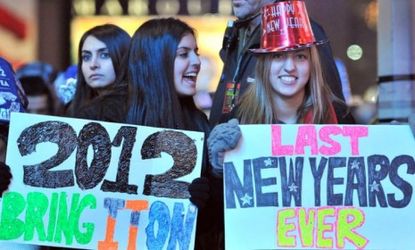 (Image credit: Wang Lei/Xinhua Press/Corbis)
Will Dec. 21, 2012 usher in the end of the world as we know it? That's what some doomsday watchers say, pointing to a Mayan prophecy that's generating a lot of hysteria. Such frenzied hand-wringing is unnecessary, says NASA, because the various predictions inspired by Mayan artifacts are bunk. Here's what you should know:
What did the Mayans believe?
The ancient Mayan civilization, which dominated parts of Central America between 250 and 900 AD, perceived time as a complex set of cycles, says Matthew Restall and Amara Solari at The Washington Post. And Dec. 21, 2012 is the final day of the Long Count cycle, a 144,000-day period which Mayans believed would repeat 12 times, after starting in August 3114 BC. In Mayan numerology, this year's winter solstice, Dec. 21, is the significantly round number 13.0.0.0.0.
Subscribe to The Week
Escape your echo chamber. Get the facts behind the news, plus analysis from multiple perspectives.
SUBSCRIBE & SAVE
Sign up for The Week's Free Newsletters
From our morning news briefing to a weekly Good News Newsletter, get the best of The Week delivered directly to your inbox.
From our morning news briefing to a weekly Good News Newsletter, get the best of The Week delivered directly to your inbox.
So... why would the world end?
The belief that the ancient civilization's calendar predicted doomsday was perpetuated by a group of Mayan scholars in 1996, when the 13.0.0.0.0 date was found carved on a stone plaque in a building in Mexico. The scholars interpreted the carving as a prediction of an ominous event, such as "the 'descent' of a deity associated with the underworld," a theory that spread rapidly on the internet. But other experts believe the carving was intended to assert that the ancient building would still be standing, against all odds, in 2012. "There's nothing to suggest that the Maya thought this date would be the world's last," says Restall and Solari.
Do doomsday worriers tout other evidence?
Yep. End-timers interpret a separate, 2,300-year-old carving as a cosmic map showing that a world-changing galactic alignment will occur in 2012. But the people who lived in the Mexican city where this carving was found did not track dates like the ancient Mayans did, casting doubt on that interpretation. So 13.0.0.0.0 should not be feared, says Restall and Solari. "If anything, Mayans might have worried about the roundness of the number, like we did about Y2K."
What exactly do doomsday theorists think will happen on Dec. 21?
Some fear that a rogue planet named "Nibiru" (also referred to as "Planet X") will collide with Earth, says Charles Q. Choi at MSNBC. The chief proponent of that theory is self-proclaimed Nibiru expert Nancy Lieder, "who says she is in contact with the aliens from Zeli Reticuli." In lieu of Nibiru, a massive comet or asteroid could knock Earth around, others say, much like the collision 65 million years ago that ended the age of dinosaurs. Others believe planets or stars might line up in ways that could significantly transform Earth, possibly causing tidal damage.
What does NASA have to say about it?
None of these theories has any merit, says NASA astronomer Don Yeomans. The prediction about Nibiru is "ridiculous, because [the planet] doesn't even exist." There's no need to worry about a dangerous planetary realignment; NASA can definitively show that none is expected in December. And even if one was, the gravitational effects would be "negligible at best." As for a comet or asteroid hurtling toward Earth? There are no objects headed our way in 2012 that would pose a credible risk. "None, zero, zip, nada," says Ian O'Neill at Discovery News: "2012 will have its fair share of disasters, wars, and turmoil, but none will have been predicted by a crazed doomsayer or prophesized by an ancient civilization."
Sources: Discovery News, MSNBC, Wash. Post

Continue reading for free
We hope you're enjoying The Week's refreshingly open-minded journalism.
Subscribed to The Week? Register your account with the same email as your subscription.