Google's 'contentious' day on Capitol Hill: 5 takeaways
In testimony before a Senate panel, CEO Eric Scmidt maintains that his company does no evil. Competitors beg to differ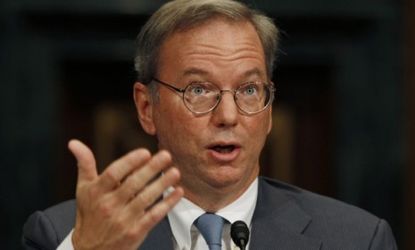 (Image credit: REUTERS/Larry Downing)
On Wednesday, Google boss Eric Schmidt faced off against the tech giant's rivals in a three-hour hearing before the Senate antitrust panel. "Is it possible," asked Sen. Herb Kohl (D-Wis.), "for Google to be both an unbiased search engine and at the same time own a vast portfolio of Web-based products and services?" Yes indeed, Schmidt said, arguing that Google also helps fuel economic growth and job creation. But Google competitors Yelp and Nextag, who also testified, say the search engine is increasingly favoring its own offerings in search results. What can we learn from Google's "contentious" day on Capitol Hill? Here, five takeaways:
1. Google's goals have changed
"One message was clear: As Google has grown to achieve monopoly-scale control of Internet search, its mission has changed," says Philip Elmer-DeWitt at Fortune. That point was best hammered home by Yelp CEO Jeremy Stoppelman when he said that "Google is no longer in the business of sending users to the best sources of information on the Web." Instead, Google wants "to become a destination site itself for one vertical market after another, including news, shopping, travel, and now, local business reviews."
Subscribe to The Week
Escape your echo chamber. Get the facts behind the news, plus analysis from multiple perspectives.
SUBSCRIBE & SAVE
Sign up for The Week's Free Newsletters
From our morning news briefing to a weekly Good News Newsletter, get the best of The Week delivered directly to your inbox.
From our morning news briefing to a weekly Good News Newsletter, get the best of The Week delivered directly to your inbox.
2. Google knows it's essentially a monopoly
"Schmidt came close to admitting that Google is a monopoly in his testimony," says Matt Rosoff at Business Insider. He pretty much agreed that Google "has the kind of dominant market share that might subject it to monopoly rules." Of course, being a monopoly isn't illegal, it just means a company has to abide by antitrust laws that prevent a business from leveraging its monopoly power to expand into new areas.
3. Google's competitors want to rewrite history
Wednesday's "most ridiculous testimony" came from a lawyer representing Google competitors who claim that it's impossible to challenge Google's dominance "because it got there first," says Mike Masnick at Techdirt. That's revisionist history. "Anyone who was actually paying attention when Google came on the scene thought Google was a joke" that would never compete with Altavista and Yahoo. Google "was seriously late to the party" — let's not forget that just because the search giant is now the belle of the ball.
4. Google and D.C. don't understand each other
There's a "fundamental conflict of cultures between Silicon Valley and Washington, D.C.," says Stacey Higginbotham at GigaOm. Techies are optimistic about the free market. Politicos, it seems, are more cynical, and don't seem to believe that customers who aren't happy with Google's search results can and will just go elsewhere.
5. Google can learn from Microsoft
"Little more than a decade ago, Microsoft was public enemy number one… the United States Justice Department filed suit, [and] a judge ruled that the world's largest software maker was a monopoly and must be broken up," says Patricio Robles at E Consultancy. Today, Microsoft is still a large, successful company and Internet Explorer, the browser that fueled the feds' legal action, remains popular. That may give Google comfort. But Microsoft also provides a cautionary tale: Since its brush with the feds, Microsoft "has been humbled in markets like search and mobile."

Continue reading for free
We hope you're enjoying The Week's refreshingly open-minded journalism.
Subscribed to The Week? Register your account with the same email as your subscription.