The new gas boom
The U.S. has a mammoth deposit of natural gas that could fuel the country for decades. Can it be safely extracted?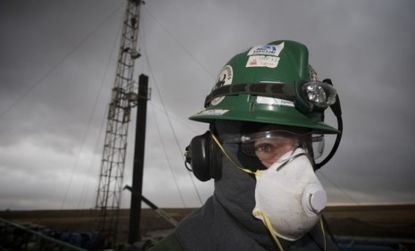 (Image credit: Gaylon Wampler/CORBIS)
Sign up to our 10 Things You Need to Know Today newsletter
A free daily digest of the biggest news stories of the day - and the best features from our website
Thank you for signing up to TheWeek. You will receive a verification email shortly.
There was a problem. Please refresh the page and try again.
How much gas is there?
About as much, in terms of available energy, as Saudi Arabia's remaining oil reserves — enough to change America's energy equation for decades. The largest deposit is in the Marcellus Shale, which extends from New York's Finger Lakes region through Pennsylvania and as far south as Kentucky. The Marcellus Shale, a brittle layer of rock more than a mile underground, is the geological remnant of an ancient sea, and is laced with pockets of trapped gas, which is mostly methane. Penn State geologist Terry Engelder, a lifelong student of the Marcellus Shale, says it could contain as much as 516 trillion cubic feet of natural gas. That would make it the second largest gas field in the world, with 20 times our current annual national consumption of natural gas. With additional large shale-gas deposits now being explored and tapped in Texas, Louisiana, Arkansas, and Oklahoma, the Department of Energy late last year more than doubled its estimate of "technically recoverable" domestic reserves of gas to 827 trillion cubic feet.
How would the gas be used?
Subscribe to The Week
Escape your echo chamber. Get the facts behind the news, plus analysis from multiple perspectives.
SUBSCRIBE & SAVE
Sign up for The Week's Free Newsletters
From our morning news briefing to a weekly Good News Newsletter, get the best of The Week delivered directly to your inbox.
From our morning news briefing to a weekly Good News Newsletter, get the best of The Week delivered directly to your inbox.
A vast new supply of natural gas would not only provide energy for heating homes but would also substantially replace dirty coal and foreign oil in generating electricity; it could even serve as a fuel source in a new generation of cars and trucks. "The potential for natural gas is enormous," President Obama recently said.
Why did he use the word 'potential'?
Much of the shale gas may never leave the ground. The process of removing pockets of natural gas from the layers of shale, called "fracking," is extraordinarily complex, and has generated intense environmental and political opposition. That process, already used in thousands of wells, begins with drilling — sometimes miles deep into the shale and then, using new techniques, horizontally through it for as much as another mile. Then comes hydraulic fracturing, or fracking. A mixture of water, sand, and a toxic brew of chemicals is pumped into the wells at tremendous pressure, fracturing the rock and then keeping the fissures open, so that previously trapped natural gas can flow up to the wellhead.
What are the dangers?
The biggest concern is the depletion and contamination of water supplies. Fracking a single well takes an average of 2 million gallons of water a day, much of it drawn from local aquifers. Roughly half the fracking water comes back up the well, rife with chemicals and sometimes carrying traces of radiation from underground rocks. Municipal purification plants can't deal with that wastewater, so much of it remains stored in plastic-lined ponds near the wellheads; some have already leaked and contaminated groundwater and streams. Environmentalists also contend that the mixture of chemicals and water injected underground can leak from pipes on the way back up, and contaminate underground aquifers that provide drinking water with both toxins and methane. In a heavily drilled region in Dimock, Pa., one resident's well exploded in 2009, and state officials found that the aquifer had been contaminated with methane and heavy metals. Resident Craig Sautner says his children got dizzy and developed sores just from taking showers. "Our land is worthless," he says.
What is the industry's response?
It acknowledges that some accidents have occurred, but insists that fracking does not contaminate aquifers and wells. The shale formations where fracking fluids are injected, the industry says, are usually located hundreds of feet below aquifers, which are separated from the shale by layers of impermeable rock. In a narrow sense, the industry is right: Federal Environmental Protection Agency administrator Lisa Jackson told Congress in May that she was "not aware of any proven case where the fracking process itself" had contaminated drinking water. But several academic and journalistic studies have found hundreds of instances in which chemicals and methane infiltrated groundwater near fracking sites. With environmental activists — "fracktivists" — leading the opposition, the industry is on the defensive. "The opposition has been out in front of the shale-gas issue," acknowledged Jack Williams, president of Exxon's shale-gas unit, XTO Energy.
Who will win the battle?
That may largely depend on a major study of fracking's impact on drinking water that's now underway. At the request of Congress, the EPA is conducting the study, and is expected to provide a preliminary report by the end of next year. Few expect the EPA to recommend banning fracking altogether, since the U.S. is in desperate need of jobs and economic development, as well as domestic sources of energy. It's much more likely that the EPA will recommend more-stringent regulation of the industry to minimize the impact on water supplies, while allowing fracking to continue. "All energy sources have potentially harmful side effects," says Michael Lind of the New America Foundation, a nonpartisan public-policy institute. Solar and wind power won't even come close to meeting the nation's needs, he says, so the age of natural gas "has only just begun."
Why states support fracking
If it can be safely extracted — a big if — natural gas actually offers significant environmental benefits over other fossil fuels. Natural gas is the cleanest-burning fossil fuel, producing 45 percent less carbon dioxide than coal and 30 percent less than oil. Using natural gas, instead of those fuels, would thus in theory reduce the U.S.'s output of greenhouse gases linked to climate change. Tapping the U.S.'s shale gas would also produce major economic benefits: The extraction process is labor-intensive, generating lots of high-paying jobs, and it also provides payments of thousands of dollars in leases and royalties to landowners, mostly in economically depressed rural areas. Pennsylvania's Department of Labor recently said fracking for Marcellus shale gas had generated 48,000 new hires in that state in just 18 months. In hopes of a similar boom, New York Gov. Andrew Cuomo just lifted a moratorium on fracking in his state, while banning it from regions containing critical watersheds and aquifers.
Continue reading for free
We hope you're enjoying The Week's refreshingly open-minded journalism.
Subscribed to The Week? Register your account with the same email as your subscription.
Sign up to our 10 Things You Need to Know Today newsletter
A free daily digest of the biggest news stories of the day - and the best features from our website