Benjamin Netanyahu: Israel's hard-liner in chief
Prime Minister Netanyahu's wariness about compromising with the Palestinians has deep roots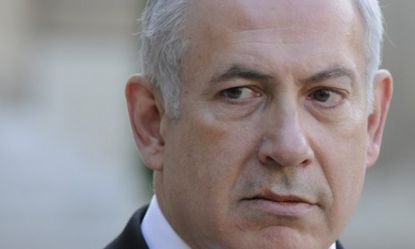 (Image credit: John Van Hasselt/Corbis)
Sign up to our 10 Things You Need to Know Today newsletter
A free daily digest of the biggest news stories of the day - and the best features from our website
Thank you for signing up to TheWeek. You will receive a verification email shortly.
There was a problem. Please refresh the page and try again.
Is Netanyahu opposed to a Palestinian state?
Not in theory. He says he'd like to see a "two-state solution,'' but only if Palestinians first recognize Israel's right to exist as a Jewish state, renounce any "right of return," and agree to Israel's control of East Jerusalem, the Golan Heights, and much of the West Bank. He also refuses to negotiate with the Palestinians if Hamas, the radical organization that controls the Gaza Strip, is in any way involved. In effect, this means there is no chance for negotiations—which is fine by Netanyahu, because he believes that relinquishing territory will only weaken Israel. "I think anyone with eyes in his head understands that today, any territory you evacuate will be taken over by Israel's bitterest foes," he said on the eve of his 2009 election.
How did he come to that view?
Subscribe to The Week
Escape your echo chamber. Get the facts behind the news, plus analysis from multiple perspectives.
SUBSCRIBE & SAVE
Sign up for The Week's Free Newsletters
From our morning news briefing to a weekly Good News Newsletter, get the best of The Week delivered directly to your inbox.
From our morning news briefing to a weekly Good News Newsletter, get the best of The Week delivered directly to your inbox.
It's partly bred in the bone. His father is Benzion Netanyahu, a former Cornell University historian, and a militant advocate of Revisionist Zionism, which holds that Israel should return to its historical borders from biblical times. Since Israel was founded, in 1948, Benzion has opposed all concessions to the Palestinians; he says Arabs by nature are incapable of "any compromise or agreement,'' and that there is "no solution but force.'' Many Israelis believe Netanyahu remains, in the words of Israeli peace advocate Gershon Baskin, "bound by the echoing voice of his father."
Isn't that ancient history?
Hardly; Benzion, still spry at 101, remains a powerful presence in his son's life. At his 100th birthday party, Benzion said, "The nation of Israel is showing the world today how a state should behave when it stands before an existential threat: by looking danger in the eye." One person present told journalist Jeffrey Goldberg, "This was the father giving his son history's marching orders," and that Netanyahu "was completely absorbed." Many believe that while Benzion remains alive, the prime minister will not cede any territory, because he would look weak in his father's eyes.
So filial loyalty alone drives him?
No, his politics have been informed by bitter personal experience, too. As a member of Sayeret Matkal, an elite special-operations unit, Netanyahu helped rescue a hijacked jet plane at the Tel Aviv airport in 1972, and he fought in the 1973 Yom Kippur War. But the operation that marked him the most was one he did not participate in. In 1976, a radical Palestinian group hijacked an airplane, diverted it to Entebbe, Uganda, and threatened to kill the Jewish passengers unless Palestinian prisoners were released. Netanyahu's older brother, Jonathan, also a member of Sayeret Matkal, was killed while leading a daring and successful raid in Uganda to free the hostages. "I will be inspired until the end of my days, just as I was inspired in my youth, by the strength and courage of my brother," Netanyahu said in 2006.
Is he popular in Israel?
His hard-line views have gone in and out of favor several times. In 1996, following Prime Minister Yitzhak Rabin's assassination at the hand of a fanatical Israeli far-right-winger and a series of suicide bombings by Palestinian militants, Netanyahu narrowly beat incumbent Shimon Peres to become the youngest Israeli prime minister, at age 46. He significantly slowed Israeli troop withdrawals mandated by the 1993 Oslo Accords from the West Bank and the Gaza Strip, and announced new Jewish settlements in the West Bank; more suicide bombings ensued. In 1998, Netanyahu agreed, under pressure from then President Bill Clinton, to the Wye River Memorandum, which was to place nearly half of the West Bank under Palestinian control. That concession angered far-right parties, which quit Netanyahu's governing coalition, triggering new elections that Netanyahu lost to Labor's Ehud Barak. War hero Ariel Sharon replaced him as head of Likud, Israel's major right-wing party.
Have his positions changed in his current term?
Formally, yes; practically, not so much. Sharon eventually split from Likud to form the centrist Kadima party, leaving Netanyahu in charge of a more conservative Likud. In the 2009 election, Netanyahu was able to attract enough support from smaller far-right parties to create a coalition majority and become prime minister. Afterward, he said for the first time that he would accept Palestinian statehood, although with major caveats—no right of return for Palestinian refugees, and no control of East Jerusalem. Since then, he has continued to support settlement-building in the West Bank and expansions of apartment complexes in East Jerusalem. He's now pushing back hard against President Obama's call for Israel to cede land won in the 1967 Six-Day War as a starting point for new talks.
How does that play in Israel?
Generally, well. Israelis remain divided on whether to trade land for peace, but many Israelis have moved to the Right, out of frustration with the Palestinian leadership, repeated rocket attacks on Israeli civilians, and the failure of previous negotiations. When Netanyahu angrily told President Obama last month that Israel would never return to the "indefensible" 1967 borders, his approval rating at home rose 13 percentage points, to 51 percent.
A love/hate relationship with the U.S.
Though born in Israel, Netanyahu attended high school outside Philadelphia and studied at MIT and Harvard. His English is perfect, and he understands the U.S. intimately. "Israel has no better friend than America," he said in a speech to Congress last month, "and America has no better friend than Israel." Yet he also harbors a mistrust of Washington. In his view, the U.S. was wrong to compel Israel to give the Sinai Peninsula, captured in 1967, back to Egypt. "That was the first and last time an Israeli prime minister succumbed to an American diktat," he told The New Yorker's David Remnick. While his relations with the Obama administration are cool, Netanyahu is something of a hero among American neoconservatives. "Contrary to Obama," wrote Rabbi Aryeh Spero after the Israeli leader addressed Congress, "Netanyahu believes in American exceptionalism."
Continue reading for free
We hope you're enjoying The Week's refreshingly open-minded journalism.
Subscribed to The Week? Register your account with the same email as your subscription.
Sign up to our 10 Things You Need to Know Today newsletter
A free daily digest of the biggest news stories of the day - and the best features from our website