The 7 most overplayed media stories of 2010
Plenty of monumental news stories broke this past year. These aren't among them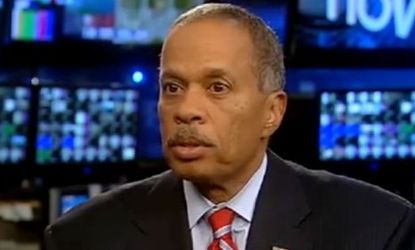 (Image credit: YouTube)
Lots of big, newsworthy events either graced or marred 2010 — and then there were the stories that were big in the moment, but probably won't (or shouldn't) stand the test of time. Here's a look at seven of the biggest molehills that were inflated into mountains in 2010, and why:
1. NPR's firing of Juan Williams
NPR stirred up a hornet's nest in October by firing senior news analyst Juan Williams over remarks he made on Fox News, where he led a professional double life as a left-leaning commentator, about being "nervous" around Muslim air travelers. Williams, who is black, hinted that the decision was racially motivated, conservatives charged NPR with political correctness gone wild, Fox gave Williams a $2 million contract, and GOP lawmakers vowed to defund public radio. Republicans made "a huge stink," but the most their "war on NPR" is likely to accomplish is making public radio fund-raising pledge weeks "that much more obnoxious," said Adrian Chen in Gawker. Boy, "the Right really knows how to hit Liberals where it hurts."
Subscribe to The Week
Escape your echo chamber. Get the facts behind the news, plus analysis from multiple perspectives.
SUBSCRIBE & SAVE
Sign up for The Week's Free Newsletters
From our morning news briefing to a weekly Good News Newsletter, get the best of The Week delivered directly to your inbox.
From our morning news briefing to a weekly Good News Newsletter, get the best of The Week delivered directly to your inbox.
2. Steven Slater's dramatic job exit
In August, JetBlue flight attendant Steven Slater got fed up: After a fight with a passenger, he uttered a profanity over the intercom, grabbed a couple of beers from the hospitality cart, popped open the emergency slide of the just-landed jetliner, and slid to (brief) freedom. America, for a moment, couldn't get enough. Slater was hailed as a "folk hero" for disgruntled workers everywhere, and reportedly offered his own reality show. "They'd better shoot with high-speed film," said David Hinckley in the New York Daily News, "because this dude's hot moment is cooling off faster than Tiger Woods' marriage."
3. Rand Paul's "Aqua Buddha" indiscretion
In a lengthy GQ profile of then–U.S. Senate candidate Rand Paul (R-KY), one anecdote stood out: Paul, as an undergraduate at Baylor University, Texas, allegedly playfully "kidnapped" a female acquaintance who refused to smoke marijuana with him, drove her to a creek, and forced her to kneel before his god, "Aqua Buddha." Paul's opponent, Democrat Jack Conway, featured the story prominently in a controversial late-campaign ad and in a debate with Paul. Conway lost. Sales of a "Buddha water globe" fared better. Trying to make political hay of "Aqua Buddha" was "weird and ineffective," said Joshua Green in The Atlantic. But I guess, unlike the people of Kentucky, "I didn't think it was a very big deal," either.
4. LeBron James' "orgy of self-glorification"
The pro basketball superstar decided to bolt from his hometown team, the Cleveland Cavaliers, after seven years, but for a heady first week in July, only James knew where he was going. At the end of a live, prime-time special on ESPN, James announced he was headed to join two other stars, Dwyane Wade and Chris Bosh, on the Miami Heat. The super-trio hasn't worked out that well, but it was James' ESPN stunt that most annoyed the commentariat. The "cooked-up" spectacle was nothing but "an exercise in ego on the part of a talented and self-absorbed athlete," said David Zurawik in The Baltimore Sun, and the "whored-out, dazed, confused, and crass" sports media should be ashamed for indulging him.
5. iPhone 4 "antennagate"
Apple's newest iPhone was plagued by controversy from the moment Gizmodo beat Steve Jobs to the unveiling in April, thanks to an Apple employee's misplaced prototype, and AT&T's rocky official rollout of the phone in June didn't help. But it was "antennagate" — a loss of reception if you touched a certain spot on the antenna — that nearly sank the phone, at least according to some tech-centric websites. Apple faced a snub from Consumer Reports, snarky comparisons to Microsoft's ill-fated Vista operating system, and calls for an iPhone recall before it offered angry buyers either a free problem-solving phone case or a refund. This solution "will probably satisfy some [and] infuriate others," said Paul Miller in Engadget, but "never even blip onto the radar of many of the massive horde of consumers that's devoured this product in unprecedented numbers."
6. Sarah Palin's next-door "stalker"
Investigative writer Joe McGinniss moved to Sarah Palin's hometown of Wasilla, to better research a book on the former Alaska governor, and when given a chance he moved in right next door. Palin was not amused: She put up a big fence and posted a frigid "Welcome, Neighbor!" note on Facebook; Fox News' Glenn Beck accused McGinniss of "stalking" Palin and her family. Several commentators agreed with Palin that moving mere feet from her property was "creepy," but David Weigel was unimpressed with Palin's "strange and, frankly, immature" response. "No one in the media should reward Palin for this irresponsible and pathetic bullying," he said in The Washington Post.
7. Obama's New Black Panthers "conspiracy"
Over the summer, Fox News and other conservative-leaning news outlets gave prominent coverage to what they called a big race-bias scandal at the Obama Justice Department: A former DOJ lawyer said that Obama appointees had quashed his case on voter intimidation by the small, militant New Black Panther Party in a black Philadelphia neighborhood, out of favoritism to blacks. The reason the rest of the media didn't cover this "conspiracy" isn't just because "there's no there there," said Eric Boehlert in Media Matters. It's also because they would have to deal with the "jaw-dropping episodes of demagogic race-bating" at Fox, and "the press is just too timid to call that stuff out."

Continue reading for free
We hope you're enjoying The Week's refreshingly open-minded journalism.
Subscribed to The Week? Register your account with the same email as your subscription.