Detroit: A city on the brink
Once the mighty industrial heart of America, the Motor City is in a brutal downward spiral. Can Detroit be saved?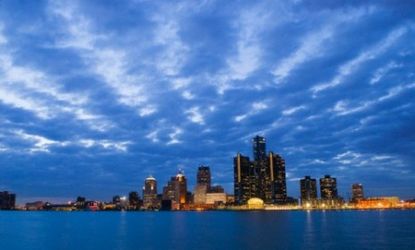 (Image credit: Corbis)
What is the city's status today?
Outside the city's downtown core of office buildings, Detroit looks like a postapocalyptic nightmare. The collapse of the auto industry, political dysfunction, and epidemics of crime, drugs, and arson have battered Detroit like a slow-motion hurricane, leveling entire neighborhoods and causing a major chunk of the population to flee. Nearly 30 percent of the city, an area almost the size of San Francisco, has been abandoned to "urban prairie"—vast, depopulated stretches of high grass and shattered asphalt. An Asian plant species sometimes called "ghetto palm" sprouts from the remains of abandoned buildings, where wild pheasants are occasionally sighted. The torched skeletons of homes are commonplace. In the 1980s and '90s, demolition permits outnumbered building permits by more than 10–1. Nearly 30 percent of the city's remaining housing stock—more than 100,000 units—lies vacant.
Who lives there?
Subscribe to The Week
Escape your echo chamber. Get the facts behind the news, plus analysis from multiple perspectives.
SUBSCRIBE & SAVE
Sign up for The Week's Free Newsletters
From our morning news briefing to a weekly Good News Newsletter, get the best of The Week delivered directly to your inbox.
From our morning news briefing to a weekly Good News Newsletter, get the best of The Week delivered directly to your inbox.
Once the nation's fourth-largest city, with a 1950 population of 1.85 million, only 770,000 remain, with an estimated 1,000 residents leaving every month. When the homicide rate dropped 14 percent last year, mayoral candidate Stanley Christmas said, "I don't mean to be sarcastic, but there just isn't anyone left to kill." After World War II, Detroit was home to 1.6 million whites. The population today is 83 percent black. One-third of Detroit—and nearly half its children—lives in poverty, and one-quarter of the adult population didn't graduate from high school. The median household income is $28,730, about half the national average, and the unemployment rate recently hit a Depression-level 29 percent. In July, the median home price was $7,100. (That's not a typo.) "This is a whole city that is poor," says Wayne State University professor Robin Boyle.
What went wrong?
Detroit's fall, like its rise, is inextricably tied to the auto industry. Founded around 1700 as a French fort, Detroit didn't begin booming until the early 20th century, when Henry Ford and other automobile visionaries launched an industry that for decades would define American ingenuity. When Detroit successfully shifted production to meet the military needs of World War II, the city became known as the "Arsenal of Democracy." But a race riot in 1943 was a harbinger of postwar trouble. Despite its history as an engine of the American middle class—and a creator of the black middle class—Detroit began to unravel. Between the mid-1950s and the late 1960s, the city lost more than 100,000 factory jobs, and whites began fleeing to the suburbs. Detroit's black neighborhoods were hit particularly hard, losing several plants. In 1967, tensions exploded. Over five days in July, rioters fanned out over the city, setting hundreds of fires, and looting black and white businesses. When it was over, 43 people were dead, 1,300 buildings were destroyed, and more than 7,000 people had been arrested.
How did that affect the city?
The riots were a blow from which Detroit never recovered. White flight accelerated, and businesses fled, too. In 1972, Motown, the city's iconic record label, decamped for Los Angeles, abandoning its 10-story headquarters and the city that had fueled its success. Crime soared, and the Motor City gained a new nickname, "Murder City," becoming the nation's official homicide capital. Even good news turned bad. When the Detroit Tigers won the 1984 World Series, fans celebrated with a frenzy of mindless destruction, burning cars and breaking windows. Two weeks later, Detroit's increasingly ominous "Devil's Night"—the eve of Halloween—was marked by rampant arson, with 810 fires overwhelming police and firefighters. Detroit was broken and on the verge of anarchy.
What did city government do?
Not much. Detroit's first black mayor, Coleman Young, elected in 1974, was unable to halt the city's slide, presiding over 20 more years of decline. With its tax base disappearing, city services were overstretched, and Detroit continued bleeding jobs, wealth, and people until the present day. (Detroit's last mayor, Kwame Kilpatrick, just completed a four-month prison sentence for perjury stemming from a sex scandal.) The public school system is so bad it's now under emergency control of the state. "I am extraordinarily concerned about the poor quality of education the children of Detroit are receiving," says U.S. Secretary of Education Arne Duncan. "I lose sleep over that one."
Is there any hope?
Yes, but a real revival remains a long shot. City officials are
hoping that a trickle of homesteaders now moving in to take advantage of dirt-cheap housing will turn into full-scale gentrification. (See below.) They're also hoping that a new generation of hybrid and electric cars will pump new life into the U.S. auto industry. But the city's new mayor, former Detroit Pistons legend Dave Bing, is currently facing a nearly $300 million deficit and city bonds approaching junk status. The city is so desperate for cash, it has sold the brass poles from some of its firehouses. Bing says he'll have to make major cuts in the city's budget, with many layoffs. "I think it's difficult for people to accept the pain that we have to go through," he says. "If we don't handle the problems that we've got today, there is no long term."
Reimagining Detroit
If Detroit has a future, it can be glimpsed in a new generation of urban homesteaders who have begun reclaiming ragged neighborhoods, renovating old housing stock, and turning abandoned lots into gardens. The city has a massive supply of usable industrial locations and plenty of cheap labor, a combination that could once again attract entrepreneurs. Mayor Bing is encouraging residents to leave deserted, far-flung areas of the city and move to populated zones; if he can effectively "shrink" Detroit's geography, he figures, he can better provide essential services like policing and sanitation. "We're not going to roll over and die," said George Jackson, CEO of the Detroit Economic Growth Corp. "To me, this is war. And I think we're going to win."

Continue reading for free
We hope you're enjoying The Week's refreshingly open-minded journalism.
Subscribed to The Week? Register your account with the same email as your subscription.