The Liam Neeson Effect: Why some of Hollywood's best actors are starring in its worst action movies
Why some of Hollywood's best actors are starring in its worst action movies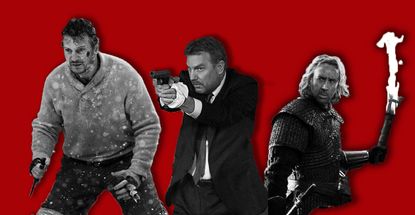 (Image credit: (Illustration by Sarah Eberspacher | Photos courtesy Facebook.com))
If you're one of the moviegoers who turned the Liam Neeson–starring Taken 3 into a $39 million hit this weekend, you were treated to a special bonus: a trailer for Run All Night, the other Liam Neeson action flick bound for theaters in 2015.
What's the premise of Run All Night? What's the premise of any Liam Neeson action movie released since 2008? Some idiot who underestimates Liam Neeson's particular skills threatens Liam Neeson's family. Liam Neeson gets mad. Liam Neeson kills a bunch of people.
There was a time, not that long ago, when Hollywood relied almost exclusively on actors who seemed like they were born to be action stars. Think Arnold Schwarzenegger or Sylvester Stallone or even Bruce Willis, who occasionally flirted with other genres, but always returned to the bread and butter of Terminator or Rambo or Die Hard. But in recent years, the clout of these onetime box-office juggernauts has diminished, to the point at which they need to band together in movies like The Expendables or Escape Plan to have even a chance at turning a profit.
Subscribe to The Week
Escape your echo chamber. Get the facts behind the news, plus analysis from multiple perspectives.
SUBSCRIBE & SAVE
Sign up for The Week's Free Newsletters
From our morning news briefing to a weekly Good News Newsletter, get the best of The Week delivered directly to your inbox.
From our morning news briefing to a weekly Good News Newsletter, get the best of The Week delivered directly to your inbox.
That's not the case with Hollywood's latest crop of action stars: older, less brawny actors like Liam Neeson, Nicolas Cage, and Ethan Hawke, who have wholeheartedly embraced the genre decades into their careers. Two of them have been nominated for Oscars; one has won one. Their careers have followed remarkably similar trajectories: acclaimed roles in highly regarded indies, brief stints as awards-show darlings, and an unexpected segue into a string of interchangeable action flicks.
Why did Hollywood turn these unlikely candidates into its most reliable action heroes? It starts with the gulf between "action movie" and "indie movie," which gets smaller every year. (In 2015, the ballpark production cost of a midrange action movie is somewhere between $15 million and $50 million.) It's often said that the era of movie stars is over, but it's more accurate to say that the idea of a movie star has shifted. The presence of Tom Cruise is no longer enough to guarantee a blockbuster opening for a $178 million behemoth like Edge of Tomorrow — but the presence of an established actor like Liam Neeson is more than enough to provide The Grey ($25 million) or A Walk Among the Tombstones ($28 million) with a nice little box-office boost.
Hollywood's interest in these movies is fairly transparent — a simple return-on-investment calculation that has, at least so far, resulted in far more hits than misses. Not every scaled-back action movie with an unlikely leading man has led to a home run, but most of them have ended up on base; when even a movie as poorly reviewed as the Kevin Costner hitman drama 3 Days to Kill can rake in over $50 million worldwide, you know you've got a dependable formula.
Of course, Hollywood would never have stumbled onto this box-office hack without the insane $226 million global take of the original Taken. Released in the doldrums of January 2009, the runaway success of Taken surprised pretty much everyone — including Neeson. "I was convinced [Taken] was straight-to-video, so it would go under the radar," said Neeson in an interview with 60 Minutes. "It just seemed such a simple little story. I thought there was nothing complex about it. There's a guy determined to find his daughter. 'Oh yeah, look, he finds her. And he kills all these guys.'"
In retrospect, it's easy to see that Taken succeeded not in spite of its simplicity, but because of it. Standalone blockbusters have given way to sprawling, intricate franchises. There are scenes in Marvel movies that are almost incomprehensible if you're unfamiliar with decades of comic-book backstory. In an era when the stories of most blockbuster franchises need to be crosschecked with Wikipedia pages, a "simple little story" is exactly the kind of counterprogramming Hollywood needed for its more modest, non-franchise action flicks.
Liam Neeson may be Hollywood's platonic ideal of the modern action hero, but he can make only so many stripped-down action flicks a year. Fortunately, there are a plenty of similarly established, similarly appealing actors — Hawke, Costner, and Denzel Washington among them — who are happy to sign up for a leading man's paycheck in any number of action movies. The most prolific of the actors swept up by the Liam Neeson effect is Nicolas Cage, whose A-list career took a sudden shift into dismal, barely-released action movies like Dying of the Light, Rage, Seeking Justice, and a hilariously transparent Taken rip-off called Stolen. Cage's sudden uptick in terrible action movies has generally been attributed to his profligacy, which eventually led to bankruptcy: his purchases include castles, private islands, a dinosaur skull, and a copy of the first-ever Superman comic.
Cage, for what it's worth, denies that his recent career moves have been a series of cash grabs. A "misconception about me is that I just do movies for paychecks," he told The Guardian in 2013, adding that his films' tendency to premiere on video-on-demand has been unfairly interpreted as a sign of their failure. "I'm one of those Americans who believes in working," Cage complained — and he's still capable of brilliant work, like his universally acclaimed performance in David Gordon Green's Joe. Of course, that movie cost just $4 million to produce, and grossed under $400,000 in the United States. Given the realities of the market, how can you begrudge him the payday of a Drive Angry or a Season of the Witch?
Cage shares his "keep working" attitude with another beneficiary of the Liam Neeson effect: Ethan Hawke, who has spent his 40s slaloming between arthouse flicks and low-budget action movies like The Purge — another surprise hit that managed to launch a franchise. Hawke — who's a genuine contender for a Best Supporting Actor nod at this year's Oscars for his work in Boyhood — had the dubious distinction of starring in both the best-reviewed movie and worst-reviewed movie of 2013. His most candid interview of the year came while promoting the dismally received action flick Getaway. "There's nothing to say about it. What's appealing about [Getaway] — if something is appealing about the movie — is its utter simplicity," said Hawke. "It's so straightforward. It is what it is. It's designed to be a popcorn movie."
To those who are inclined to sound death knells, Hawke's words might sound ominous. But he's right: if even our best actors want steady work without chaining their careers to a single franchise or subsisting on a diet of microscopic indie salaries, these kinds of action movies are the easiest and most lucrative route. It's the rare win-win in an ever-fracturing movie business: actors make money, and studios make more, by relying on a particular formula to deliver what audiences crave.

Continue reading for free
We hope you're enjoying The Week's refreshingly open-minded journalism.
Subscribed to The Week? Register your account with the same email as your subscription.