The Keystone XL pipeline: How environmentalists may have lost sight of the real enemy
How environmentalists lost sight of the real enemy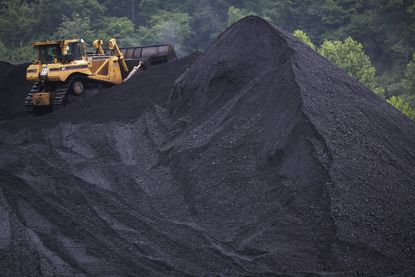 (Image credit: (Luke Sharrett/Getty Images))
With the U.S. Senate having opened debate on a measure to force approval of the Keystone XL pipeline, which has languished in the Obama administration's inbox for some time now, 2015 has officially kicked off with what promises to be one of several battles over the contours of U.S. energy policy. The debate over the Keystone XL pipeline, a project that will allow oil from Alberta tar sands to be brought to existing refining infrastructure in the Midwest, has grow to outsized importance both for activists who see it as symbol of Big Oil's destruction of the climate, and for businesses that see it as contributing to their bottom line as well as America's energy security.
This debate, however important it may be, risks obscuring some critical truths about the larger realities of fighting climate change. In imbuing the Keystone XL pipeline with such do-or-die importance, the climate movement has risked diluting attention and effort that should be paid to a much more immediate enemy: Big Coal.
According to a study in Nature by University College of London researchers Christophe McGlade and Paul Ekins, any remaining commitment to a 2°C warming target — the threshold the international community has said it is dedicated to avoiding — must involve stranding already identified fossil fuel assets. Based on their carbon budget estimates (i.e., how much more we can "safely" emit), we have some room for error when it comes to oil and natural gas. Globally, we have to forgo burning a third of crude oil reserves and half of natural gas reserves.
Subscribe to The Week
Escape your echo chamber. Get the facts behind the news, plus analysis from multiple perspectives.
SUBSCRIBE & SAVE
Sign up for The Week's Free Newsletters
From our morning news briefing to a weekly Good News Newsletter, get the best of The Week delivered directly to your inbox.
From our morning news briefing to a weekly Good News Newsletter, get the best of The Week delivered directly to your inbox.
The margin for safety on coal, however, is much narrower: "over 80 percent of current coal reserves should remain unused from 2010 to 2050 in order to meet the target of 2°C." For the United States alone, a full 95 percent of its existing coal reserves need to remain unburned.
This is a tall order for a world in which coal is the second-highest source of energy generation, accounting for 40 percent of the world's electricity needs, according to the International Energy Agency (the percentage is roughly the same for the United States). The Environmental Protection Agency's Clean Power Plan is meant to ensure that a transition away from coal is realized in the United States, piggybacking on a renaissance in natural gas, which has been aggressively displacing coal as an electricity fuel.
Global demand, however, is still expected to increase from now through at least 2040, even taking into account recent moves by the Chinese meant to pave the way for a "peaking" of their coal usage. Even with the drop in price in renewables like wind and solar, coal is relatively cheap and abundant in places such as India, where crippling energy poverty necessitates an "all-of-the-above" energy strategy. The Nature study concludes that India and China combined can only burn about 23 percent of their coal reserves to avoid breaking their share of the global carbon budget.
Most activists are, of course, aware of these facts, and, to their credit, they have resorted to grassroots activism to fight the export of U.S. coal overseas. Yet they nonetheless miss a lot of nuance in subsuming specific concerns about coal together into a general indictment of the fossil fuel industry's short-sightedness. This is a self-defeating strategy.
Coal is the near-term enemy — an issue that deserves much more immediate thinking. It is a matter of grave concern to the developing world, where the climate change battle will be ultimately won or lost. Oil is the long-term enemy, a problem that will be with us for much longer. It cannot be defeated with opposition to one pipeline. There are, after all, alternatives to coal as an electricity generation fuel, as difficult as they are to deploy on a large-scale. For oil as a transportation fuel, however, competition is hard to come by. Even with advances in electrical vehicles, most people have and will continue to have traditional gasoline-powered cars and trucks. Stopping an oil pipeline will be a hollow victory when the demand infrastructure for oil will be in place for at least a generation.
This contradiction is most clearly seen in arguments over fossil fuel divestment. Everyone talks about the economic pain it will cause oil companies, when, in fact, that missing capital will be made up by investors who are not screening their purchases for environmental criteria. Divestment does, however, hurt coal companies, which have much smaller market shares and which sell products with a demand curve that is declining much more rapidly than oil. Providing grassroots support for government policy, both in the United States and internationally, to accelerate what market forces have only started doing to the coal industry, will have much more significant impact, regardless of the ultimate fate of Keystone XL.
Hopefully, the activists who have been so galvanized by the Keystone XL fight can redirect that energy toward this work that takes a wider lens, even if it is harder to conjure a villain akin to a pipeline — a physical manifestation of "dirty" economic development. This is a long-term fight, the success or failure of which does not rest on one pipeline. It rests on improvements and policies that are much broader and less sexy — but are the key to a future, liveable planet.

Continue reading for free
We hope you're enjoying The Week's refreshingly open-minded journalism.
Subscribed to The Week? Register your account with the same email as your subscription.